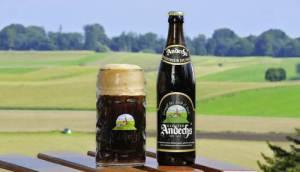 (Picture from andechs.de)
Kloster Andechs is an active Benedictine Monastery located outside Munich, Germany.  Andechs has a long history of brewing and is still considered to be one of the best of Munich's breweries.  They've recently started appearing in the United States delighting fans of German beers and Monastic beers alike, which I count myself in both camps.  If you'd like to learn more about Kloster Andechs and its history, you can do so at "The Brewing Monks: The Benedictine Breweries."  You can also learn more about history of monastic brewing by reading "The Brewing Monks: A Brief History of the Trappist Order and Monastic Brewing."
This is the abbey's Weissbier Dunkel or dark wheat ale.
Appearance: Cloudy brown, light tan head, great retention.
Aroma: Chocolate, banana, cinnamon, caramel, clove.
Taste: Nutty, toffee, banana with a spicy finish.
Overall Impression:  Andechs' Weissbier Dunkel hits that middle ground of have dark beer roastiness coupled with wheat beer esters and phenols.  It's balanced with a nice bit of roast and crispness from the weizen yeast.  If you're wanting a more robust option in the wheat family, this is an excellent choice.  It's also really well priced, especially for a German import which already tend to be pretty value oriented.
Availability: In limited locations as their footprint in the US grows.  They're imported by S & H Brands.
5% ABV