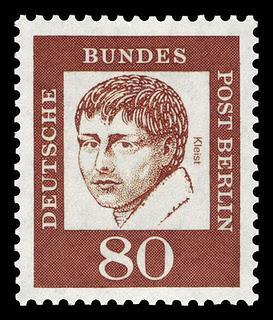 I hadn't realized that last November was the 200th anniversary of Heinrich von Kleist's death. Deutsche Welle posted a brief video about this anniversary (about 5 minutes long). Tony Miksanek notes the concern in many of Kleist's works with the conflict between fate and freedom. Steven Howe has a look at Kleist's treatment of fate in a lesser known work, The Schroffenstein Family. As Miksanek points out, Kafka was influenced by Kleist's reflections on justice, esp. as presented in Martin Kohlhaas. Indeed, Michael Dirda says that Kleist's 'greatest disciple is undoubtedly Franz Kafka, whose fables of uncertain identity and bureaucratic horror take the Kleistian sensibility to its limits.' Liel Leibovitz adds that 'Kafka devoted one of the only two public talks he gave to reading segments of Kohlhaas, and he confessed that he could not think of the novella "without being moved to tears and enthusiasm".' For Margaret Soltan, the brilliance of Kafka and Kleist 'is to retain narrators who dwell in the heavenly-harmonic even as the events they tell come from hell.' According to Gertrud Leutenegger, Kleist (like Kafka) combined a disposition to melancholy with a wonderfully odd sense of humor or what Geoffrey O'Brien calls a 'dark hilarity'. While reviewing Günter Blamberger's new German biography of Kleist, Iain Bamforth says that Kleist 'wrote with his back to the wall, a "crisis specialist" in Blamberger's words.' Mr. Waggish looks at an essay by Kleist on speech and thought.
Here's Peter Wortsman's translation of 'The Earthquake in Chile', and here's 'The Beggarwoman of Locarno'. Idris Parry's translation of 'On the Marionette Theatre' is on-line. Finally, here's a short story by Kleist called 'Saint Cecilia; Or, The Power of Music'.
Here are some articles about other authors:
James Gardner writes about Georges Rodenbach's 'Symbolilst novel,' Bruges-La-Morte, as well as about Lucien Lévy-Dhurmer's portrait of Rodenbach.
Michael Dirda reviews Laird M. Easton's edition of Count Harry Kessler's diaries.
Sonya Chung looks back at Giuseppe Tomasi di Lampedusa's novel The Leopard.
Here's a quotation from an article about the amazing Stanford Encyclopedia of Philosophy: 'Over the last academic year, the encyclopedia's entry on Friedrich Nietzsche was the most accessed—followed by "John Locke," "Kant's Moral Philosophy," "Game Theory," and "Existence."'
Michael Hofmann has translated and edited a new collection of Joseph Roth's letters. Joseph Roth, a Life in Letters is being published this month. There's a panel discussion of the book tomorrow (Jan. 10) in NY. Hofmann's introduction is behind a pay-wall at the New York Review of Books. Here's a YouTube clip of Hofmann reading from his own poetry.