As far as 8 years ago, my first attempt on donut was a disaster, I had problem getting it off the tray after proofing and into the hot oil.  Thus, the shape was twisted and not round.
I still want to make a round donut but before that, let's try this Kkwabaegi (꽈배기), a twisted donut that Maangchi taught.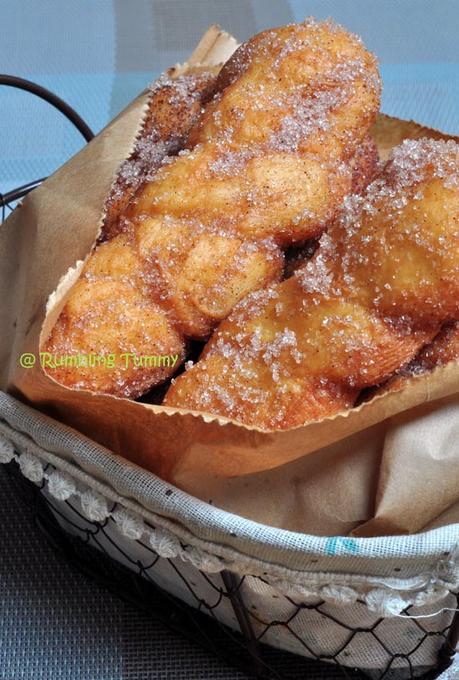 Actually I have bookmarked this recipe sometime back but was shelved and forgotten.  After seeing my friend done it over at Facebook, the feeling rekindled.
I think this is a great snack for kids to take to school as well.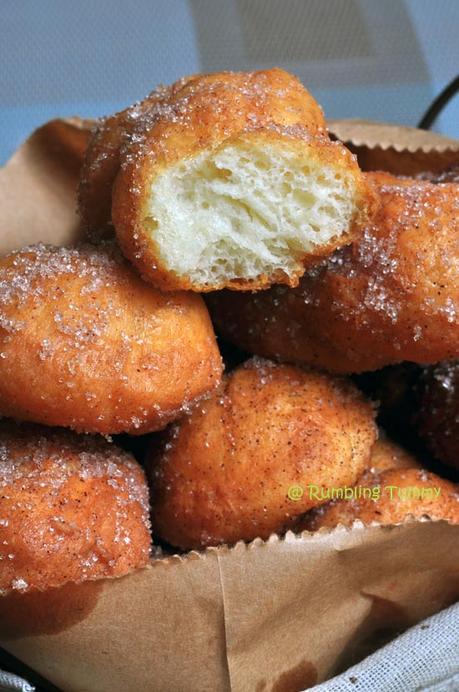 Findings: The twisted donut is very soft and fluffy.  When eaten fresh it has a nice crust to it.
What you need:
380g plain flour30g butter2¼ tsp instant yeast2 tbsp 1 cup milk1 egg½ teaspoon saltcorn oil for frying
extra flour for dusting the countertop
Cinnamon sugar topping
½ teaspoon cinnamon powder3 tbsp castor sugar
Method:
In a small saucepan on medium heat, melt the butter.  Remove from heat.
Add milk, sugar and salt into the hot melted butter. Mix well until everything is well dissolved.
Add the egg into the butter mixture mix well.
Add the yeast and stir.  Let it sit for 5 minutes until foamy.
Transfer to a mixing bowl.  Add the plain flour and mix well with a dough hook.  Knead until everything is incorporated and form a rough dough, shape dough into a ball cover and let it proof until double in size (approx 1 – 1½ hr)
Punch down to degas the dough and knead the dough for a few minutes until it's soft and smooth.
Cover with plastic wrap and let it sit for 30 min to 1 hour until it doubles in size again.
Remove from mixing bowl, divide into 16 pcs.
Roll the divided dough into a ball.
Sprinkle a little flour onto the board, roll the dough into a rope and twist it as you were rolling (two hands working in opp direction) into approx 12" long.
Lift dough with two ends together, and fold into half to form approx 3 – 4 twist.
Repeat with the rest of the pieces of dough.
Let the doughnuts proof for 15 mins.
Gently turn the doughnut over and proof for another 15 mins.
Fry the doughnuts.
Heat up 4" oil in a deep skillet over medium high heat, until the temperature reaches 180°C.
Lower the heat to medium heat, then gently set each doughnut into the hot oil by hand.  Add as many pieces to the oil as your skillet will allow but allow space for the doughnut to move around.
Cook for about 5 minutes, occasionally gently flipping them over with tongs, until they get crunchy outside and are evenly golden brown.
Drain doughnuts.
Add 3 tbsp sugar and the cinnamon powder to a brown paper bag. Shake to mix well.
Put warm doughnut in the brown paper bag with the sugar cinnamon mixture. Shake a few times until they are evenly coated. This is best done when the doughnuts are still warm. Repeat this with all the doughnuts until they are all cooked and coated.
Serve hot.
Note: Any leftover, my friend's experience is to freeze.  Thaw for 5 – 10 mins and air fry it for 5 mins at 170°C.  Toss into cinnamon sugar topping again. If you have enjoyed this post by Rumbling Tummy, be sure to follow this Rumbling Tummy on Facebook, Instagram, Pinterest, Twitter and Google+.