Overview of a ceremonny at the KWP Central Committee Conference Hall (L) at which gold wristwatches were presented as "state decorations" by Kim Jong Un (R) as part of events commemorating late leader Kim Jong Il's birthday (Photos: KCNA, KCNA-Yonhap)
DPRK state media reported on 15 February (Friday) that Kim Jong Un (Kim Cho'ng-u'n) attended a ceremony at which gold wristwatches  were awarded to "service personnel, scientists, technicians and labor innovators who have performed brilliant feats in the defence of the country and in the building of a thriving socialist nation."  The wristwatches are engraved with the late leader Kim Jong Il's name, and awarded to commemorate the anniversary of KJI's birth.  KJU's last reported public appearance was his chairing and participating in an expanded meeting of the Korean Workers' Party [KWP] Central Military Commission [CMC].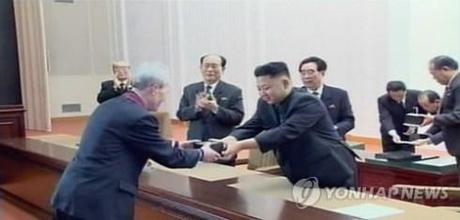 Kim Jong Un presents a gold watch bearing his late father's name. Seen in attendance behind KJU are Kim Ki Nam (L), Kim Yong Nam (2nd L) and Kim Phyong Hae (4th) and behind KJU are officials of the KWP Central Committee Gifts Office (Gifts Hall) (Photo: KCNA-Yonhap)

Kim Jong Un presents a gold wristwatch at a February 2013 ceremony (L) and his late father Kim Jong Il presents a Swiss watch to a member of the Guard Command in July 2011 (R) (Photos: KCNA-Yonhap, KCTV screengrab)
Attending the watch presentation ceremony with KJU were Kim Yong Nam (President of the Supreme People's Assembly [SPA] Presidium), Choe Yong Rim (DPRK Cabinet Premier), VMar Choe Ryong Hae (Director of the Korean People's Army [KPA] General Political Department), Jang Song Taek (Vice Chairman of the National Defense Commission [NDC] and Director of the KWP Administration Department), Kim Kyong Hui (KWP Secretary and Department Director),  Kim Ki Nam (KWP Secretary and Director of the KWP Propaganda and Agitation Department), Choe Tae Bok (KWP Secretary of Education and Science), Pak To Chun (KWP Secretary of Machine-Building Industry), VMar Kim Yong Chun (Vice Chairman of the NDC and Director of the KWP Civil Defense Department), Kang Sok Ju (DPRK Cabinet Vice Premier), Ri Yong Mu (Vice Chairman of the NDC), Gen. O Kuk Ryol (Vice Chairman of the NDC), Kim Yang Gon (KWP Secretary and Director of the United Front Department), Kim Yong Il (KWP Secretary and Director of the KWP International Affairs Department), Kim Pyong Hae (KWP Secretary and Director of the KWP Cadres Affairs Department), Kwak Pom Gi (KWP Secretary and Director of the KWP Finance and Planning Department), Mun Kyong Dok (Chief Secretary of the Pyongyang City [municipal] KWP Committee), Ju Kyu Chang (Director of the KWP Machine-Building Industry Department), Jo Yon Jun (Senior Deputy (1st Vice) Director of the KWP Organization Guidance Department) and "other officials of the Central Committee of the WPK and armed forces organs."
According to KCNA the presentation of the watches was "instituted as a state decoration for the first time in the history of the Workers' Party of Korea (WPK)" and has "weighty significance in glorifying the immortal exploits of his revolutionary career and immortal feats forever and making all the Party members, service personnel and people live and work as his soldiers and disciples."  The watch presentation ceremony was held at the KWP Central Committee's Conference Hall.  Kim Yong Nam delivered a congratulatory speech in which he said, "The recipients of the watches should lead a worthy and brilliant life as backbone of the Korean revolution, always feeling grateful to the party for making them honored with watches bearing the august name of Kim Jong Il before any others."  After Kim Jong Un presented the watches, the recipients "renewed their resolution to always hold President Kim Il Sung and Kim Jong Il in high esteem as the sun of Juche and steadfastly advance along the road of the Songun revolution, true to the leadership of the party."
Here is a short photo essay [PDF] about an informal watch presentation ceremony at which Kim Jong Il participated in July 2012.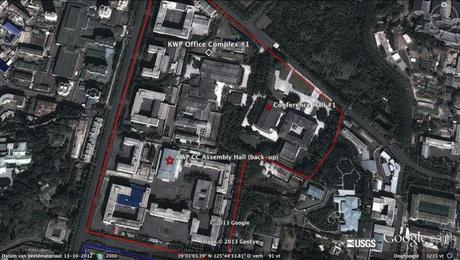 Area of the KWP Central Committee #1 Office Complex in central Pyongyang, showing two possible venues for watch presentation ceremony. The ceremony likely occurred in the structure marked Conference Hall #1. (Photo: Google images; lines and placemarks by Michael Madden/NKLW)
Filed under: 2013 Day of the Shining Star (KJI Birthday), 2nd Academy of Natural Science, Administration Department, Cadre Affairs, Central Committee, Central Military Committee, central party life, Choe Ryong Hae, Choe Tae Bok, Choe Yong Rim, Civil Defense Department, colonel general, DPRK Cabinet, DPRK Premier, Events Management Section, Finance and Accounting, Financial Planning Department, Guard Command, International Department, Jang Song-thaek, Jo Yon Jun (OGD), Kang Sok Ju, Kim Family, Kim Jong Un Visits, Kim Jong-il, Kim Jong-un, Kim Ki Nam, Kim Phyong Hae (Cadres/NPYPPC), Kim Yang Gon, Kim Yong Il (IAD), Kim Yong Nam, KJI Personal Secretariat, KKH, Korean People's Army (KPA), Korean Workers' Party (KWP), KPA General Political Bureau, KPA General Political Department, Kwak Pom Gi, KWP Science and Education Department, Light Industry Department, Machine Building Industry Department, Mangyo'ngdae Revolutionary School Alumni, Ministry of Foreign Affairs, Ministry of State Security, MPAF GPB, Mun Kyong Dok, National Defense Commission (NDC), national holidays, NDC Administration Department, North Korean press, O Kuk Ryol, O Kuk-yol, Organization and Guidance Department, Pak To Chun, Party elders, party life, Political Bureau, Propaganda and Agitation Department, Provincial Party Committees, Secretariat, State Security Department, Supreme People's Assembly, Third Floor, United Front Department, VMar Kim Yong Chun, VMar Ri Yong Mu, Working Organizations