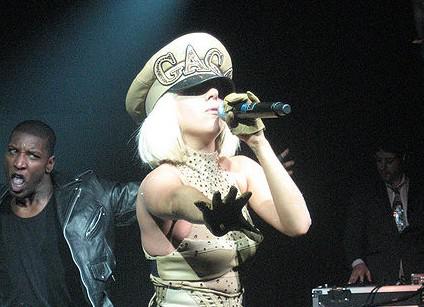 Lady Gaga. Photo credit: Stephen Carlile via Flickr
The X Factor revolving door saw Kitty Brucknell leave the competition this weekend, while first-week reject Amelia Lily returned.  Kitty, the last act standing in judge Louis Walsh's Over 25s category, ended up in the sing-off with Misha B.
This week's X Factor theme: Lady Gaga vs. Queen.
Here, kitty, kitty… Kitty was on the receiving end of an unambiguous booting, with only mentor Louis opting to save her. But the 25-year-old can take comfort from the fact that she has apparently won over Lady Gaga, who performed on Sunday's results show wearing a decapitated-corpse dress. No, really. According to Lucy Connolly in The Sun, Gaga burst into tears when she heard the result and ended up comforting Kitty backstage. And anyone already missing their Kitty fix shouldn't worry – she still features in the X Factor Marks & Spencer Christmas advert.

Fix Factor returns. After Frankie Cocozza was kicked out of the competition last week following a cocaine binge, Simon Cowell's minions turned to the four acts rejected by their own mentors in the first show. Singing soldier JonJo Kerr, Essex group Two Shoes, sad-eyed James Michael and pink-haired former Cocozza hook-up Amelia Lily all faced a public vote to decide who would return to the competition. Or did they? The Daily Mail reported that a video naming Amelia the winner appeared on the X Factor website an hour before voting closed, prompting fears of a fix. X Factor bosses have insisted they made similar videos for all four contestants and uploaded Amelia Lily's early by mistake. It really is unacceptable when websites accidentally publish pre-written stories announcing the wrong result.
Technical difficulties. Saturday's show started 15 minutes late after a power surge at London's BT Tower. The late start threw The Guardian's liveblogger Stuart Heritage into a panic: "What if X Factor doesn't actually happen tonight? What do I do then? Do I just keep liveblogging? That's what'll happen, isn't it? I'll just keep liveblogging and liveblogging and liveblogging until I grow old and die," he wrote.
Quitters? According to Mark Jefferies in The Daily Mirror, Saturday's technical chaos is nothing compared to the turmoil behind the scenes. Jefferies reported that Louis Walsh is ready to quit the show as he doesn't like the new judges. What's more, Gary Barlow's mentee Craig Colton is also in meltdown: "Liverpool lad Craig packed his bags and was poised to leave. He declared: 'I can't hack it anymore'," wrote Jefferies.