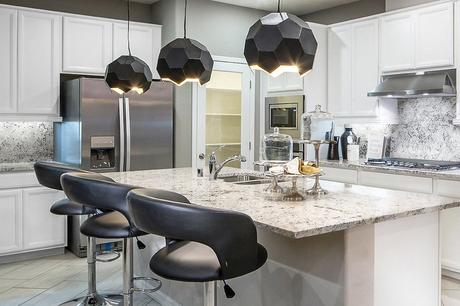 The kitchen is the heart of the home. It's where the family gathers to refuel for today's jam-packed lifestyles. Thinking about remodeling can be a daunting task, but to ease you into the process here are a few creative ways I've discovered to the absolute most enjoyment from your space.
Unique Tones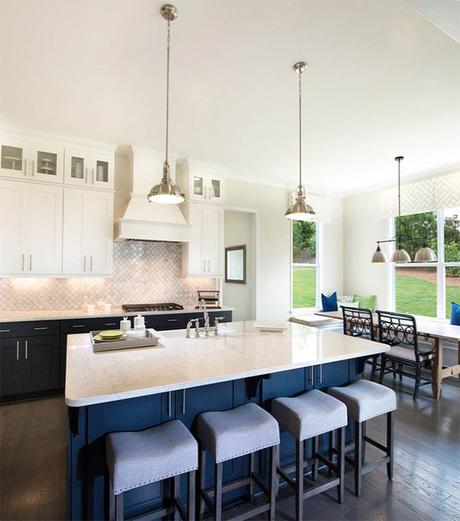 Navy blue with classic white? Why not? You can make a bold yet beautiful kitchen, and personal statement with a few simple color selections. Try mixing and matching different tones to really stand out. Then, to really make things pop, include accents like matching books, pillows or chairs.
The Neutral Approach
To match a more reserved style, stick with less intense colors. Greys, dark-browns, blacks and whites form a great starting point for every neutral kitchen design. A taupe backsplash, tan leather seats and terrazzo countertops come together in a perfect neutral combination as seen above. Remember to pay special attention to lighting when working on your neutral-inspired design, to get the best results.
Short on Space?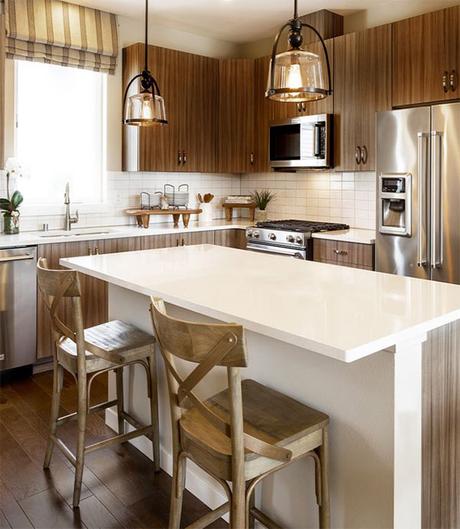 A bright, minimalist design brings a spacious feeling into the kitchen. Move that clutter out of sight to put more focus on clean-cut lines and corners. Add touches such as light tiles that will brighten up the room. If you've collected a lot of kitchen gear to help with meal prep, consider a moveable cart that you can be stored out of the way, in a closet perhaps. Let's face it, that giant mixer isn't going to be used every day, no matter how ambitious you get. So put it out of sight until you need it.
Function & Flow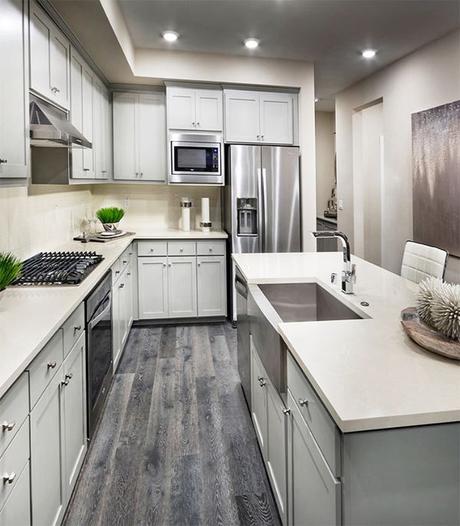 A kitchen island that houses the sink, storage and seating takes advantage of space you didn't realize was there. Many kitchens underutilize their available space. Search for a few out of the box ideas for storage and even your appliances. With a little planning and DIY, you can make miracles happen in small spaces. Moving that microwave off the countertop, no matter how compact the space, is totally possible.
Modern Approach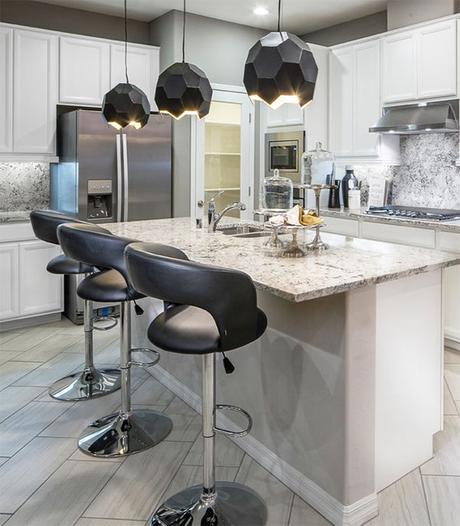 Unique geometric lighting with bold, black leather stools are all that's needed to give this kitchen a modern flare. When you're thinking about your kitchen space, look for unique items that reflect your modern style. Black, grey and white colors combined with metallic or chrome surfaces create a clean, contemporary design that begs for guests. Have a hand for DIY? Try for a minimalist, functional design.
Country Chic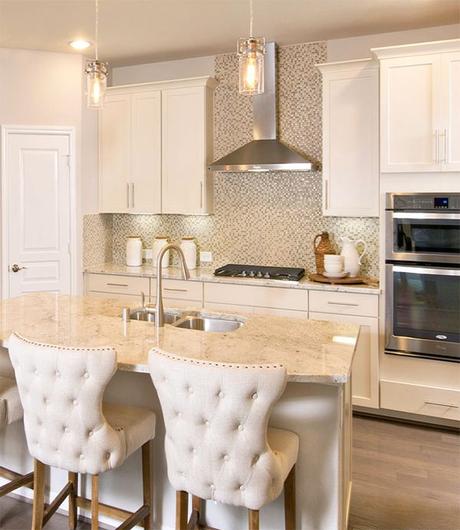 How do you add a warm, country feel to a kitchen without resorting to gingham and chintz? Try a full-wall backsplash combined with natural wood and white tufted chairs. Experiment with browns, blacks and greens and include rustic, distressed cabinets. Another idea is to find reclaimed wood that will add just the right amount of country while including a truly unique piece to your kitchen.
Neutral Meets Natural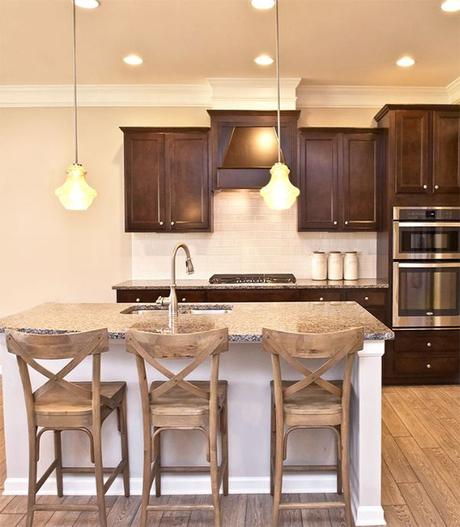 Wooden stools, rustic flooring, dark-brown cabinets and relaxed lighting create the perfect kitchen atmosphere. Bring a little bit of the outdoors in and transform your kitchen by blending calming neutral colors with a touch of natural to add rustic interest. Nothing pairs better with cooking than nature.
With a few well-chosen touches you can bring any kitchen back to life. Providing the perfect respite for friends and family to gather.
Diahann Young is the Director of Digital Platforms and Innovation at Pulte Homes Orlando, one of the largest home builders in Florida and the United States. She specializes in discovering innovative ways of developing products for home building. Her role with Pulte has strengthened her passion for homes, design and all things real estate.