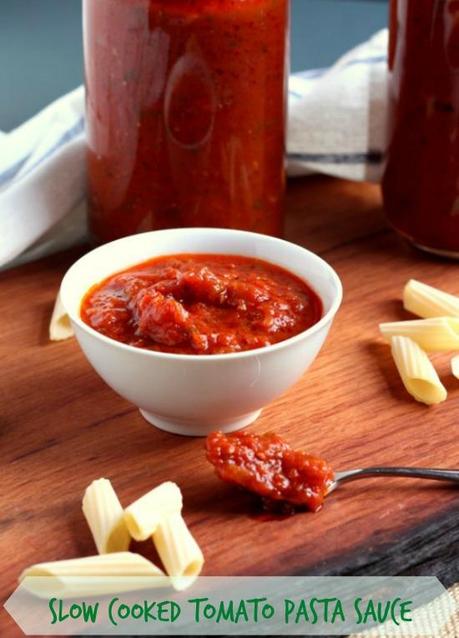 There was once a time when my pantry cupboard was filled with jars and packages of convenience foods which would only require the addition of meat (never vegetables) to make a 'complete' meal.  My favorite jar, however, was the Dolmio tomato pasta sauce.  That jar didn't necessarily require anything else added to it, so as long as I had pasta in the cupboard and a green container of dried Parmesan (shudder) dinner was sorted.  Time moved on, and I learnt to cook.  I no longer rely on those jars to get a meal on the table, but I still need a few tricks up my sleeve to cope with those nights when The Princess is having a hunger melt down and I just walked through the door.  This slow cooked tomato pasta sauce is my new jar of Dolmio.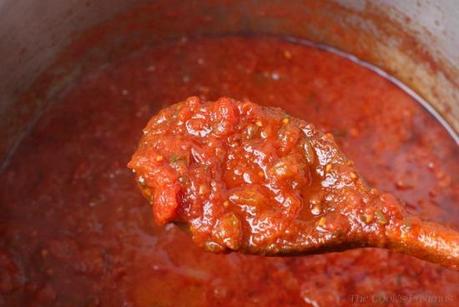 Janice
gave me this recipe a few years ago.  Or should I say, she gave me half a recipe.  Janice has a way of telling me a recipe, leaving out a few crucial ingredients or cooking steps, then filling in the missing pieces at a later date.  After making her meatball recipe for years, I have only recently discovered that Janice crumbs her meatballs prior to cooking.  So in no way is this a slavish recreation of the original, because I have no idea what the original recipe is.  My version is, however, so brilliant that I always try to have a batch of this sauce in the house.
This is bulk cooking at its best.  The recipe makes a lot.  It takes a good four hours to make, but for most of that time the sauce slowly simmers on the stove whilst you do other things.  I took the opportunity to clean out my kitchen cupboards whilst it was ticking away.  I must have done a good job of the cupboards.  The Princess noticed.  The sauce is worth the effort though, because I now have the base for eight future meals.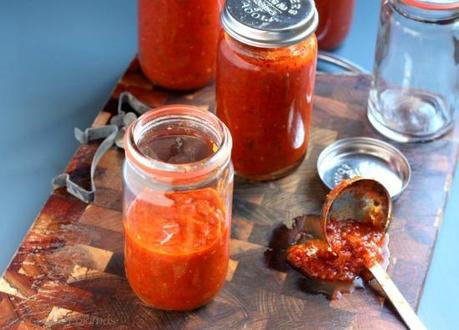 I bottle (can) this sauce. Mostly because I love bottling and have all the equipment.  Bottling the sauce also means I can store it in the cupboard and leave room in my freezer for other meals.  If you are not a canning nerd don't worry, the sauce freezes really well too.  Janice freezes hers in zip lock bags, which store flat and defrost easily.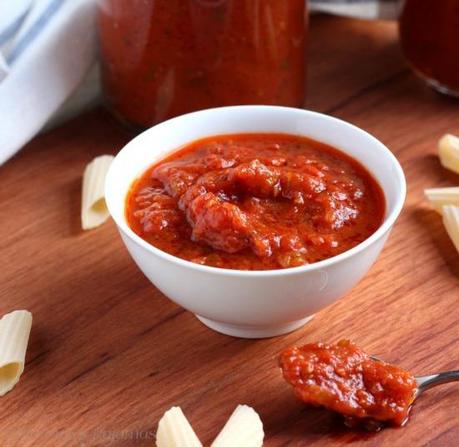 I use this sauce in a number of ways; stirred through freshly cooked pasta, baked with the aforementioned meatballs, poured over gnocchi and even spread over pizza bases.  It is invaluable for a quick meal or for those days when the thought of having to make dinner hurts your head.  Best of all you know exactly what is in it.  Unlike that jar of Dolmio.

Kitchen Basics: Slow Cooked Tomato Pasta Sauce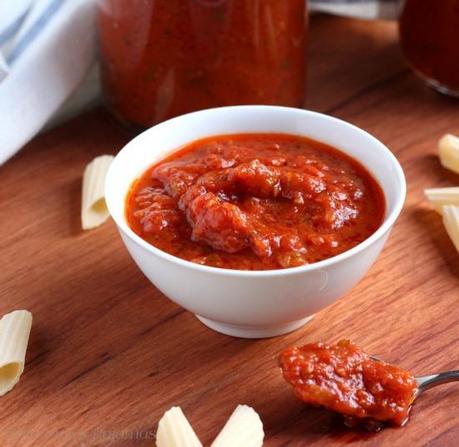 Print
Prep time 10 mins Cook time 5 hours Total time 5 hours 10 mins   I use one of those really large tins (2.5kg size) of tomatoes in this sauce. I purchase mine from my local Italian deli. If you cannot locate this size tin, substitute 3 x 800ml tins of tomatoes instead.
I know it looks like a large amount of olive oil, but trust me. You are not cooking a single meal (unless you have an extremely hungry family) so this amount of oil is necessary to saute all of the vegetables. Author:
Tania @ The Cook's Pyjamas (as adapted from Janice's ramblings)
Serves:
Many
Ingredients
¾ cup olive oil
6 cloves garlic, finely chopped
2 large onions, chopped
3 large stalks celery, chopped
1 x 2500g tin whole peeled plum tomatoes
2 x 750ml bottles tomato passata
1 cup white wine
2 bay leaves
2 teaspoons dried oregano
3 large Tablespoons chopped parsley
Salt & black pepper
Instructions
Heat the oil in a large pot, then add the garlic, onion and celery.
Saute the vegetables over a low - medium heat for about 15 minutes, until the vegetables have softened. Do not allow them to brown.
Add the remainder of the ingredients and bring the pot to the boil.
Reduce the heat to low.
Simmer the sauce for four to five hours, stirring occasionally, until the sauce has reduced and thickened. I crush the whole tomatoes into the sauce after it has been simmering for about two to three hours.
Allow the sauce to cool, then divide into meal size portions. Either freeze or can according to your preference.
Notes I bottle this sauce in 500ml bottles, using standard canning practices.
You can also freeze this sauce in containers or zip lock bags. 3.2.2499  
You may also like these posts