Well, here we are again and this is a very special Wombat Friday as today marks the third anniversary of The Kissed Mouth!  Hurrah and Huzzah all round!  I've been here for three years, sniggering and educating in roughly equal measure.  Very roughly.  Anyway, my blog now metaphorically looks a bit like this....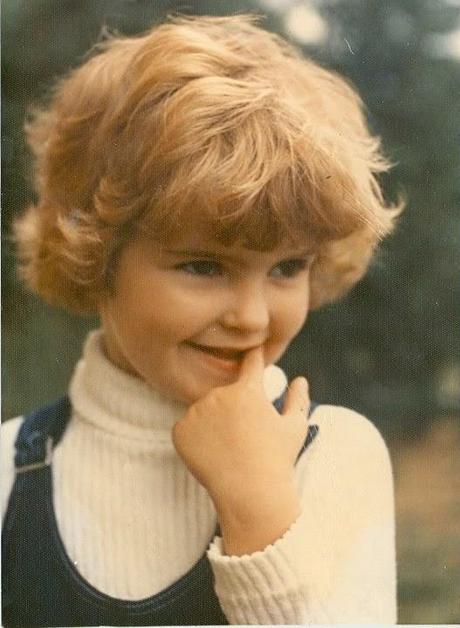 Me, c. 3 years old
Yes, this is about the first and last time I was naturally a red head, thanks to the scorching hot summer of 1976.  I like to think this is what my blog now looks like and it's bloody adorable.  No, I haven't been drinking.  Anyway, as is my yearly custom, here is a review of the year since this time last year...
May
Rather fittingly, we covered the life and career of May Morris in May last year, as well as Rossetti's face, naughty Swinburne, the doomed love of Paolo and Francesca and that perilous fruit, the apple.  My image of May has to be this heap of gorgeousness...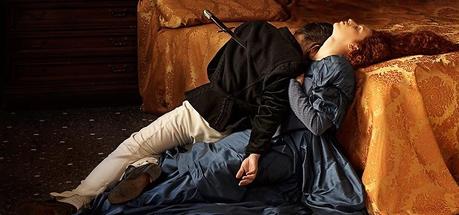 The Lovers Tania Brassesco and Lazlo Passi Norberto
I fell totally in love with this pair of artists who recreate Victorian works of beauty in their flawless photographs.  Google them and wallow in the fabulousness!  I think
The Lovers
 is my favorite but their versions of Jove Decadent and Jane Morris are perfect too.
June
June brought me a new copy of Liverpool's Pre-Raphaelite catalog (very nice too).  We also had a look at the life of Georgie Burne-Jones and Edward Prynne.  I loved doing the post on images of gossip, and just to reiterate - if you want to have a good gossip with someone, I'm your woman.  I do like a shocking secret.  It was
Father's Day
and so we looked at images of Victorian fatherhood, but my image of the month has to be one of my favorite Victorian photographs.  In no way am I imagining sitting on his lap and calling him Daddy...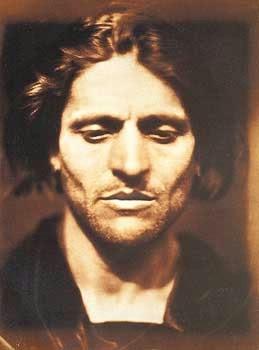 Iago Julia Margaret Cameron
Shame on me.
July
By the look of it we had a busy month, with images of tennis matches and a visit to an exhibition of Frank Holl's work.  I'm still sobbing now.  We looked at pictures of women waiting for men and Karen Jones' modern paintings of Fanny Cornforth.  We started the competition to find out what your favorite image of Fanny Cornforth was, revealed on Pre-Raphaelite Day in September, actually the same day as I did the Pre-Raphaelite Pilgrimage, which we also talked about.  I enjoyed finding out more about Mr Lowry's love of Pre-Raphaelite ladies (the saucepot), but I think the most fun I had was looking again at one of the most famous Pre-Raphaelite paintings ever.  I'd never thought about this image from the gentleman's point of view and it did lead to some fascinating discussions...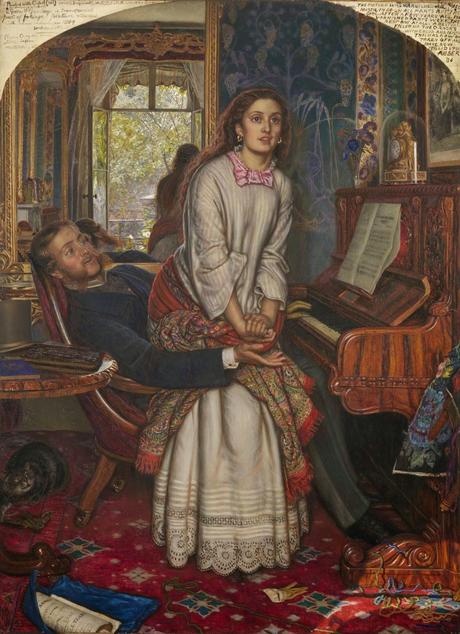 The Awakening Conscience William Holman Hunt
August
Hurrah for summer holidays!  In August Lily and I went out and about and had fun on the Wombat trail at The Red House.  We also went to the William Morris Gallery and the rehang at the Tate.  I spoke to you about Margje Bijl's work on Jane Morris (the exhibition at the William Morris Gallery has just finished) and the progress of the restoration at Hoylandswaine.  There will be more details on that next week.  I brought you Frida Kahlo and 'twerking' and we celebrated the birthday of Edward Burne-Jones by looking at this gorgeous painting...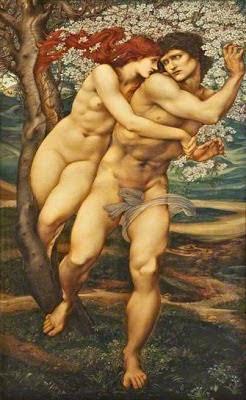 Tree of Forgiveness (1882) Edward Burne-Jones
Yes, 'twerking'.  Really, you could put your hip out doing that and it's not very attractive.  Far safer to crack nuts between your teeth and throw them at handsome chaps.  Trust me.
September
We celebrated Pre-Raphaelite Day by having a look at your favorite Fannys.  I got a load more page views by using the phrase 'favourite fannys' a lot.  Really, I'm constantly amazed by what 'search terms' bring people to my blog - all of which are helpfully supplied to me by Blogger.  There is a rum combination of kissing, mouths, nudity and fanny.  Hopefully everyone learns a life lesson before they return to Google search.  You saucy bunch!
Anyway, this month we looked at films, with a list of proposed viewing for a Victorian, artistic evening.  We had a look at my nefarious ancestors with Victorian criminal pictures.  I had the pleasure of doing two very pretty posts and it was hard to choose between these two, so here is both.  One came from the post on birds and the other from the post on butterflies...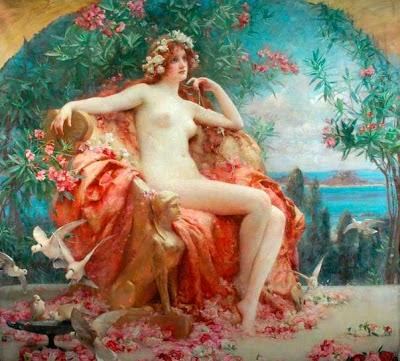 Roses of Youth Henrietta Rae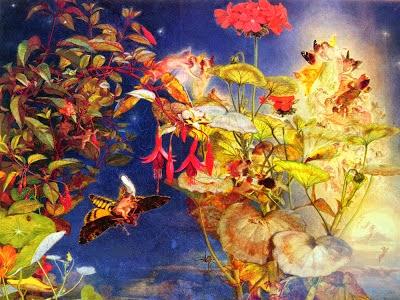 Midsummer Fairies (1856) John Naish
I like to think that pretty colours and partial nudity are what my blog is built upon.  Who doesn't like a bit of either?
October
One of the surprises of the year has to be how much I enjoyed the exhibition in Poole of the work of Bernard Finegan Gribble, especially
The Whelp of the Black Rover
 which was almost my picture of the month.  Who doesn't love a busty pirate?  Marvellous stuff.  I did posts on Victorian albinism, a subject close to my heart and genetic make-up, and an exploration of Rossetti's mental health as reflected in the backgrounds of his paintings.  Image of the month came from my post on witches and is one of the creepiest and most spectacular paintings of wicked women I have ever seen...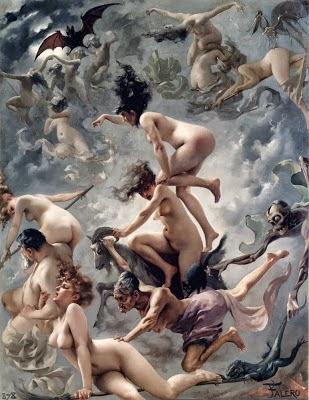 The Witches Luis Falero
Oh my giddy aunt!  I need more Falero in my life but I'm sure it's not good for me.
November
The family Walker went off to Germany and came back with tales of fabulous castles and beautiful paintings.  I did posts on Neuschwanstein, the fabulous castle belonging to the remarkably sane King Ludwig.  I looked at Elizabeth Siddal and her inability to be seen as anything other than tragic and bath tub-ridden.  We had a potter through Goblin Market and examined the role of the Pre-Raphaelites in
My Fair Lady
.  My picture of the month was one I had the good fortune to see in real life during my trip to Germany...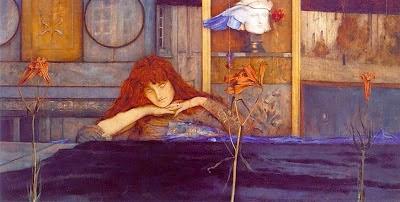 I Lock the Door Upon Myself (1891) Fernand Khnopff
December
Blogvent was upon us once more.  I'm not sure how to explain how this ended up in front of you...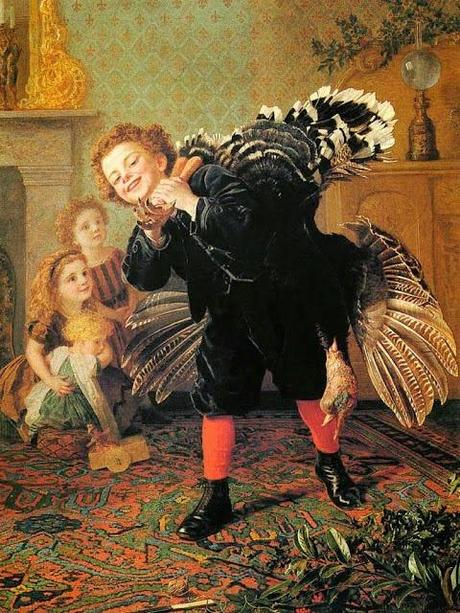 Here's the Gobbler! (1877) Sophie Anderson
I'm so sorry.
January
I had many and varied discussions on John Ruskin as I reviewed the new book on his over-exposed marriage.  I feel there is more to come when the film is released (probably) in the summer.  I am still Team Ruskin because I really believe that just because you are a woman it doesn't naturally mean you are a victim.  Personally, I blame the parents.  Anyway, it was also Jane Morris month which meant lots of posts about her and a trip to meet the lovely Margje Bijl.  I also got to wallow about in
The Wounded Cavalier
, a gorgeous picture which blew me away when I saw it at the Tate exhibition.  My image of the month comes from the post on Damsels in Distress...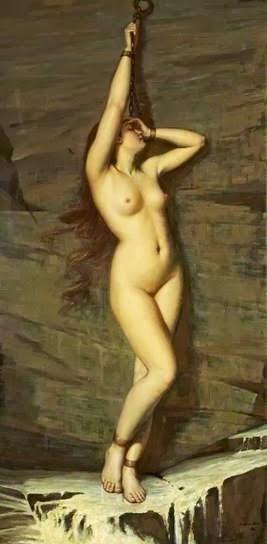 Andromeda (1876) Arthur Hill
Help me, I'm chilly, pink and nudey!  It's rather obliging to give sea-beasts their dinner with the wrapper off.
February
Despite the endless rain, we had a jolly month looking at the complicated love life of the Mad Hatter, how the iconography of Ophelia is used and misused and how nothing says 'I love you' like a sparrow glued to a card.  My image of the month has to be this one...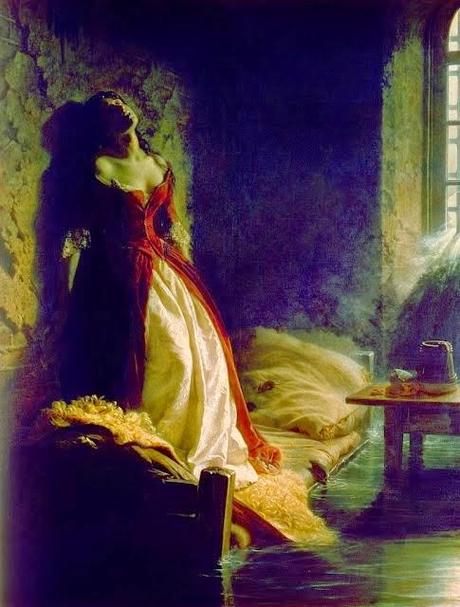 Princess Tarakanova (1864) Konstantin Dimitrievich
I'd forgotten how much it had rained over the winter until I looked back over my posts.  It's raining here today too, which I'm using as an excuse to wrap myself up in a blanket, eat the leftover Easter chocolate and watch Game of Thrones.
March
Last month I had the pleasure to work with the smashing lovelies at Eclectic Eccentricity as they launched their 'Muse' collection.  I spent an inordinate amount of time talking about Alexa Wilding, for some reason, but my image of the month has to be this one...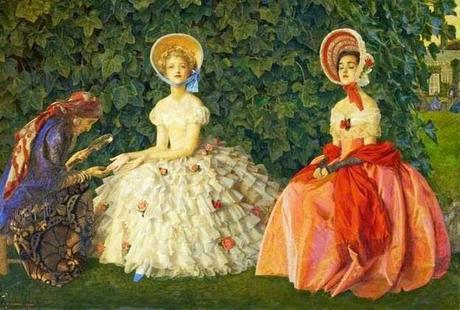 The Fortune Teller: Beware of a Dark Lady (1940) Frank Cadogan Cowper
Cowper is one of those artists who is familiar but not famous yet.  I picked this image because Mr Walker finds it disturbing.  It is a bit but that's what makes it fabulous.
April
So here we are, one year on.  I've been to two lovely exhibitions this month, the De Morgan at Bournemouth and The Artists Rifles in Southampton, but my image of the month has to be this one...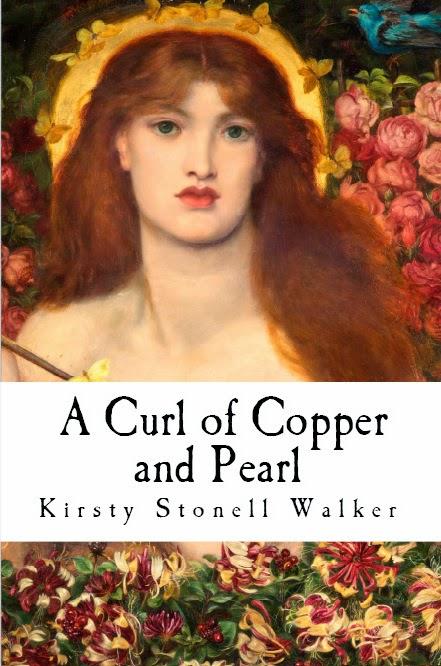 I published my novel this month and have been overwhelmed by the support I have received from you lovely people.  Thank you, I hope you enjoy it!
So, some of you have been here for three years, some of you are new but but you are all welcome to join me for another year of art, history, partial nudity and saucy humor. It's nice to have your company.
Happy Wombat Friday and Happy Blog Birthday to all.  Cake all round!