The classic, sassy spectacle pulls out all the stops in Chicago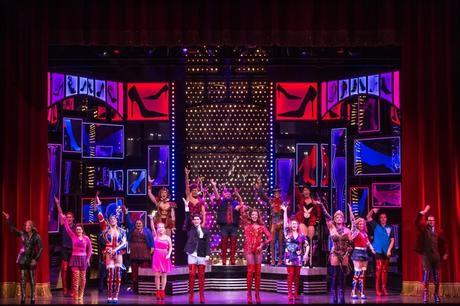 WOW….just WOW! Kinky Boots, the smash hit Broadway musical and winner of six Tony Awards including Best Musical, is here only through September 4. This high energy, upbeat, more timely-than-ever musical takes your breath away at every turn.
Based on a true story about a shoe factory in Northampton, England, Kinky Boots tells a tale of great humanity, acceptance, and current gender issues that couldn't be more spot on…with great singing and dancing, to boot! The show features songs and lyrics from pop star Cyndi Lauper who won the 2013 Tony Award for best original score. The musical is directed by Tony Award-winning choreographer Jerry Mitchell with an authentic, uplifting script by four-time Tony Award winner and playwright/actor Harvey Fierstein. The gorgeous costume and boot design by Gregg Barnes was red hot!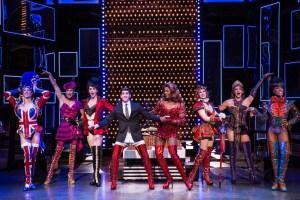 Spineless Charlie Price runs away to London with his uppity girlfriend who wants it all. When his father dies suddenly, he inherits a men's shoe factory that's been in the family for generations. To salvage this operation from the brink of bankruptcy, Charlie teams up with a drag queen named Lola, who's in need of some sturdy new stilettos. Lola helps him design and produce gorgeous sequined high-heeled boots…for men! And, he finds real love along the way.
Lola/Simon, played by J. Harrison Ghee, is beyond fantastic. He belts it out in drag with comedic antics that steal the show, while taking on another persona completely when dressed in traditional male garb. The audience feels sad for him as well as great respect. He's accompanied by a talented group of "Angels," also in drag, who sing and dance their way into our hearts. Adam Kaplan as Charlie shares his range of emotions as well as wonderful vocals.
After the show, you'll probably want to spend a few bucks to grab a pair of your own kinky boots!
For tickets, go to BroadwayinChicago.com. In the meantime, get a taste of this wildly entertaining musical from its 2013 Tony Awards performance.