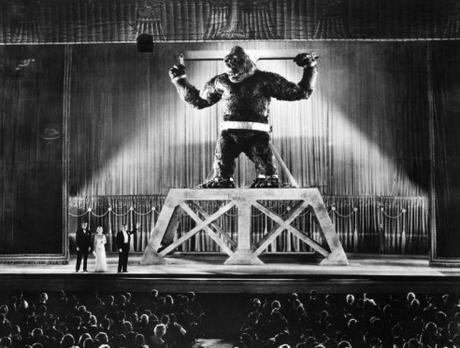 The lights are bight on Broadway:
King Kong
on stage (1933)
A giant killer gorilla escapes its confines to wreak havoc on the streets of 1930s Manhattan. What a premise for a story about a down-and-out film producer pining for a hit! Known as the picture that saved a movie studio — RKO Radio Pictures studio, to be exact — King Kong is the granddaddy of all those big, bad stomping, monster-on-the-loose chomping fantasy epics. It is every bit the classic it's cranked up to be.
Labeled box-office poison by the press and hounded by creditors, restless movie mogul Carl Denham (an overly enthusiastic Robert Armstrong) searches for the perfect angle, as well as financing, for his next project. Upon a chance meeting with the impoverished Ann Darrow (lovely Fay Wray, who bleached her dark hair blonde for the shoot), Denham impulsively decides to star her in his upcoming adventure flick.
Cryptic and mysterious to a fault, Denham nonetheless convinces Ann to trust him enough ("I'm on the level, no funny business!") to accompany him as the only female crew member on board a ship "with the toughest looking mugs" anyone has ever seen.
In the blink of an eye, they're whisked away on a long sea voyage to … who knows where. Darrow and Denham are accompanied on their journey by salty sea Captain Engelhorn and lantern-jawed first mate, Jack Driscoll. Once our adventure seekers arrive on Skull Island, all hell breaks loose — quite literally. After unknowingly interrupting a native ceremony whereby a young girl undergoes preparation as the bride of "Kong," Denham and his crew come face-to-face with the titular creature: an enormous ape dubbed by Denham "The Eighth Wonder of the World."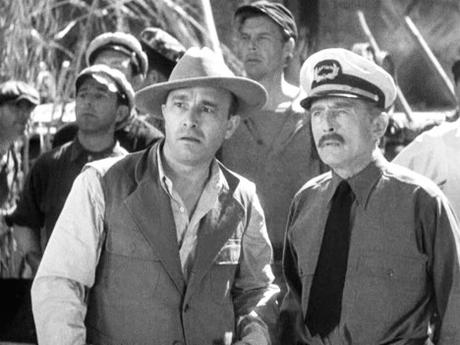 Carl Denham (Robert Armstrong) conferring with Captain Engelhorn (Frank Reicher) on Skull Island
Kong runs off into the jungle with Ann in tow and clutched safely in his hairy hands. It's love at first fright! But, as Denham prophetically warns, the danger lies when the beast turns soft. In fact, Kong comes to his bride's defense by fighting off various prehistoric dinosaurs, including incredibly thrilling battles with an armored stegosaurus, a vicious T-Rex, and a flying pterodactyl. After Ann is rescued and the giant beast is knocked senseless with gas bombs, the publicity-minded producer manages to ship Kong's massage body back to Broadway, where the monkey makes an unscheduled debut on the city's streets — and atop its tallest building.
One of the greatest special effects extravaganzas of this or anyone's time, King Kong did for New York what Godzilla would later do for Tokyo: that is, it immortalized a city, as well as almost single handedly destroyed it — in cinematic terms, of course. It also lifted Depression Era audiences to ecstatic heights of visionary fancy.
This box-office champion of champions was the brainchild of two men, veteran movie-maker Merian C. Cooper and his partner Ernest B. Schoedsack, both of who directed and produced the feature, based on an idea conceived by Cooper and an original story by Cooper and Edgar Wallace. For the stop-motion wizardry, Cooper turned to FX expert Willis O'Brien (The Lost World), who in turn looked to model maker Marcel Delgado for the gorilla and dinosaur miniatures that figured so prominently throughout the flick.
Back and front projection were extensively employed, in addition to grisly close-ups of Kong's denture work. His full-sized bust took over 40 some-odd bearskins to cover. Not all of the shots were perfectly to scale or blended seamlessly into the frame. Still, this picture was destined to become a landmark in the annals of horror fantasy films. It remains the lone monster flick from which all others need be measured.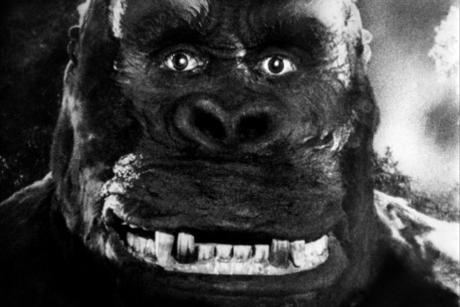 King Kong
: Ready for his close-up
The sturdy cast is headed by Robert Armstrong, who makes mincemeat out of his manic character's ambition and drive. His is the unquenchable spark that ignites the audience's interest and imagination in the way he leads the misadventure to its final, philosophical conclusion:
Cop on the beat: "Well, Denham, the planes got him."
Denham: "Oh, no, it wasn't the airplanes. It was beauty killed the beast."
Fay Wray is the all-time champion screamer (or "scream queen"), but don't let that fool you — she is full of pluck and spunk to spare. Wray never had a better part, although she appeared in the equally shocking The Most Dangerous Game (1932) and The Mystery of the Wax Museum (1933). Her peak period of popularity spanned the 1930s to the mid-1940s.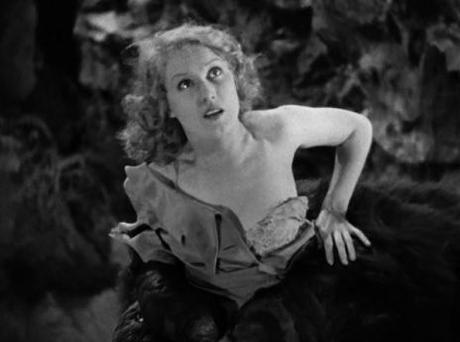 Love at first fright: Ann Darrow (Fay Wray) in Kong's clutches
Lankily-built Bruce Cabot is first mate Jack Driscoll, who falls in love with Ann upon snatching her from Kong's humongous clutches. On the "strength" of his acting, he's no match for the King. Frank Reicher is the stern Captain Engelhorn, Sam Hardy the wisecracking theatrical agent Weston, and James Flavin the second mate, with Victor Wong as Charley the Cook, Noble Johnson as the Native Chief, Steve Clemento as the Witch Doctor, Roscoe Ates as a press photographer, and Lesley Mason as a theater patron.
Look for cameos of Cooper and Schoedsack, who piloted the airplane that eventually brings the big guy down. Cooper was a World War I aviator who put his knowledge of flight to good use. He was also a pioneer in the three-strip Technicolor process. Movie historian Rudy Behlmer interviewed Cooper way back in 1964. During that interview, Cooper denied there were any "symbolic" or "phallic" overtones in the movie's depiction of the Kong-Darrow relationship. According to Cooper, there were no "hidden meanings, psychological or cultural implications, profound parallels or anything resembling intellectual 'significance' in the film. "King Kong was escapist entertainment pure and simple," Cooper insisted. "A more illogical picture could never have been made" (The Girl in the Hairy Paw, 1976, foreword by Rudy Behlmer, p.13).
It would be a shame not to mention the powerful and highly influential movie score by Max Steiner, one Hollywood's Golden Age best. Although dimly recorded, the film would never have achieved the worldwide notoriety it merited without Steiner's magnificent music. None of the other remakes, including Peter Jackson's three-hour 2005 effort, has come close to topping RKO's original from its throne. And no home should be without at least a DVD/Blu-ray disc copy of this superb film.
Copyright © 2017 by Josmar F. Lopes