If you're new here, you may want to subscribe to my RSS feed. Thanks for visiting!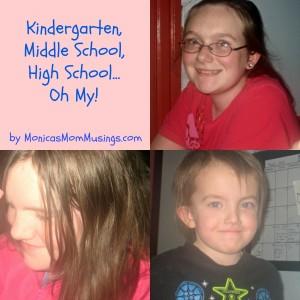 Does anyone remember how we started out the 2012/2013 school year this year?  It was full of excitement and ready to make the best of it because this was a huge transitional year for all three of my school aged children.
And it didn't turn out quite as I had anticipated and it became more emotional than I had hoped for.  Things worked themselves out for the most part.
It took time and lots of frustration, but we ended up in a good place when all was said and done.  We were all able to breath a huge sigh of relief until the next obstacle presented itself.
And obstacles are popping up left and right right now.  Not so much obstacles and just more of the busy season.  I've got huge field trips to Boston I need to pay for and field trips to country clubs to pay for.  Permission slip forms to sign for going to the firehouse.  End of the year concerts coming up and we also will soon be getting information about graduation.  It's all two months off still, but it will be here before we know it.
I have a PPT (Planning Placement Team) meeting coming up in a month for my middle daughter and that's going to be a big one since she's moving onto the middle school.  We are setting up my oldest daughter's high school schedule and choosing those classes.  The draft of that schedule should be out next month.  And yes even my Kindergartner we have some decisions to make for next year.
It's a busy time of year.  We are setting courses for the rest of their lives here and making all kinds of decisions.  And it's all coming to a head so I wanted to share with you all the crazy busy life of a mom to an up and coming high school student, middle school student, and elementary school student.
There's even stuff I'll be dealing with for my toddler in the coming months as well.  But honestly, I haven't given too much thought to that.  Once I have the 3 big kids all situated that's when I get to deal with what the future of speech will hold for my youngest.  It really is never ending when you think about it.  So here's the scoop on where each of the kids are now that I have been to everyone's conference and know where exactly we stand.
My Going To Be High School Student
I guess we mine as well start at the top and work our way down.  My oldest teaches me a lot.  Poor kid gets all of the firsts with us and boy does she hate it.  But such is the life of the oldest.  So the last three years of middle school have been building up to this moment.  The next four years of her life are where things really start counting and I want to make sure we do this right.
I do not want the problems of scheduling we had this year, but while I want to take hold of these reins and do this for her I have to let up because she really needs to start taking initiative in her education.  So we are jumping in feet first here and planning out the next four years of high school.
Her current teachers made their recommendations which I'm on board with.  She has made her selections of electives.  She is going to have a rigorous course schedule, but all of it is setting her up for AP classes in 11th and 12th grade and even some college courses.  The more credits she can earn towards college while she's in high school the better as far as I'm concerned.
We are getting all of our ducks in a row.  We should know by next week if she was accepted into Avid again, but I am told that shouldn't be a problem.  There was some question about her math placement so I'm dealing with that now.  My daughter is trying to choose a different alternate course in case she doesn't get one of the classes she wants.  That's proving to be difficult for her.  We'll find something, but ultimately it might not even be necessary.
I must admit actually speaking to the high school counselor about it definitely has me feeling better about the whole thing.  And since I'll get to see her tentative schedule before school even lets out in June we should be able to get any glitches cleared up then so we won't have any class adjustment at the beginning of the year.  So things are moving right along.  I still can't believe I'm going to be a parent to a high school student though.
My Going To Be Middle School Student
I really couldn't let my oldest have all the fun with being the first to always do something.  I couldn't just go simple.  Where's the fun in that?  When my oldest was about to start middle school I had been talking to her teacher who was telling me about another student who wasn't going onto the middle school and was going to attend a magnet school nearby.  This intrigued me.  Not as something for my oldest daughter, but as a possibility for my youngest daughter at the time.
My middle daughter hasn't had things as easy as her big sister.  School is a struggle for her, but one thing that always grounds her and calms her has been her creative side.  She loves the arts.  She shines in that area and it makes her happy.  So when I heard about these magnet schools I put it in the back of my mind as a possibility down the road.
Well, we're at that crossroad.  When the school year began I started really looking into this.  I found a school that focused on areas that I felt my daughter would really like and we attended an open house.  We left there and she genuinely seemed excited about the possibilities at this school.  I talked to her about the cons (long bus ride, getting up earlier, getting home later) and then I asked her if she wanted to apply.  She said yes, and I kept asking.  I filled out the application and before I hit submit I said to her, now you're sure you want to do this because once I hit submit that's it.  She said she did and once it was done that was when the I don't wants began.
We had a few months before we would hear if she was accepted or not.  It was all done on a lottery so there was nothing we could do to up her chances.  It was luck of the draw.  Well, we just found out her number was drawn.  She got into the school.  And now we have two weeks to accept her spot or lose it forever.  So we are really sitting down and talking about those I don't wants.
It seems that the long bus ride and the long hours are what have her not wanting to do it at this point.  At least that's what she's telling me.  I talked to her former 3rd grade teacher who has been a God send and he's going to have a chat with her.  We all respect him so much and I know that he can get stuff out of her that I can't always get and he really gives her so much confidence.  We are all so lucky to have him in our lives and he has agreed to touch base with her and let me know what he finds out.
In the meantime we struck a deal; I asked her to give it a year.  To really put in her all for one year there and if she hates it then in 7th grade we'll re-enroll her in our local middle school.  So far she has agreed to that.  Things might change after she talks to her friends.
I don't want to force this on her, but at the same time I don't want her to feel like she missed out on an opportunity.  Since we have the spot now I think we should at least test it out.  No harm in trying, if it doesn't work then we go with our back up plan.
But this is all completely new territory for me so I get to tread through transportation forms and enrollment forms for this.  I also have to see if I can get the new school to attend her PPT meeting in May so we can decide what the best course of action for her IEP (Individual Education Plan) will be in this school.  You all thought enrolling in preschool and elementary school was tough.  It all just gets more complicated.  I suspect this is all in preparation for the college applications and financial aid forms we eventually have to fill out.
Can't Forget About My Kindergartner
Oh, the smallest boy in his class.  One of the youngest as well with his November 1st birthday.  His birthday has been a source of educational worry for me since the moment I got pregnant with him.  You see, I know all too well the struggles of being one of the youngest in the class since my birthday is November 2nd.  And my brother's birthday is December 29th.  While I was able to continue on with my classmates my brother stayed back in Kindergarten.
So all of my son's life I have been debating on how to handle this.  Do I just hold him out a year or do we give it a go and see what happens?
Well, push came to shove and while his teacher said he'll be fine, I knew he was behind where he needed to be starting Kindergarten.  Our hands were really tied though.  You see when I put him into our city's preschool program for 3 year old's when he was just two because of the developmental delays he had I knew there was no repeating that program.  It was for kids who were born in 2007 and the next year was for kids born in 2008.  So we moved him up to the 4 year old program and same thing, there was no letting him repeat.  So my choices were find another preschool program (which would cost money that we didn't have), keep him out of school for a year after two years of school, or just enroll him in Kindergarten and see what happens.  Obviously we chose the last one.  And I have no regrets there.  From the very beginning of the school year I always thought there was a distinct possibility that he would repeat Kindergarten.  I have been preparing for this his entire life.
So when we met with his teacher for his conference I was just waiting for those words to come out of her mouth.  I mean it's clear to me.  I look at his work compared to his classmates and he's really not even close to the same level as them.  And that's okay.  I could tell this was a difficult conversation for his teacher to have with us.  She kind of danced around it and it was like pulling teeth to get her to say keep him back.  She told us what a wonderful little boy he is and how sweet and kind he is to everyone in the school.  So the way I'm looking at this right now is they just like him so much in Kindergarten that they just don't want to say goodbye to him.
This is all new territory to me too though.  I had to find out what we have to do to get him to repeat and also make sure that they are really going to allow him to repeat.  Ultimately it is our choice.  We could just keep pushing him along, but the older he gets the more he's going to notice the difference.  Plus we still have a half day Kindergarten program.  He would be going all day next year in 1st grade.  I don't think he could handle that just yet.  A lot of development can be accomplished in a year.
Now, in the back of my mind I have this image of my son at his best friend's birthday party a few weeks ago holding hands with him waiting his turn to bowl.  I don't want to break that duo up, but there's no doubt in my mind that my son will have no problem making new friends.  And actually he's going to be one lucky kid knowing all of these kids in the upper grade.
He can take on a leadership roll next year because he'll already know the routine and where everything is.  And he's going to love that.  He so desperately wants something to be in charge of.  Just about everyday he'll ask me when his sister's leave a room or something, "Mommy, am I in charge in the living room now?"  He wants so badly to be in charge of something.  It's really cute, but I think this will be his chance and it will really build his confidence.  And once we get through this it will be smooth sailing.
So now we have to talk to the principal and let her know that we are fine with retention.  The only thing my husband and I have to get on the same page about is whether or not we want to ask that he have the same teacher.  We were told they generally do not do that, but it's something we'd have to talk to the principal about.  I'm actually okay with him having the other teacher just so he kind of feels like he's moving on and not staying with the same.  My husband thinks that it would be better if he has the same teacher.  So it's something we'll have to discuss.  Although, ultimately it's up to the principal anyways.  We can only give her our thoughts and concerns on the matter.  She gets the final say.
And now you know the life, worry, and struggles of a mom trying to find the best placement for three very different children.  They are tough choices, but ones which had to be made.
Are you prepared for all of this school rigmarole?