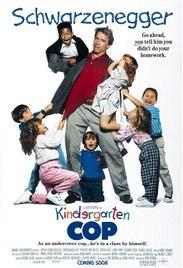 Director: Ivan Reitman
Writer: Murray Salem, Herschel Weingrod, Timothy Harris (Screenplay) Murray Salem (Story)
Starring: Arnold Schwarzenegger, Penelope Ann Miller, Pamela Reed, Linda Hunt, Richard Tyson, Carroll Baker, Cathy Moriarty
Plot: A tough cop is given his most difficult assignment ever: to masquerade as a kindergarten teacher in order to find a drug dealer.
There may be spoilers the rest of the review
Verdict: Classic Arnold
Story: Kindergarten Cop starts with Detective John Kimble (Schwarzenegger) tracking his prime suspect Cullen Crisp Jr (Tyson) who is searching for his ex-wife who is on the run from him. When Kimble finally gets his man he needs to locate Cullen's ex-wife to finally put him away which means teaming up with Detective Phoebe O'Hara (Reed) and go undercover as a Kindergarten teacher.
The plan goes wrong early on when O'Hara becomes sick meaning Kimble has to take over the undercover role. Kimble trying to control the class becomes his hardest mission and trying to work out who the mother is just keeps becoming a difficult task with many leads from his class of Kindergarteners.
Kindergarten Cop takes the undercover cop genre putting a nice twist on it to make this also have the one man out of his comfort zone comedy. The action side of the story is toned down a lot but this isn't a bad thing because we don't really need this to be too action heavy. The crime side of the story shows that innocent victims can be the child but more importantly this film does show us the serious side that suffering child do go through if not dealt with accordingly. This is a great entertaining crime comedy that everyone does a great job in.
Actor Review
Arnold Schwarzenegger: Detective John Kimble has spent years of his police career trying to bring down Cullen Crisp, when he finally gets his man he must locate his missing wife that can finally convict him of all his crimes. Finding the wife means going undercover as a kindergarten teacher to find the son but this turns out to be a lot harder than Kimble had planned. Arnold shows how he can handle both action and comedy with this performance.
Penelope Ann Miller: Joyce Palmieri is a teacher at the school that Kimble takes a liking too. She has a son that is in Kimble's class as her and Kimble get close she becomes one of his leads. Penelope is good in this role where we see both sides of her character.
Pamela Reed: Detective Phoebe O'Hara is the partner Kimble has to work with, she was meant to be the one to go undercover but when she gets sick she has to take the back seat. The two are an odd couple which adds to extra comedy in the film. Pamela is good as the sidekick and opposite to Arnold.
Richard Tyson: Cullen Crisp Jr is the man that Kimble has been tracking down but not before he learns about the location of his ex-wife who can put him away for the rest his life. Richard is good as this cocky crime boss.
Support Cast: Kindergarten Cop has a supporting cast which includes the fellow teachers, cops, mothers and most importantly the children who help Kimble unlock the case.
Director Review: Ivan Reitman – Ivan gives us a good crime comedy that has a unique twist on the undercover cop story.
Action: Kindergarten Cop has action which is needed for the film but isn't action heavy with just chase scenes being involved.
Comedy: Kindergarten Cop uses the situation to create the comedy as we Arnold in the position we would never imagine to be in.
Crime: Kindergarten Cop throws us into the world where we follow a cop tracking down a criminal, this is all easy to follow and helps the story out along the way.
Settings: Kindergarten Cop takes us to a small town for the most part of this setting as we see it be a place where people look to start a new life in.
Special Effects: Kindergarten Cop has effects you would expect to see in this without needing to turn to them.
Suggestion: Kindergarten Cop is one I do think every could enjoy from start to finish. (Watch)
Best Part: Training the kids.
Worst Part: Television editing this film down.
Believability: No
Chances of Tears: No
Chances of Sequel: Sadly, we are having.
Post Credits Scene: No
Similar Too:
Oscar Chances: No
Budget: $26 Million
Runtime: 1 Hour 51 Minutes
Tagline: An undercover cop in a class by himself.
Overall: One of Arnold's best and most underrated pieces of work.
Rating