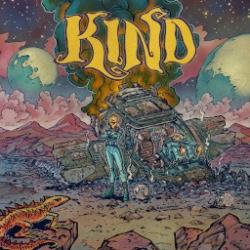 Formed in 2013 by Matt Couto (Elder), Darryl Shepard (Black Pyramid, The Scimitar) and Tom Corino (Rozamov) – after the trio spent time jamming together in-between day-to-day commitments – the doom supergroup KIND quickly cemented their formation with the addition of Roadsaw vocalist Craig Riggs.
Out of the mind-bending riffs and extended jam sessions, whole songs began to take shape through winter rehearsals down in Couto's freezing cold basement in 2014. Shows were soon booked to share the tunes with the curious. Further riffs materialized, new songs banged into shape, and yet more shows confirmed, so keen were the band to test their mettle and mixture of heavy metal, psych, Krautrock and straight-up classic rock and roll live.
With four songs recorded at Mad Oak Studios serving as the band's demo, in the spring of 2015, KIND entered New Alliance Studios with engineer Alec Rodriguez to record their first full-length, Rocket Science receives an official release today on the California-based label Ripple Music.
KIND on Facebook | Bandcamp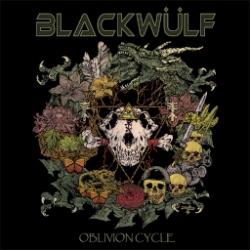 With a résumé that includes member stints with bands like San Francisco's Acid King, The Nads, Tucson's Naked Prey and Mountain Pig, Blackwülf is already a seasoned predator. Formed in 2012, it wasn't until January of last year that the band unleashed their debut album Mind Traveller on Wicker Man Recordings, pressed on clear red vinyl and featuring jacket illustrations from acclaimed San Franciscan artist Alan Forbes (Queens Of The Stone Age, The Misfits). The record, much like Blackwülf themselves is unabashed in its typical, "What you see is what you get" aesthetic, melding heavy stoner riffs to sincere, pure rock indulgence.
The band – featuring vocalist Alex Cunningham, guitarist Pete Holmes, drummer Dave Pankenier and bassist Scott Peterson – prowl the musical feeding grounds of stoner rock, doom-cloaked soundscapes and vintage heavy metal. Dark sonic forests provide coverage for their unholy mix of parapsychological anger and aggression, and bluesy head-banging riffs. As Heavy Planet put it best, "Heavy on the heavy, doomy on the riffing, this vintage metal band has hit the nail on the proverbial head."
Offering up a pounding dose of melody and raw power with a nod to the golden old schools of heavy 70s and 80s pre-thrash metal, Blackwülf's Oblivion Cycle is released today through Ripple Music.
Blackwülf on Website | Bandcamp | Facebook | Twitter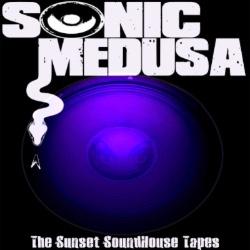 Formed in 2009, the venerable LA super group Sonic Medusa – featuring members of Goatsnake, The Obsessed, Hollywood Rose and Angus Khan – have already drawn comparisons with the likes of Black Sabbath, Pentagram, Alice Cooper and a whole host of other, celebrated groups of the era.
With their debut EP The Sunset SoundHouse Tapes – officially released this December on the formidable Ripple Music – the band digs its heavy heels in deep, integrating the powerful influence of late 70s/early 80s NWOBHM via twin guitar assaults and rhythms reminiscent of Thin Lizzy, Judas Priest and early Iron Maiden.
Brought out of semi-retirement by the lure of making music with Sonic Medusa, Greg Rogers, who has remained at the center of the US doom/stoner/desert rock scene as powerhouse drummer for The Obsessed and Goatsnake, joins fellow Goatsnake band mate Scott 'The Low-End Lumberjack' Renner. Described by all he meets as a 6'4, walking wall of sound, Renner also served time in numerous outfits as bassist for sludge/doom band Sourvein and North Carolina post punkers Brickbat.
Leading the charge up front for the Californian quartet is new singer/guitarist Dirty D – former front man of the notorious LA punk rock band B-Movie Rats, and later, the pyrotechnic Angus Khan – and fellow guitarist, Steven Darrow. Darrow, who earned his spurs as a young Californian punk with The Decadents, Christian Death and Super Heroines went on to become bass player in the mid-80s for the Motörhead-meets-Nazareth inspired hard rock band Hollywood Rose… later known as Guns 'N' Roses.
Sonic Medusa's first live gig was opening for the legendary proto-metal godfathers (and one of their biggest influences), Blue Cheer. They have also shared stages with other, heavy rock pioneers such as Pentagram, Wino (St. Vitus) and young heavyweights like Radio Moscow, The Shrine, Mike Watt, The Freeks and Mothership.
With upcoming engineer/audio-guru David Schwerkolt at the board, The Sunset SoundHouse Tapes was recorded at the legendary Sunset Studios, Hollywood; the spiritual home and birthplace of definitive recordings like Exile On Main St by The Rolling Stones, The Beach Boys' Pet Sounds and Led Zeppelin's IV.
The Sunset SoundHouse Tapes is released today on Ripple Music and can be purchased digitally via Ripple's Bandcamp page - https://ripplemusic.bandcamp.com/album/the-sunset-soundhouse-tapes
Sonic Medusa on Facebook | Bandcamp