There has been a lot of internet snarking about the appearance of Kim Novak at Sunday's Oscars (as well as many other enhanced Hollywood stars). I have to admit that I was a little taken aback at first (and second and third) glance as well. Kim Novak is one of
my style icons
. Her beauty is legendary. But the more I looked at 81 year-old Kim the less I felt that her frozen facial appearance could all be put down to misplaced vanity and Botox. Kim has had a rough time over the last few years.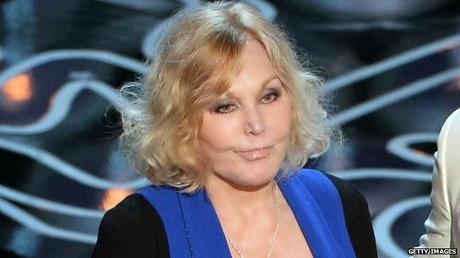 Kim Novak at The Oscars last Sunday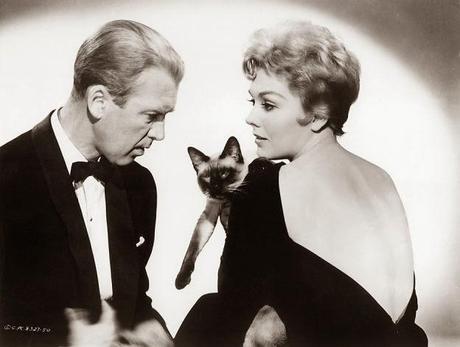 With Jimmy Stewart and "Pyewacket" in Bell, Book, and Candle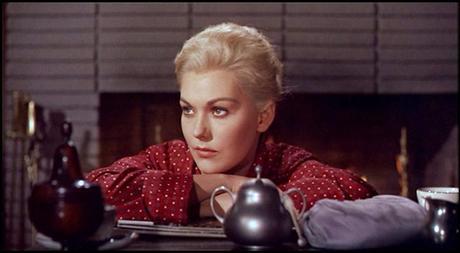 In Vertigo
In 2000, her home was partially damaged by fire, and the next year it was burglarized. In 2006, she was badly injured in a horse riding accident, with a punctured lung, broken ribs, and nerve damage. In 2010 she was diagnosed with breast cancer, but has since been declared cancer-free. She most definitely has had some work done, but her jaw and face had a puffy look that might also be the result of certain medications. Is it fair to hold her up as a victim of bad plastic surgery, like the
unkind Donald Trump
did publicly, without all the information? Is it fair or even decent to snark about an 81 year-old actress's looks at all?
It was clear Sunday night that Kim Novak felt a little shaky, and her co-presenter Matthew McConnaughey very kindly and gallantly seemed to buoy her up through their time on stage. It would be nice if fans of Hollywood actors and movies could do the same.