Kim Jong Un's last observed appearance was his visit to the Sunch'o'n Complex Complex.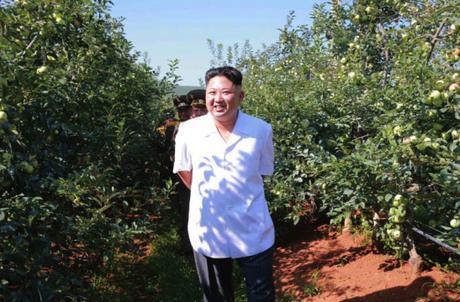 Kim Jong Un visits Taedonggang Combined Fruit Farm in Samso'k District, Pyongyang, in an image which appeared on the front page of the August 18, 2016 edition of the WPK daily newspaper Rodong Sinmun.


DPRK state media reported on August 18 (Thursday) that Kim Jong Un (Kim Cho'ng-u'n) visited the Taedonggang Combined Fruit Farm and the Taedonggang Pig Farm. Also in attendance were O Su-yo'ng [O Su Yong], Workers' Party of Korea [WPK] Vice Chairman and Director of the WPK Economic Affairs Department and Jo Yo'ng-wo'n [Jo Yong Won], deputy director of the WPK Organization Guidance Department.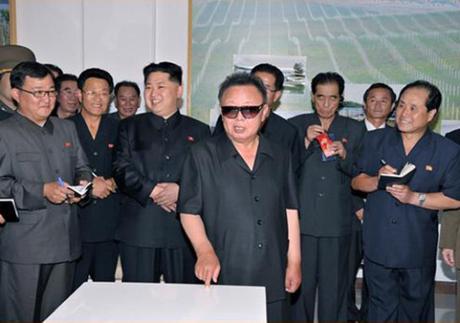 Kim Jong Il and Kim Jong Un visit the Taedonggang Combined Fruit Farm during July 2011 (Photo: NK Leadership Watch file photo/KCNA).
Jong Un's first stop was to the Taedonggang Combined Fruit Farm where according to KCNA and KCTV he "set forth tasks and ways to turn the farm into the world's leading orchard and people's orchard and took measures to do so while providing his field guidance to the farm in August last year." He was briefed about the farm's production in front of a large graphic map of the premises than took a "bird's-eye view" of the farm from an observation post. He said that "this is the farm which leader Kim Jong Il (Kim Cho'ng-il) left for the people as a patriotic legacy" and "was moved to tears at the thought of Kim Jong Il whenever he passed this place."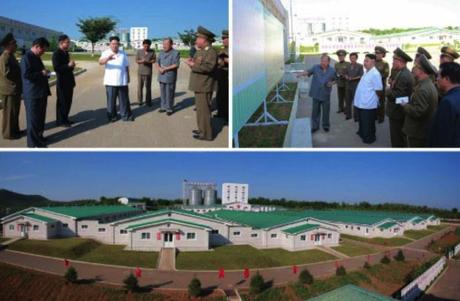 Kim Jong Un tours the Taedonggang Pig Farm. Photo: KCNA/Rodong Sinmun
He said that "officials and working people of this farm should always remember the devoted efforts made by Kim Jong Il to provide the people with a sufficient quantity of fresh fruits in all seasons and boost the production of fruits every year and thus glorify his immortal exploits forever and remain true to the noble sense of obligation towards him." Jong Un toured the farm and said that leading functionaries and employees of the farm "have done a lot of work as they opened up a bright prospect of attaining the goal of fruit production set by the Party this year and, at the same time, supplied the citizens of Pyongyang with early apples. An unusually rich fruit harvest visited the farm despite unfavorable climatic condition, a sign of the country's prosperity. Every apple tree is heavily laden with apples."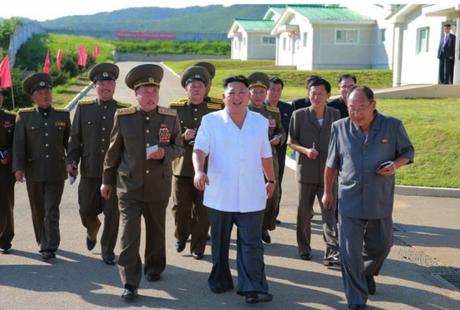 Kim Jong Un tours the Taedonggang Combined Fruit Farm in an image from the top-center of the second page of the August 18, 2016 edition of the WPK daily newspaper Rodong Sinmun. Standing left of Kim Jong Un is man who appears to be Minister of People's Security and State Affairs Commission Member, General Choe Pu Il. Photo: KCNA/Rodong Sinmun
Kim Jong Un "extended his thanks to the officials and working people of the Ministry of People's Security and the farm in the name of the Central Committee of the Party" and said that "the farm could harvest the richest-ever fruits because they fully displayed the spirit of devotedly implementing the Party's policy, bearing deep in mind its intention to provide the people with sufficient amount of fruits." Jong Un issued instructions to the farm which "would serve as guidelines for managing and operating it."
He also toured the service and welfare facilities for employees of the Taedonggang Combined Fruit Farm that "that look in perfect harmony with orchards" and remarked that "the longer one watches them, the more spectacular scenery they present. It is the famous orchard under socialism and a socialist fairyland which can be found in socialist Korea only." Kim Jong Un "expressed the expectation and belief that the officials and working people of the farm would produce more fruits for the people."
His next stop was at the Taedonggang Pig Farm described as "a large livestock producing base built in 2011 on the initiative of Kim Jong Il." According to KCNA and KCTV Jong Un had previously inssued instructions for "sprucing up the farm associated with the love of Kim Jong Il for the people as befitting the unit honored with his field guidance and establishing the scientific livestock system to keep production going at a high rate and meticulously organizing the work for perfectly establishing the food production cycle of fruit growing and animal husbandry and solved all matters arising in doing so."
He first stopped at room exhibiting the revolutionary and institutional histories of the pig farm. He remarked that KJI visited the farm "in the last period of his life and clearly indicated the road to be followed by it" and Jong Un "underscored the need for the farm to direct primary efforts to educating them through Kim Jong Il's leadership exploits so that its employees might add shine to his immortal exploits with signal successes in production."
He toured "various places including the combined control room, breed shed, raising shed, fattening shed, pork processing shed and organic compound fertilizer shop, he learned in detail about the production on the farm."
He noted "that the farm put the pork production on a scientific and intensive basis and established the food production cycle of fruit growing and animal husbandry as demanded by the Party, he gave an instruction on inviting the officials in the relevant field to visit the farm so that the successes and experience gained by the farm might be widely generalized."
Jong Un issued tasks "to be fulfilled by the farm."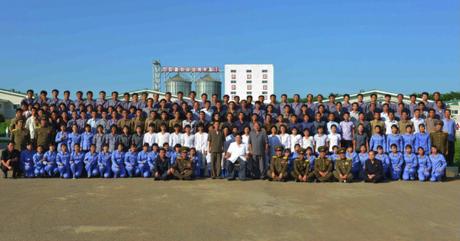 Commemorative photograph of Kim Jong Un and senior officials with managers and employees of the Taedonggang Pig Farm. Photo: KCNA/Rodong Sinmun
He concluded his visit with a commemorative photo with the officials and employees of the farm and expressed "belief that they would become the vanguard and shock brigade in carrying out the Party's stock-breeding policy."
Filed under: Administration Department, Jo Yong Won, Kim Chong-un inspections, Kim Family, Kim Jong Un Visits, Kim Jong-il, Kim Jong-un, Korean Workers' Party (KWP), land and enviroment, Ministry of Agriculture, Ministry of Food and Consumer Goods, Ministry of Food and Procurement, Ministry of Foodstuffs and Daily Necessities, O Su Yong