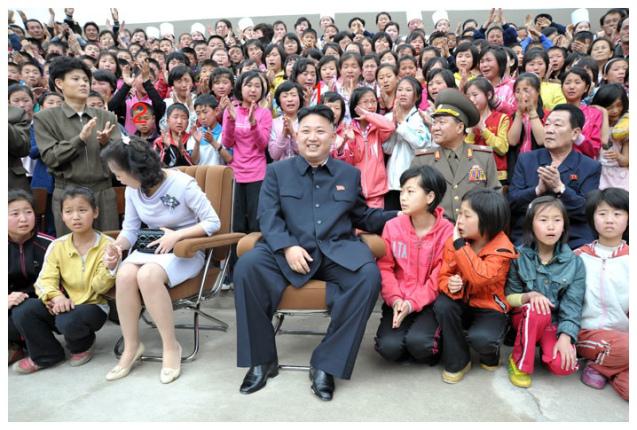 Kim Jong Un (1) and his wife Ri Sol Ju (2) interact with children campers during a commemorative photo session after KJU toured the Mt. Myohyang Children's Camp in North P'yo'ngan Province on 19 May 2013 (Photo: Rodong Sinmun)
DPRK state media reported that Kim Jong Un (Kim Cho'ng-u'n) and his wife Ri Sol Ju (Ri So'l-chu) visited the Myohyangsan (Mount Myohyang) Children's Camp in North P'yo'ngan Province on 19 May (Sunday).  KJU's last reported public appearance was his visit to Ryongmun Liquor Factory.  Attending the visit to the children's camp with KJU and RSJ were VMar Choe Ryong Hae (Director of the Korean People's Army [KPA] General Political Department), Choe Hwi (Senior Deputy [1st Vice] Director of the Korean Workers' Party [KWP] Propaganda and Agitation Department) and Pak Tae Song (Deputy KWP Department Director).  KJU began his visit to camp looking at a stone monument of a quotation by KJU's paternal grandfather, late DPRK President and founder Kim Il Sung.  According to KCNA, Kim Jong Un noted that "Kim Jong Il proposed on number of occasions the task for successfully rebuilding the children's camp and personally examined its design in the last period of his life" and he "underscored the need to newly build the camp to be proud of in the world as early as possible and thus carry out without fail the behest of Kim Jong Il who made so much effort to provide a better camp to children."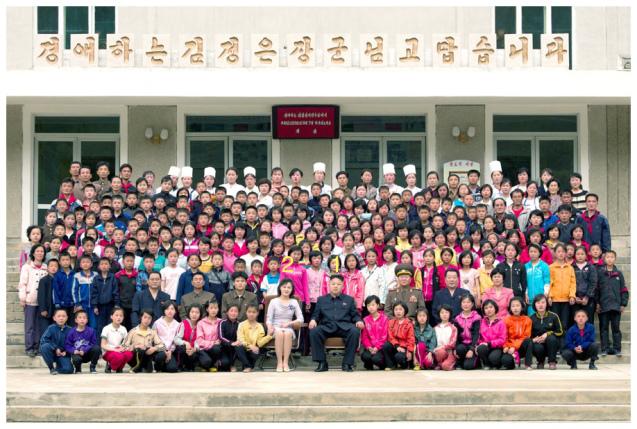 Kim Jong Un (1) and his wife Ri Sol Ju (2) pose for a commemorative photograph with campers, employees and officials at Mt. Myohyang Children's Camp on 19 May 2013 (Photo: Rodong Sinmun).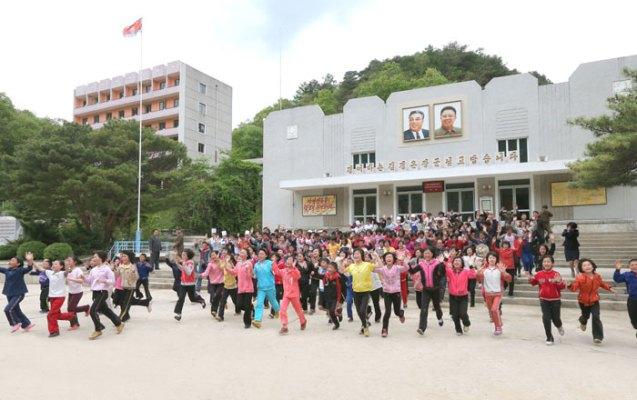 Campers at the Mt. Myohyang Children's Camp (Photo: Rodong Sinmun).
Kim Jong Un and Ri Sol Ju toured the camp where they saw "bedrooms, the room for disseminating knowledge about camping, room for the Children's Union, room for cultural information service, room for the preservation of gifts, music room, dinning room and hall to learn in detail about children's camping."  According to KCNA, Kim Jong Un said "to build the camp as required by the era of Military-First politics (So'ngun) is an important work for realizing the lifelong desire of the great Generalissimos Kim Il Sung and Kim Jong Il who did everything for the children as their tender-hearted father all their lives. He called for newly building the camp instead of remodeling it."  Referring to the songs "We Are the Happiest in the World" and "General to Front, While Children to Camps," Kim Jong Un said "I remember the loving care shown by the Generalissimos for posterity whenever I listen to those songs. There is a mountain of work to be done for building a thriving nation, but we must not spare investment in the building of camps. It is the determination of the party to excellently remodel not only this camp but all other camps, children's palaces and children's houses across the country."
According to KCNA, Kim Jong Un also remarked that "when remodeling camps across the country, it is necessary to spruce up camps at the foot of mountains to match their landscape and those camps on seaside to do its landscape, and to this end it is important to work out designs well."  KJU also "noted that the main objective of the revolution being made despite manifold difficulties and trials is to bring happiness to the children and it is necessary to enable them to lead a happy life with no more desire in the world." Kim Jong Un met with some of the campers and posed for commemorative photos with them.
Filed under: Central Committee, Central Military Committee, Choe Hwi (PAD], Choe Ryong Hae, DPRK Cabinet, DPRK External Relations, Education Commission, Events Management Section, Guard Command, Kim Chong-un inspections, Kim Family, Kim Il Sung Youth League, Kim Jong Un Visits, Kim Jong-il, Kim Jong-un, kisyl, KJI Personal Secretariat, Korean Children's Union, Korean People's Army (KPA), Korean People's Internal Security Forces, Korean Workers' Party (KWP), KPA General Political Bureau, KPA General Political Department, KPA supernumerary organizations, kpif, Ministry of Culture, ministry of people's security, Ministry of Physical Culture and Sports, Ministry of State Security, MPAF GPB, National Defense Commission (NDC), NDC Administration Department, North Korean press, Organization and Guidance Department, Pak Thae Song (KWP CC Dept), party life, Political Bureau, Propaganda and Agitation Department, Secretariat, State Physical Culture and Sports Commission, State Security Department, Working Organizations