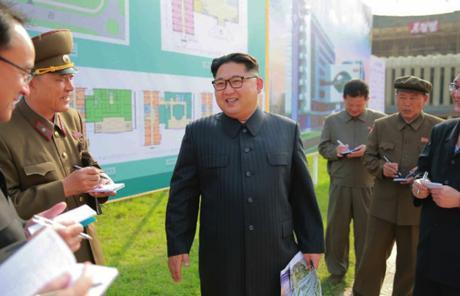 Kim Jong Un visits the construction site of an eye hospital in Pyongyang (Photo: Rodong Sinmun).
Kim Jong Un's last observed appearance was his visit to Kwisong Salt works
DPRK state media reported on May 27 (Friday) that Kim Jong Un (Kim Cho'ng-u'n) visited the construction of the Ryugyo'ng General Ophthalmic Hospital.  Also in attendance were Kim Yong Su (Director of the Workers' Party of Korea [WPK] Capital Construction Department), Jo Yong Won (Deputy Director of the WPK Organization Guidance Department) and Ma Won Chun (Director of the National Defense Commission [NDC] Design Department).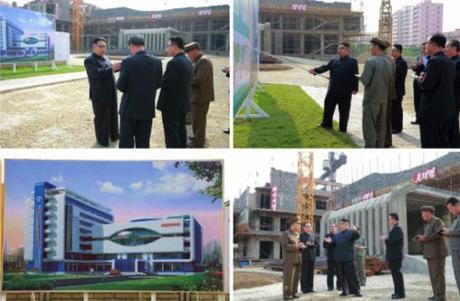 Kim Jong Un tours and gives instructions for the construction of the Ryugyong Ophthalmic Hospital (Photos: Rodong Sinmun/KCNA).
Jong Un remarked that providing "the people with a modern general ophthalmic hospital was a longtime plan and desire."  He was briefed about it architecture and layout and toured the construction site "to give instructions for it."  He said that it "is important in building the hospital to is to ensure good interior and exterior construction so as to make the most of its characteristics as a multi-functional and general health service center even manufacturing glasses."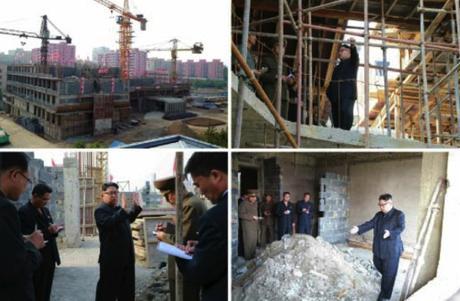 Kim Jong Un tours the construction of an eye hospital in Pyongyang (Photos: Rodong Sinmun-KCNA).
He stressed the "need to build outpatient and sick wards and [a] glasses shop in keeping with the modern aesthetic taste in favor of treatment of the patients and service activities" and said that "preparations should be made well in advance for smooth operation of the hospital while speeding up its construction.  The hospital should be built into the country's modern ophthalmic one…the Party would be entirely responsible for the provision of modern medical equipment and various furnishings necessary for its operation."  Jong Un also said that the "Party would provide the sufficient material and technical means to the hospital's glasses shop so that it can manufacture glasses on the basis of scientific diagnosis and prescription and serve glasses of various types and functions according to the tastes, sex and age of citizens."
Kim Jong Un noted that "when the Ryugyo'ng General Ophthalmic Hospital is built, we can say that we have built various kinds of modern medical service center one by one every year recently…this is a powerful demonstration of the advantage of our socialist healthcare system in which the Party and the state take full responsibility for the life and health of the people."  He expressed his "belief that the builders would successfully complete the construction of the hospital before October 10, the founding anniversary of the WPK."
Filed under: Capital City Construction Commission, capital construction, Central Committee, Comprehensive Affairs, critical infrastructure, DPRK Cabinet, Economic Complexes, Events Management Section, Finance and Accounting, Financial Planning Department, General Affairs, Guard Command, hospitals and health care, Jo Yong Won, Kim Chong-un inspections, Kim Family, Kim Jong Un Visits, Kim Jong-un, Kim Yong Su (WPK CC DD), KJI Personal Secretariat, Korean People's Internal Security Forces, Korean Workers' Party (KWP), kpif, Ma Wo'n-ch'un (AD), Ministry of Capital Construction, Ministry of Construction and Building Materials Industry, ministry of people's security, Ministry of Public Health, Ministry of State Construction Control, Ministry of State Security, National Defense Commission (NDC), NDC Administration Department, North Korean press, Organization and Guidance Department, Political Bureau, Pyongyang Defense Command, State Planning Commission (SPC)