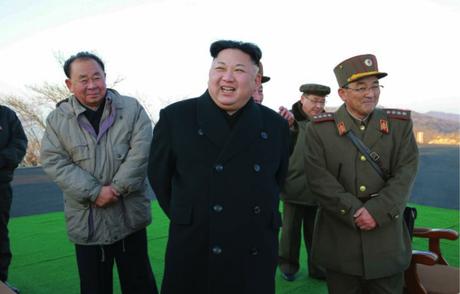 Kim Jong Un smiles after a missile drill on March 6, 2017 in North P'yo'ngan Province. Also in attendance are WPK Department Senior Deputy Director Ri Pyong Chol(left) and KPA Strategic Force Commander Gen. Kim Rak Gyom (right) (Photo: Rodong Sinmun).
KJU's last observed appearance was his attendance at a tree planting event at Mangyo'ngdae Revolutionary School
Kim Jong Un (Kim Cho'ng-u'n) observed and commanded a missile test in North P'yo'ngan Province on the morning of March 6 (Monday).  Also in attendance were Workers' Party of Korea [WPK] Munitions Industry Department [MID] Senior Deputy Director Ri Pyong Chol [Ri Pyo'ng-ch'o'l], WPK Munitions Industry Department Deputy Director Kim Jong Sik [Kim Cho'ng-sik], Korean People's Army [KPA] Strategic Force Commanding Officer General Kim Rak Gyom [Kim Rak-kyo'm] senior MID cadres, KPA Strategic Force officers, Atomic Weapons Institute staff and nuclear weapons and missile researchers and personnel from the Second Academy of Natural Sciences [SANS] and the Second Economy Commission [SEC; also known as the Second Economic Committee].
The test was conducted by the KPA Strategic Force's Hwaso'ng "artillery units" who have been "tasked to strike the bases of the US imperialist aggressor forces in Japan in [a] contingency."  Jong Un was briefed about preparatory work for the missile drill while conducting a field inspection of the launch area.  After ascending an observation area, he was briefed about the missile drill then ordered it to begin.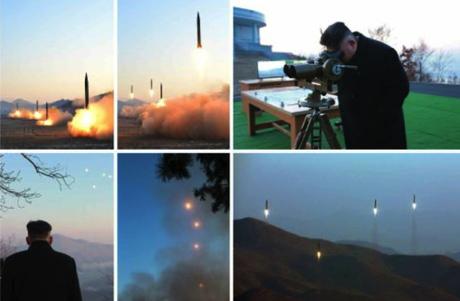 As he watched the drill, Kim Jong Un "appreciated that Hwaso'ng artillery units of the Strategic Force are very good at organizing and commanding fire strikes and strictly ensuring rapid and simultaneous fire strikes.."  He said that the "four ballistic rockets launched simultaneously are so accurate that they look like acrobatic flying corps in formation."  He praised the "Hwaso'ng artillerymen for successfully concluding the drill for launching ballistic rockets simultaneously" and remarked that "it is a great pride of the Party and state, army and people to have such a strongest one as the KPA Strategic Rocket Force equipped with Korean-style powerful ballistic rockets and Chuch'e-based fire strike methods."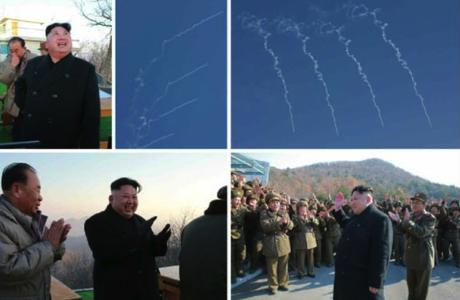 Kim Jong Un issued tasks to the MID cadres accompanying him "to be fulfilled to strictly establish a monolithic leadership system and commanding and managing system of the Supreme Commander over the strategic force, further round off the Chuch'e-based rocket striking methods put on an actual, scientific and modern basis, continuously develop Korean-style ultra precision and intellectually promoted rockets and bolster them in quantity and quality."  Jong Un ordered the KPA Strategic Force to "keep highly alert as required by the grim situation in which an actual war may break out anytime, and get fully ready to promptly move, take positions and strike so that it can open fire to annihilate the enemies once the Party Central Committee issues an order."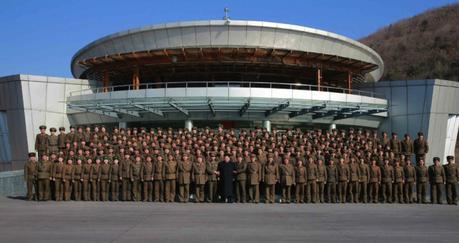 Jong Un attended a commemorative photo-op with the missile drill's participants and he expressed his "expectation and belief that the Hwaso'ng artillerymen of the KPA Strategic Force would successfully discharge their sacred mission and duty as the creditable nuclear force of the Workers' Party of Korea in the death-defying struggle against the enemies."
Filed under: "self-development first" slogan, 2017 ballistic missile tests, 2017 strategic rhetoric, 2nd Academy of Natural Science, Atomic Weapons Institute, Ballistic Missile Guidance Bureau, Central Committee, Central Military Committee, colonel general, Comprehensive Affairs, contingencies in DPRK, corps commanders, critical infrastructure, DPRK Cabinet, DPRK External Relations, DPRK General Department of Atomic Energy, DPRK military engagement, east sea command, Economic Complexes, Events Management Section, Executive Policy Bureau, Gen. Ri Pyong Chol, General Affairs, General Department of Atomic Energy, Guard Command, Information Section, internal security, Kim Chong-un inspections, Kim Jong Sik, Kim Jong Sik (missile expert; Strategic Command; MBID), Kim Jong Un Visits, Kim Jong-un, KJI Personal Secretariat, Korean People's Army (KPA), Korean People's Army Supreme Command, Korean People's Internal Security Forces, Korean Workers' Party (KWP), KPA East Command Zone, KPA General Logistics Department, KPA General Staff, KPA Strategic Rocket Force Command, KPA supernumerary organizations, KPA Supreme Command, kpif, KWP Science and Education Department, Lt. Gen. Jang Chang Ha, Machine Building Industry Department, medium-range ballistic missiles, military security command [msc], ministry of people's security, Ministry of State Security, Ministry of the People's Armed Forces (MPAF), National Academy of Defense Sciences, North Pyongan KWP Provincial Committee, North Pyongan Provincial People's Committee, Notification, nuclear weapons, Organization and Guidance Department, Political Bureau, primary party committees, Second Economy Commission, State Academy of Sciences, State Affairs Commission, State Science and Technology Commission, State Security Department, VIII Army Corps