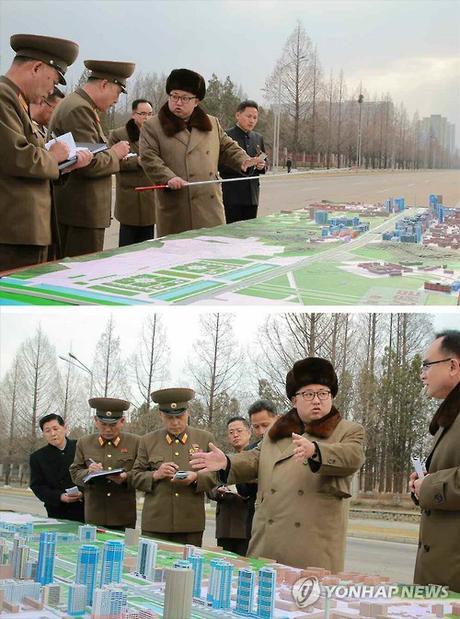 Kim Jong Un issues instructions about the layout and design of Ryomyo'ng Street in Pyongyang (Photo: KCNA-Yonhap).
Kim Jong Un's last observed appearance was his attendance at a reentry simulation at T'aeso'ng Machine Factory
DPRK state media reported on March 18 (Friday) that Kim Jong Un visited an area in northern Pyongyang and ordered the construction of Ryomyo'ng Street, a residential area near Ku'msusan Memorial Palace of the Sun and Ryo'nghu'ng crossroads in Pyongyang.    Also in attendance were Jo Yong Won (deputy director of the Workers' Party of Korea [WPK] Organization Guidance Department), Kim Yo Jong (deputy director of the WPK Propaganda and Agitation Department and Jong Un's sister) and Kim Chang Gwang (deputy director of the WPK Science Education Department) and Lt. General Ma Won Chun (Director of the National Defense Commission Design Department).
Kim Jong Un looked at a map and proposed layout of the new street and issued instructions "for building the street into a monumental edifice strikingly displaying the WPK's idea of attaching importance to science and talents and the might of socialist Korea.  The essence of its construction is to splendidly build apartment houses for scientists and researchers including educators of Kim Il Sung (Kim Il-so'ng) University, a nursery, kindergarten, laundry, post office and other public buildings and public service amenities."  He stressed the "need to push forward the construction of Building #3 of the university at the same time" and said that "it is the Party's intention to turn Ryomyo'ng Street into an energy-saving and green street in the 21st Century… the designing and construction units should set it as a goal to ensure the lighting and heating systems for the houses and public buildings with solar panels, geothermal energy and natural lighting and build rooftop greenhouses to go green."
Jong Un said that he would "dispatch the soldier-builders, who took part in the construction of Mirae Scientists' Street, to the construction of Ryomyo'ng Street on the order of the KPA Supreme Commander" and he issued an instruction that "the entire party, state and society should render positive assistance to the construction and the Cabinet, commissions, ministries and national institutions take the lead in this work.  The construction of the street is no merely for formation of a street but serves as a political occasion for clearing showing the spirit of the DPRK standing up and keeping up with the world, despite all sorts of sanctions and pressure by the US imperialists and their followers, the appearance of the country advancing to realize the great ideal of the people and the truth that DPRK is able to be well-off in its own way and nothing is impossible for it to do."
He noted that the construction "of Ryomyo'ng Street is a fierce battle with the US imperialists and their followers" and he called "for completing the construction within this year to inspire the servicepersons and people with faith in sure victory and optimism and demonstrate the might of the DPRK fighting its way out with conviction in the rosy future and the traditions of ever-victorious Chuch'e Korea that the world has neither understood nor can do."
Filed under: "self-development first" slogan, 70 Day Speed Battle (2016), 7th Party Congress, Capital City Construction Commission, Central Committee, Central Military Committee, Comprehensive Affairs, critical infrastructure, DPRK Cabinet, DPRK Premier, Economic Complexes, Education Commission, Finance and Accounting, Financial Planning Department, food production, Guard Command, hospitals and health care, Information Section, Jo Yong Won, Joint Slogans, Kim Chang Gwang (MBID), Kim Chong-un inspections, Kim Family, Kim Il Sung Youth League, Kim Jong Un Visits, Kim Jong-un, Kim Yo Jong, kisyl, KJI Personal Secretariat, KJI-Ko Yong Hui Family, Korean People's Army (KPA), Korean People's Army Supreme Command, Korean People's Internal Security Forces, Korean Workers' Party (KWP), KPA construction battalions, KPA construction brigades, KPA General Logistics Department, KPA supernumerary organizations, KPA Supreme Command, KPA WPK Committee, kpif, KWP Science and Education Department, local people's committees, Ma Wo'n-ch'un (AD), Military Affairs, military economy, military security command [msc], Ministry of Capital Construction, Ministry of Construction and Building Materials Industry, Ministry of Education, Ministry of Food and Consumer Goods, Ministry of Food and Procurement, Ministry of Higher Education, ministry of people's security, Ministry of State Construction Control, Ministry of State Security, Ministry of the People's Armed Forces (MPAF), National Defense Commission (NDC), NDC Administration Department, North Korean press, Organization and Guidance Department, PAD Guidance Section, party life, Political Bureau, population control, primary party committees, Propaganda and Agitation Department, Provincial Party Committees, Pyongyang City People's Committee, Pyongyang Defense Command, Pyongyang WPK Committee, Secretariat, social control, State Academy of Sciences, State Planning Commission (SPC), State Science and Technology Commission, State Security Department, Workers' and Social Organizations