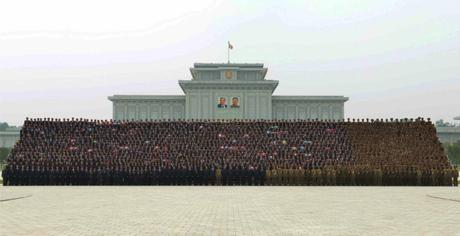 Commemorative photograph in front of the Ku'msusan Palace of the Sun in Pyongyang of Kim Jong Un and personnel involved in the July 22 Hwaso'ng-10 IRBM test as published on the front page of the June 29, 2016 edition of the WPK daily newspaper Rodong Sinmun (Photo: Rodong Sinmun).
Kim Jong Un's last observed appearance was his observation and guidance of the Hwaso'ng 10 intermediate range ballistic missile test 
DPRK state media reported on June 29 (Wednesday) that Kim Jong Un (Kim Cho'ng-u'n) attended a commemorative photo-op outside Ku'msusan Memorial Palace of the Sun [KPS] with the scientists, technicians and other personnel involved in the research and production of the successful July 22 test firing of the Hwaso'ng-10 (Musudan) intermediate-range ballistic missile [IRBM].  Also in attendance were Ri Man Gon (Workers' Party of Korea [WPK] Vice Chairman for and Director of the WPK Munitions Industry Department [MID]) and Ri Pyong Chol (Senior Deputy Director of the WPK Organization Guidance Department), along with other senior officials of the MID, the Second Economic Committee and the Second Academy of Natural Sciences.
Upon arriving on Ku'mususan plaza, "the participants enthusiastically welcomed him, extending highest glory and warmest thanks to him."  Jong Un waved at the missile test contributors, "with a broad smile on his face and sent a warm salute to them."  He "congratulated them who, through successful test-fire of the rocket, proved once again the truth that the decision of the party precisely mean the practice of Korean, instilled confidence in sure victory into its service personnel and people and struck horror into the hostile forces."  After the photos were taken, Kim Jong Un expressed his "expectation and belief that the scientists, technicians, workers and officials in the sector of national defense science would perform fresh miracles and innovations in their scientific research for nation defense and munitions production."
Filed under: "self-development first" slogan, 2nd Academy of Natural Science, Ballistic Missile Guidance Bureau, Central Committee, Central Military Committee, Col. Gen. Kim Rak Gyom (SRFC), Col. Gen. Yun Tong Hyon (MPAF), colonel general, Comprehensive Affairs, Events Management Section, Executive Policy Bureau, Gen. Ri Pyong Chol, General Affairs, Guard Command, Hwasong-10 tests, Kim Chong-un inspections, KJI Personal Secretariat, Korean People's Army (KPA), Korean People's Internal Security Forces, Korean Workers' Party (KWP), KPA General Logistics Department, KPA General Staff, KPA Strategic Rocket Force Command, kpif, KWP Science and Education Department, Machine Building Industry Department, Military Affairs, ministry of people's security, Ministry of State Security, Ministry of the People's Armed Forces (MPAF), National Academy of Defense Sciences, National Defense Commission (NDC), NDC Administration Department, North Korean press, Notification, nuclear weapons, Organization and Guidance Department, party cells, party life, Political Bureau, primary party committees, Propaganda and Agitation Department, Pyongyang Defense Command, Ri Man Gon (N. P'yo'ngan WPK PC), Ri Pyong Chol, road mobile ballistic missile, Second Economic Committee, Second Economy Commission, State Academy of Sciences, State Security Department, TEL, Yu Jin