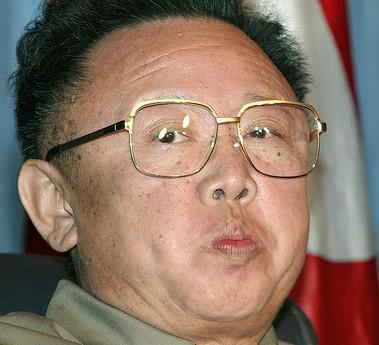 Kim Jong-il, North Korea's Dear Leader, is dead.
North Korean leader Kim Jong-il has died at the age of 69. The announcement was made on state television by a weeping presenter who said the "Dear Leader" had died from overwork; later reports said it was a heart attack. Kim Jong-il, who led the communist state from 1994 after taking over from his father, had made few public appearances since suffering a stroke in 2008, and had apparently been grooming his son, Kim Jong-un, to take power.
Kim Jong-il enjoyed a God-like status in North Korea thanks to a powerful personality cult, but he was widely reviled around the world for human rights abuses and for worsening the country's relationship with prosperous neighbor South Korea. Indeed, the news of Kim's death prompted South Korean military officials to declare an emergency alert. The financial markets are also jittery, with Asian stocks falling on the back of the announcement. So what's next for the isolated nation with nuclear capabilities?
See below for video footage of North Koreans reacting to the news of Kim Jong-il's death on the streets of captial Pyongyang, taken from North Korean state-controlled news sources.
Leadership challenges. Kim Jong-un would face "immediate challenges", wrote Justin McCurry in The Guardian, not least a recurrence of the famine that killed an estimated million people in the 1990s: "The regime had recently been seeking tens of thousands of tonnes of aid amid reports of serious food shortages this winter." McCurry said that the new North Korean leader would also come under increased international pressure to end the country's nuclear armament programme.Of course, this is assuming Kim Jong-un actually managed to take power: McCurry pointed to the diplomatic cables leaked by WikiLeaks last year in which analysts expressed "doubts about Kim Jong-un's ability to fend off challenges to his leadership in the event of his father's death".
World nervous. The death of Kim has caused "grave concern" around the world, according to Peter Simpson in The Telegraph, because so little is known about his chosen successor, Kim Jong-un. Simpson suggested that Kim's son may try to establish his authority in North Korea by launching an attack on South Korea, or he may fall to a power struggle among the country's elite; but, said Simpson, speculation is pointless at this stage: "Few have the answers to what will happen in the hermit nation now that a seemingly naive and inexperienced leader has taken the helm." Simpson wrote that China's reaction will be crucial, as the country is North Korea's only ally: "Perhaps Beijing can impress on the young Kim and Pyongyang's clique of elite politicians and generals the need to bring in, gently, economic reforms."
"We believe the DPRK (Democratic People's Republic of Korea) people will definitely be able to turn sorrow into strength and remain united as one to continuously push forward the socialist cause of the DPRK," said a Chinese Foreign Ministry spokesman, reported Xinhua news agency.
Ruthless successor? David Chance and Jack Kim reported for Reuters that experts believe Kim Jong-un has the skills and intelligence to lead North Korea, despite his inexperience: "He is also reported to have a ruthless streak that analysts say he would need to rule the country." According to Chance and Kim, Kim Jong-il's sister and her husband have already been promoted to key political posts, which creates "a powerful triumvirate ready to take over the family dynasty".
"This could be a turning point for North Korea. We hope that their new leadership will recognize that engagement with the international community offers the best prospect of improving the lives of ordinary North Korean people," said UK Foreign Secretary William Hague, according to the BBC.
US response important. "I hope that the US will accept Kim Jong-un's succession in as gracious a manner as possible," wrote former US ambassador to South Korea Donald P. Gregg for the BBC, arguing that the initial response will have a considerable impact on the future relationship between the US and North Korea and so must be carefully considered. Gregg pointed out that Kim Jong-un was educated in Switzerland and is more knowledgeable about the wider world than his father, which may "eventually open up a new and more hopeful chapter in Pyongyang's relations with the outside world".
"How could the heavens be so cruel? Please come back, general. We cannot believe you're gone," said North Korean Hong Son Ok, according to The Washington Post.
Predictions. "The country's true ideology is a race-based, paranoid nationalism," wrote B.R. Myers for The Atlantic in a piece originally published after Kim Jong-il's stroke. Myers argued that the world should not necessarily expect a peaceful transition: "The masses are daily reminded that because they are uniquely good… they should remain true to their instincts. Not surprisingly, then, social and domestic life is marked by a far higher degree of violence than was the case in the old Soviet bloc." According to Myers, whoever takes over as leader of North Korea must be seen by the masses as having been anointed by Kim Jong-il in order to have popular support.