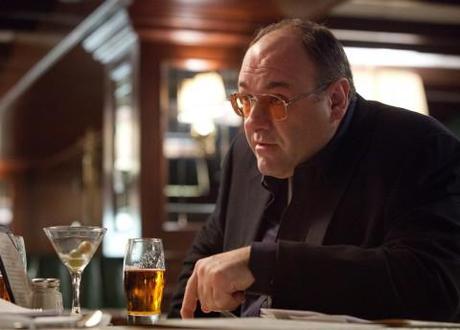 James Gandolfini in Killing them Softly. Photo Credit: The Weinstein Company.
The story
Andrew Dominick's Killing them Softly is based on the 1974 book Cogan's Trade  by George V. Higgins. It is the story of two petty ex-cons, Frankie (Scoot McNairy) and Russell (Ben Mendelsohn),  who rob a mob-protected poker game run by Marky (Ray Liotta) knowing that, since he has successfully robbed his own poker game before, the blame will land on him. Unfortunately, the blame lands on everyone when mob-enforcer Jackie Cogan (Brad Pitt) is called in to sort out the whole mess. He recruits washed-up mobster Mickey (James Gandolfini) to help him, essentially, kill them all… but softly, of course. Dominick's relocates the tale to a post-Katrina New Orleans and lets the 2008 presidential campaign run as a soundtrack to his simple mob-tale-cum-social-commentary.
Not your everyday mob film
If Killing them Softly sounds familiar it's because it is. Director Andrew Dominick even told The Evening Standard that, what attracted him to the film was the "very simple plot", noting, however, "What Dominik obviously likes about such simplicity is the opportunity it offers him to riff at length." The film takes well-chartered mob fare and lifts it from generic mediocrity with intelligent and stylish touches. "You'd be hard pressed to find more familiar, grubbily anecdotal material. Yet it yields a very substantial and stylish film, less a straight thriller than a caustic, dramatically expansive depiction of contemporary America as a nation on Skid Row," said The Independent.  Indeed, the paper goes on to call the film "unorthodox" and "bracingly different" in its execution.
Great words for great actors
The saving grace for Killing them Softly is its powerhouse script, delivered by a fine array of acting talent. The Independent declared that the author of the source material, George V. Higgins, was "a master of no-bullshit dialogue" and The Evening Standard observed that "it's more of a talkie than a movie." The film is littered with substantial mouthpieces for this wordy script: The Independent calls it "a terrific character showcase all around" and The Hollywood Reporter says "some of the dialog scenes, especially a couple of near-monologues superbly delivered by Gandolfini as a booze-guzzling, sex-obsessed, past-his-prime hit man, almost have the feel of brilliant, free-standing acting class scenes."
Heavy handed direction?
Critics seem to be in agreement that Dominick's effort to make the film smarter than your average crime movie is a little too transparent and heavy handed. The Telegraph noted that the director "has a knack for conveying an unvarnished sense of understated menace" but few have found anything remotely understated about his underlying message. His main point is executed via Pitt's final line: "America is a business." Dominick told The Evening Standard: "I've always felt crime dramas are essentially about capitalism, since they show us the capitalist idea functioning in its most base form." The paper responds: "Maybe, maybe not. But any resonance is not enhanced by being so poundingly underlined as it is here, in scene after scene. It's heavyhanded and it's sub-Tarantino." Indeed The Hollywood Reporter viewed the directing as uncomfortably transparent: "The film is terribly smart in every respect, with ne'er-a-false note performances and superb craft work from top to bottom, but it never lets you forget it."
More in film

Looper is stellar sci-fi fare
Untouchable divides critics
Best new movies of autumn