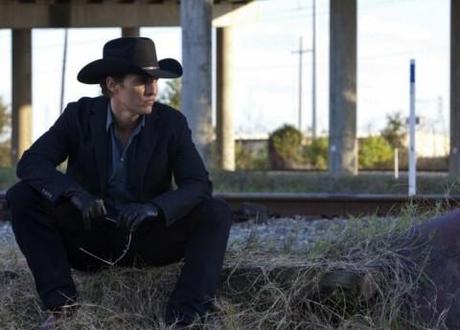 Matthew McConaughey as Killer Joe in William Friedkin's new film
The background
Killer Joe opened the Edinburgh International Film Festival. Directed by William Friedkin, it stars Matthew McConaughey, Emile Hirsch, Juno Temple, Gina Gershon, and Thomas Haden Church. It's adapted from a play by Tracy Letts, and takes place (mostly) in a caravan, following Ansel (Haden Church), Sharla (Gershon) and Smith (Hirsh), who hire McConaughey, a hitman, to get rid of Ansel's ex-wife to gain a life insurance policy. The family offer their daughter's virginity as a "retainer" until they can pay the killer. Needless to say, everything goes wrong.  Friedkin is best known for his film The Exorcist. It opens in the UK on June 29th.
"Like my other films it is about life, death, sin, sex, torment and retribution — all the classic scenes that make drama," said William Friedkin, quoted on The Sunday Times.
It's positively Jacobean
Robbie Collin in The Telegraph said that Matthew McConaughey in The Telegraph has been "the go-to guy for don't-go-to romantic comedies," but has recently "discovered a flair for Southern Gothic." His performance is full of "froth and spume." The climax is "positively Jacobean", and is shot with "mocking, even gleeful detachment."
 An inventive use for a fried chicken leg
The climax caused several members of the audience to walk out, said Richard Brooks in The Sunday Times. It sees McConaughey placing "a fried chicken leg in his crotch" and forcing it into Gerson's mouth.
It won't be boring
It certainly won't bore you, said Whatculture, though it might offend, irritate, confuse, make you laugh, or "make you squirm." It might be "intelligent satire or a tasteless comedy." But if it does make you "fall asleep, you may want to seek therapy." It's "knowingly outrageous, and deliberately provocative." The "dialogue is sharply written and entertaining." The cast is "without fault." It might "put you off KFC for a while."
 It's a lingering experience
It's true, said Stephen Carty on Empire. The film's hard to get a handle on. Comparisons with the Coen brothers suggest themselves; but it's a "lingering experience which is likely to split opinion." For a start, there's "more bush than if George W. was having a party in a massive hedge." And it's got to be "a grim movie when even recurring paedophilia isn't the most outrageous material on show."
 And it will cause divisions of opinion
Still, at least Friedkin's returned "with a vengeance," said Ross Miller on Thoughts on Film. It's "chilling, atmospheric, and, at times, almost unbearably tense." It had affinities with Michael Winterbottom's The Killer Inside Me, and David Cronenberg's A History of Violence. Whatever else, it's bound to be divisive, but it is "taut and uncompromising."
Watch the trailer below