I love risotto! It's creamy, a bit sweet, salty, and very filling. I decide to whip up a fantastic bowl of sweet pea and pancetta risotto. It's my favorite way to make it. The salty taste of the pancetta combined with the sweetness from the baby peas is perfection. Making risotto requires patience and dedication. The process is slow but the taste. Oh the taste – makes this dish oh so insanely delicious. YUM!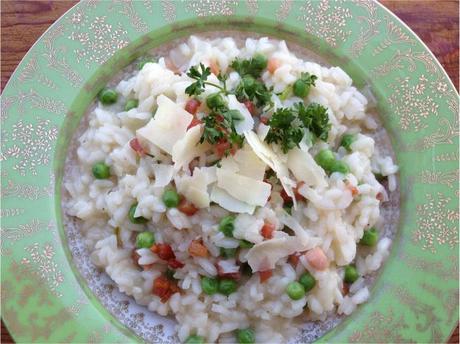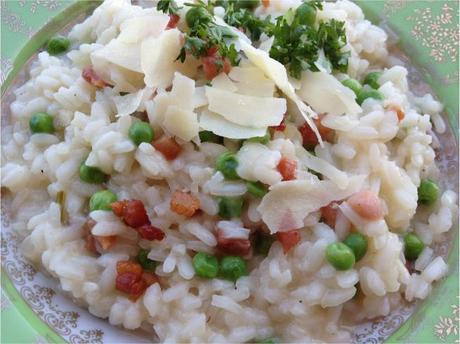 Ingredients 
1 1/2 cup of Arborio Rice
4 cups of Chicken Broth
1/2 cup of White Wine (Sauvignon blanc)
1/2 chopped onion
3 cloves of garlic (minced)
1 cup of frozen sweet peas (thawed)
1 package of pancetta
1/2 teaspoon of rock salt
1 teaspoon fresh ground black pepper
1/2 cup of Parmesan Reggiano Cheese (freshly Shaved)
Cooking Directions
1. Heat chicken broth in a medium size saucepan on low heat. Let chicken broth simmer on low.
2. Chop up onion, garlic, and parsley. Set aside
3. In a large saute pan fry up your pancetta until crispy, letting the fat render completely out of the pancetta. Remove the pancetta from the pan and set aside. Reserve the fat in the pan to cook onions. (medium heat)
4. Pour in 1 teaspoon of olive oil to the same pan you could the pancetta in. Add in onions and cook until soft and golden brown.
5. Add garlic to the pan and cook for 30 seconds.
6. Add in 1 1/2 cups of arborio rice to your onion and garlic mixture. Stir until the rice is completely coated with oils in the pan. (1 minute)
7. Pour in 1/2 cup of white wine and let simmer. Let your rice absorb the liquid from the wine.
8. Once the rice has almost absorbed the wine dd a ladle of hot chicken stock to the rice and stir until the liquid is fully absorbed. When the rice appears almost dry, add another ladle of stock and repeat the process until the rice is cooked.
9. Add in your frozen sweet peas, pancetta, and 1/2 cup of Parmesan Reggiano Cheese.
10. Turn off the heat. Add 1 teaspoon of butter, salt and pepper to taste. Mix all together and plate up.
EAT. ENJOY. BE HAPPY!