This past weekend, I changed a little girl's life… with manga. Well, I think I did.
By that I mean I recommended a lost father manga for his daughter and desperately hoped I didn't recommend anything offensive or mind-altering to an eight-year old.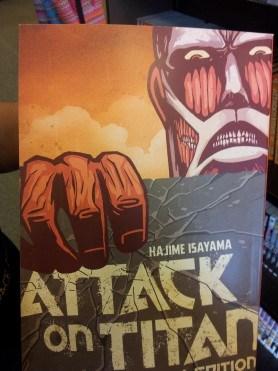 This is not a manga to recommend to an 8 year old.
A friend and I were casually browsing the manga section at my local Barnes & Noble this past weekend, taking not so discreet photos of Kodansha's new Attack on Titan: Colossal Edition (spoiler: it's colossal) when a lost man asks if we "read a lot of this stuff." I'm not one to lie so my answer was obvious, and he went on to say he'd just gotten into town and was looking for new books for his manga obsessed daughter. Sounded easy enough; recommendations are immediately limited to whatever is in store.
Then he mentions his daughter is eight years old, which makes me sweat a little.
I've never really made manga recommendations before, at least not by having someone come to me and ask, "What manga should I read?" I've passed a one off volume here and there to a friend, but nothing beyond that.
So here I am, trying frantically to think of inoffensive manga for an eight year old girl. What sits in front of me is Arina Tanemura's Phantom Thief Jeanne; I grab that first. The dad takes that, flips through it, and adds it to his stack — a stack that already includes Summer Wars, something he picked himself. I recommended Kamisama Kiss, too. As we try to think of more he picks up a few they've read already, and I worry far less (and am surprised far more) when one of them is Haganai. My friend tries recommending Sailor Moon, but is immediately shot down; his daughter is already obsessed with the entire franchise. Excellent!
The father decides to go with both volumes of Summer Wars and the first volume of Phantom Thief Jeanne. He chats with us for a little longer, mentioning that ultimately he winds up reading manga too because his daughter finishes them then asks him questions. Understandably, he's the cool dad amongst all her friends. Eventually though he gathers his stack and thanks us for our time. I breathe a slight sigh of relief.
The encounter made me wonder about a few things: What manga available today would be considered "good" for kids? Manga Bookshelf has an older and smaller list, including some Western comics, as does About.com, and I do remember a recent Japanese survey on "The Best Manga to Read to Kids." Still, so much would be dependent on the particular parents or community, and what may sound good to one parent may offend another. In particular, I imagine librarians have to juggle these types of recommendation requests fairly regularly, especially given how popular manga has become with kids over the years. I have a harder time thinking of manga for kids under 11 or so — Yotsuba&!? Cardcaptor Sakura? Swan? I didn't start reading manga until I was around 12, but recommendations not only have to take into account the parents and community, but also the interest and maturity of the kid. It can be tough to find that safe middle ground, I imagine.
Either way, I actually really enjoyed recommending manga and putting that knowledge to use. I can also only hope to one day have a daughter as interested in manga as that particular little girl!
So what top five manga would you recommend for kids?