Notes from the Kickstarter Workshop I attended at LA Makerspace tonight!
Moderator: Stephanie Pereira, Director, Art Program at KickstarterPanel: Sean Bonner, Co-founder at Safecast
Kickstarter project: Safecast X Kickstarter Geiger Counter
Mya Stark, Director of Outreach and Development for Cinefamily
Kickstarter project: Cinefamily Digital Projection & Theater Restoration! 
Jesse Genet, Founder and CEO at Lumi Co
Kickstarter project: Print on Fabric Using Sunlight: The Lumi Process & Lumi Co. – A NEW TEXTILE PRINTING TECHNOLOGY
Stacey Storey, Producer, 
Best Friends Forever
Kickstarter project: BEST FRIENDS FOREVER (an apocalyptic feature film)
—–

Our Moderator works at Kickstarter! That's convenient for questions.
SP: First thing to do if you're thinking of starting a Kickstarter campaign is fund a project. Get involved in the community.
no charity or cause funding

KS specializes in bringing creative projects to life
3.2 million people & 850 thousand are repeat backers (in 2012 I believe)
Offer creative experiences
Write your backers into the story
Most people pledge $25
Account for 5% in KS fees, 3-5% in Amazon fees when calculating your goals
CINEFAMILY has an amazing blurb (see link above)
JG: "We needed to take into consideration that nothing ever goes right in Production….and postage."
SP: Cinefamily may the most successful nonprofit project on Kickstarter
MS: One perk included membership and they gained 400 new members
highly prioritized an audience complaint: hard and uncomfortable seats. Those perks to buy and name a seat went very well.
SP to SB on his perks & updates: "You're communicating with people, you're not selling shit."
SS: "It's all you think and know about for 30 days….also great press."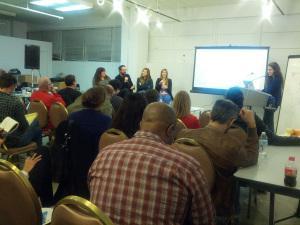 On Associate Producer credit: "People think it's buying your way into Hollywood but welcome to Hollywood." 

Her film had a random backer at $10,000 level. He just liked the campaign.
JG: When asking your backers to share, ask them questions to help target very specific groups of people.
"DIY Backyard Textile Printing is not everyone's thing."

Sent gifts to backers they were not expecting.
Made a cute gif and sent the ability to create shirt design, which backers created, and shared picture with hashtag
Post-campaign, send '3 ways to continue to engage with Lumi for the Holidays"
SS: Targeted women making film, people who like to use actual film, interested in shooting on location in Texas
Every time they hit a goal towards their final goal, they focused on a different target group

had a "Hustle" meeting every morning at 6a.m. to prioritize
Send backers private video perks : "We'll drink a beer with your name on it."
Sang Bohemian Rhapsody in their car together
"Kind of like an action movie, Kickstarter has a ticking clock…made our community feel like they owned it."
SURPRISES & WHAT THEY WOULD DO DIFFERENTLY
SS: Surprised at how many hours it took every day
She would adjust how much help they had and add the shipping costs
JG: Now you know during the campaign who is domestic backer and who is international
JG: Be clear on calculation and communication of postage. It's all perception.
Make that dialogue very clear.
MS: Thanked everybody individually when they first pledged
SP: Kickstarter just rolled out the ability to sort people by new pledges
MS: Didn't have a plan for updates post-campaign and would do that next time.
"It works the way you think it will if you strategize."
SS: When to hold a campaign:
not around or at end of holiday

they wanted to end on a particular day, after SXSW b/c then they could promote Kickstarter there
picked ideal date and worked backwards for plan
JG: Talk about your own legitimacy as well
Why you an deliver and how you have delivered in the past
WHAT WORKED THAT DIDN'T COST MONEY or REQUIRE A PUBLICIST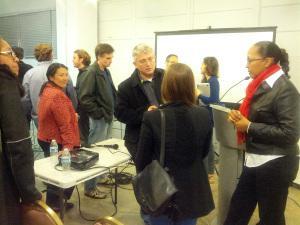 The night ended with socializing and talking to the panelists.
JG: Have fun with campaign and make it as true to your spirit as you can convey to your backers
SS: Could only afford Publicist after Kickstarter
SP: Ask yourself (to find your target backers):
1. Who is making this?
2. What other stories can you pull out of this?
SB: Genuine excitement is contagious.
SP: Segment out backer levels and strategize on a white board:
Visualize who would back you at different levels. What rewards would excite them?
There was more about taxes and income from Kickstarter too. I'll add those soon. -CMJ
—-
Also find the discount code for Demo Video Lab's Workshop (only good through Monday).
Running a campaign? Schedule a Funding Fridays Broadcast.
Watch more Kickstarter tips from Diani & Devine.
Hear about these events as they happen via @CindyMarieJ