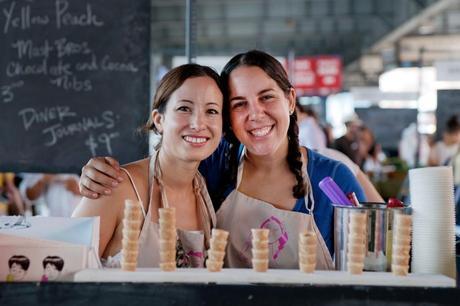 They say a perfect summer air makes you want to fall in love. Well, in New York, home to some of the best artisanal ice cream, a perfect summer makes you want to fall in love with everything! So that's what I plan to do. Now that I am all set up with resolutions to keep me busy for the season, I went ahead and got a heap of magazines the other day including Elle, 
BudgetTravel
 (the San Francisco edition, woot woot!), Jamie  and 
Edible Manhattan
. The latter of which, I am completely infatuated with. Edible Manhattan is the best food magazine in NYC, hands down. I don't want to get into details of the whys and hows, just take my word for it, let's not argue about this. Buy one, you'll see. Not only do I learn about the glorious history of food in New York, or the latest hidden small town chefs, but the events people…the events scattered throughout is enough to fork over the seven dollars alone.
So get this, Edible does this annual Eat Local Week event everywhere from Austin to Jersey, which is going on now, and tons of amazing things are going down, none the least of which include drinking lots and lots of beer. So since I associate beer with wheaty urine, I passed on those events, only to find something just up my alley- a challenge! The folks over at Edible are not playing around, they really want you to get into this bucket of local and steep for a while. I mean the challenge items on the list are enough to make me question my whole existence. Did I really never notice the many local farms right in my own state, or that I could compost even if I dwell in a shoebox size urban apartment with no backyard in sight? If I really want to aim for respectable foodie-hood, its bout time I get down and dirty. So, you little damsels in or not? Even if you aren't in NYC, this is a fantastic and eye opening experience that can be done in any town, and in fact, Edible started in California and has an edition in almost every state (which by the way, you can buy at the WholeFoods in your area), so see if their is an Eat Local Week near you. If not, let's all do the challenge together and see who can knock off the most items on the list. Keep track, take lots of pics, and come back here to comment. Or post on your own blogs to spread the word. You'll be able to see my progress on this post because I will cross out what I've done so far.
EAT DRINK LOCAL CHALLENGE!
1. Hit a locavore eatery you've never tried before. Ice cream parlors count!
2. Shop at a Greenmarket you've never been to before.
3. Drink like a local! Swig libations from breweries and wineries. Bonus: make a farmy cocktail starring local herbs or produce.
4. Eat a fruit or vegetable you've never tried before. Hello kohlrabi!
5. Get to know a new local cheese. Bonus: Make yogurt, creme fraiche, butter or ricotta.
6. Eat a cut of meat you've never tried before. Bonus: eat a species you've never tried before. Double bonus: hunt.
7. Cook local grains. Bake bread, boil wheat berries, make polenta or just pop some popcorn.
8. Swap out sugar for local honey or maple syrup.
9. Churn market bounty into ice cream or sorbet.
10. Cook your cast-offs! Think corn cob stock, sauteed beet tops, and pickled watermelon rinds.
11. Preserve! Pickle cucumbers, can homemade jam or freeze pesto.
12. Forage! Go on a guided hunt for wild mushrooms, search for blackberries or take home nuts from your local park.
13. Shuck your own clams, mussels, scallops or oysters.
14. Make a dish using the Native Americans' three sisters: Corn, beans and squash.
15. Check out a cookbook from your local library.
16. Compost your kitchen scraps. Find drop spots at: nyccompost.org for NYers.
17. Ponder the gospel according to Berry: Read a great food book.
18. Visit a farm, orchard, dairy, winery or brewery.
19. Drink only local water—it's called "tap," people.
20. Throw a party, and have each guest bring something inspired by this list.