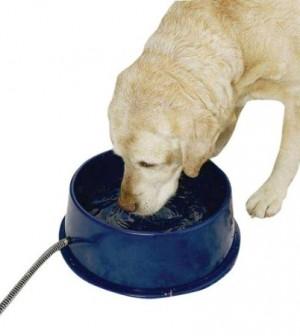 Acquiring good quality feeding and watering supplies for your dog is extremely vital to make sure that your pooch's health isn't on the line. Dog bowls come in every size, shape, material, functionality, and quirkiness your can possibly imagine.
You'll find a variety of bowls, like thermal ones, in an assortment of designs and makes on Amazon.com. Sitting prettily in one of the top spots from the best-seller list is the K&H Thermal Bowl. . Read on and find out if this bow is worth your while.
What Sets it Apart from the Other Thermal Bowls Online?
If your pup enjoys spending time outside during winter season, then a thermal bowl is vitally necessary to keep him healthy and safe. With K&H Thermal Bowl, your dog will always have access to drinkable water all season.
The product is a heated drinking bowl that guarantees your pup's hydration all year round. The thermal bowl keeps drinking water ice-free in temp. The electronics that make this happen are safely concealed and sealed inside the bowl to ensure your dog's safety against cords. Plus, the thermal bowl only uses 25 watts for vitally low energy utilization. K&H Thermal Bowl is MET-listed and built to last. For consumer's security, the product also covers a year of limited warranty.
What Do Buyers of K&H Thermal Bowl Say About the Product?
For over 120 Amazon reviewers, and majority of it positive, it's safe to say that K&H Thermal Bowl is a product that you and your dog will love.
The most helpful favorable review of the product says "the thermal bowl keeps the water liquid without a sign of ice." This particular reviewer provides food, shelter and water to stray animals during cold winter season. In the past, she often breaks the ice out of the water dish multiple times a day so dogs who drink from the bowl won't encounter iced-water. But after using K&H Thermal Bowl, she no longer has to worry about the incident again.  On the other hand, the most helpful critical review notes that the poor design of K&H Thermal Bowl forces her to choose between clean water and unfrozen water. She edited her first review about the situation being possibly handled by "providing a removable insert to hold the water, or making the heater more powerful, or making the power cord detachable."
So, is K&H Thermal Bowl for your Pooch?
Taking into account the number of buyers and favorable reviews, K&H Thermal Bowl is a thermal bowl that dog owners and any dog breed will appreciate. After all, an average of 4.7 out of 5 stars is impressive enough to gain any buyer's trust.