A few weeks ago I was lucky to be invited to spend a couple of days in London with a friend visiting Kew Gardens and the renowned lifestyle destination Petersham Nurseries. Both places have been on my 'Must Visit' list for quite some time, so I was delighted to be heading to London for just this purpose!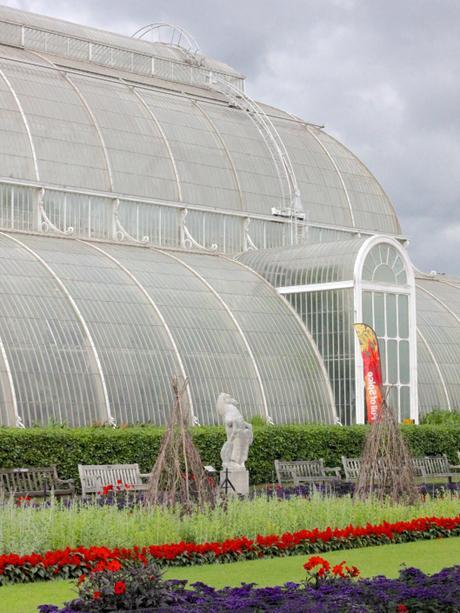 I originally intended to write about both destinations in this one post, but after looking at my photos I could see it would be better to split the visits up.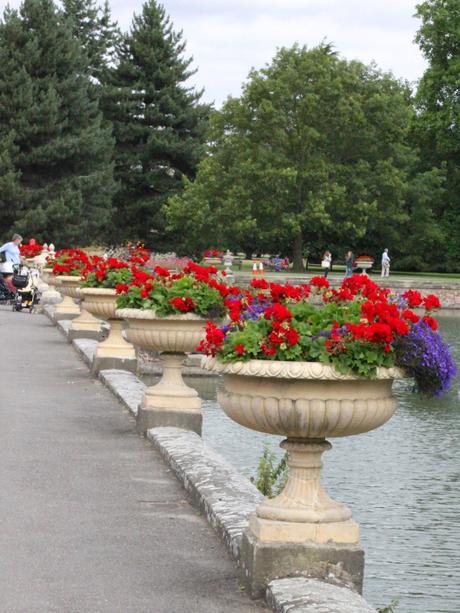 As I am sure you already know, the Rotal Botanic Gardens, Kew is one of the world's leading botanical gardens, with famous features including the Palm House, the Princess of Wales Conservatory, Kew Palace, the Pagoda and the Japanese Walkway. More recently it has been brought alive in a fascinating book and  TV series about a collaboration with the famous chief Raymond Blanc to re-establish a vegetable garden at Kew. Having watched the series and read the book, I have been looking for an opportunity to visit this new vegetable garden myself.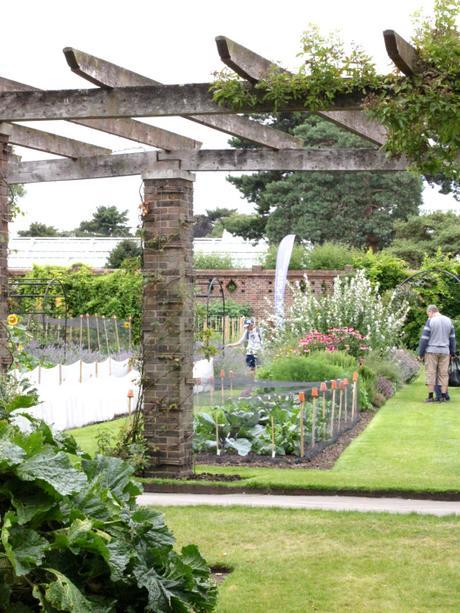 Raymond Blanc is the name behind the famous foodie destination Belmond Le Manoir aux Quat' Saisons. The large organic vegetable gardens at this beautiful hotel supply the michelin starred kitchens with seasonal vegetables, herbs and fruit. Having seen these gardens myself I was sure that any vegetable garden that Raymond Blanc had a hand in developing would be outstanding.
This small corner of Kew did not disappoint! Long narrow beds have been dug straight into the turf and are kept tidy with immaculately maintained edges. The vegetables are grown in traditional rows, covered in the old style by netting where necessary to protect them from the rabbits and other wildlife that roam this garden.
I have finally got my own vegetable garden relatively under control this year (although there is still much room for improvement), so I was very interested to see what was growing at Kew and what ideas I could steal for my own plot next year.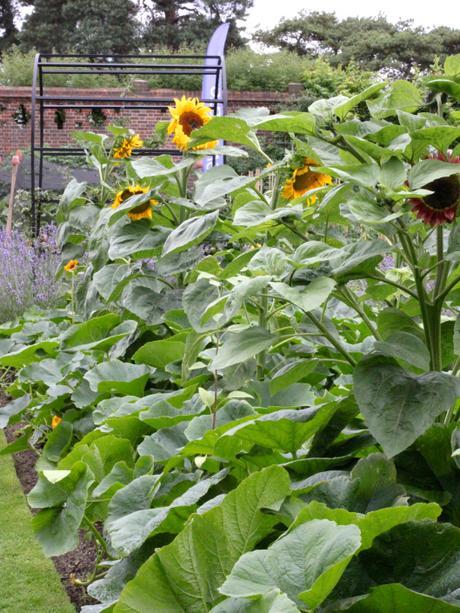 Growing sunflowers amongst the squash plants was a great idea – I always struggle to know where to plant these towering flowers. Having tried them amongst the asparagus I have found that the tall ferns of asparagus can get in the way of the sunflowers when I am picking. This year I am sadly sunflower-less as I did not get my young seeds planted out before they had grown too leggy in the greenhouse. Next year I will be trying again and will be planting them like this in my squash bed along with the sweetcorn.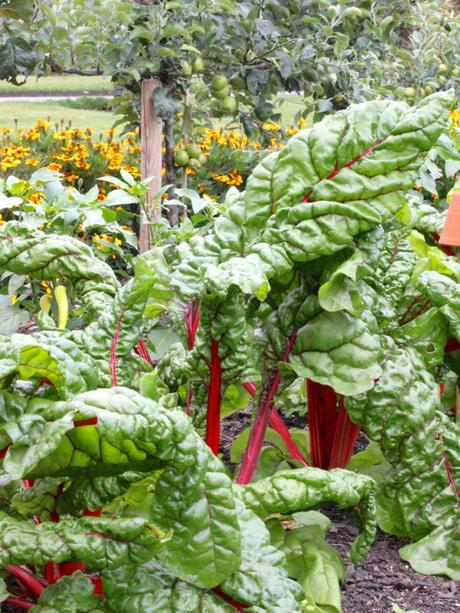 This beautiful red chard chard looks particularly delicious! I always grow chard as it is such an easy vegetable and keeps on producing fresh leaves for a very long season.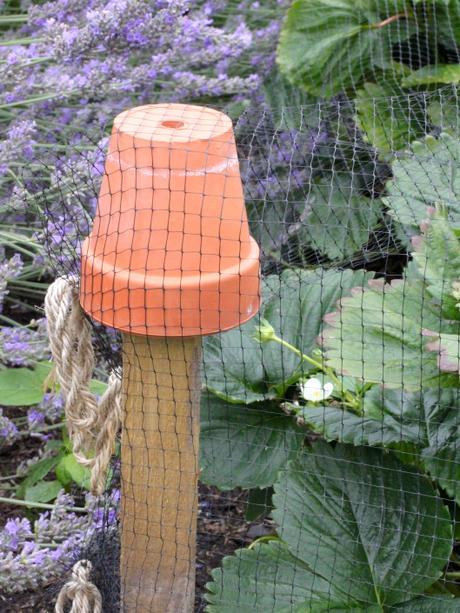 Using these small terracotta plant pots to protect the netting from the wooden supports seems like an excellent idea. I always have trouble protecting my strawberries from the birds, so this might be a new method to try next year.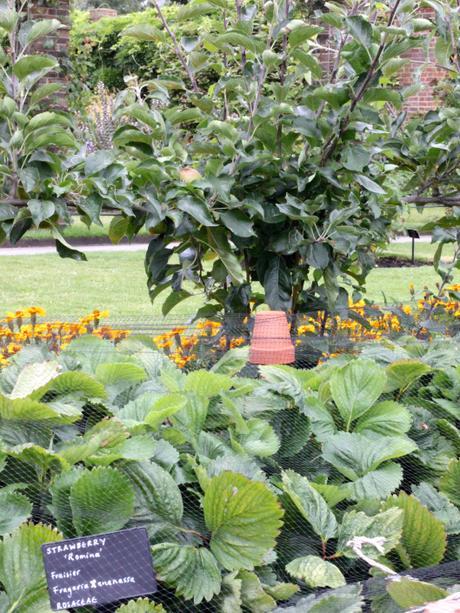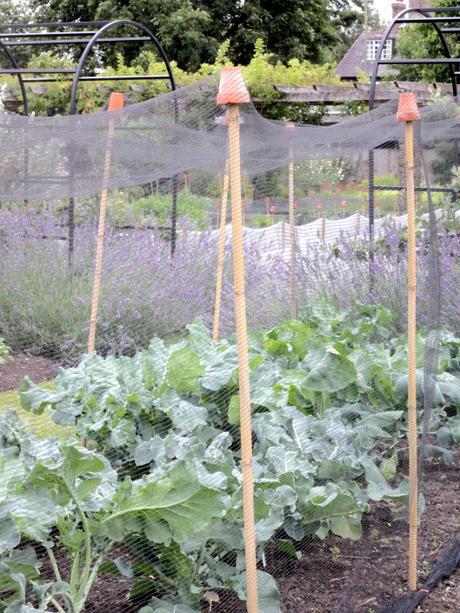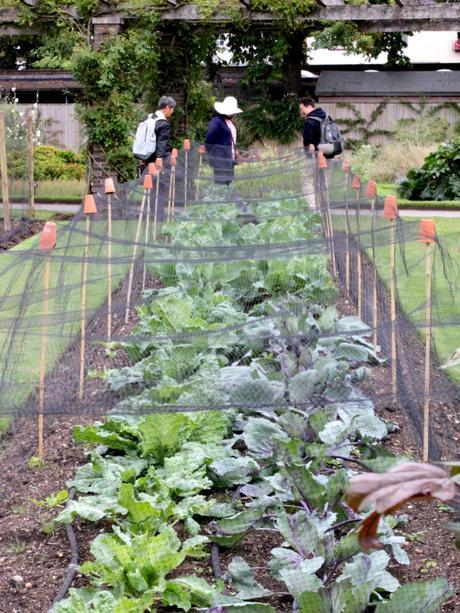 Taller canes were protected in the same way and made easily removable protection for the tall growing brassicas (such as brussels sprouts and sprouting broccoli) which are a favorite for birds.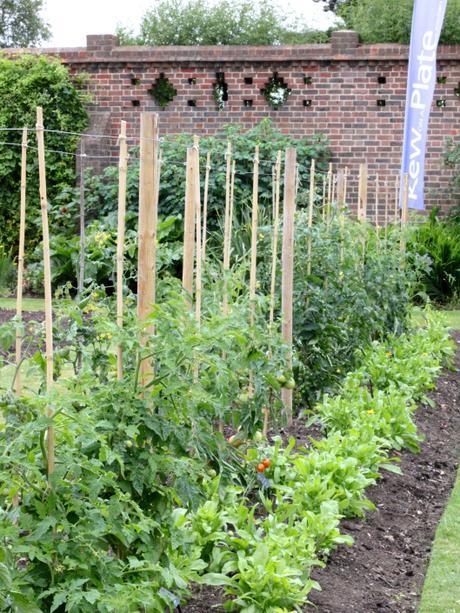 I was intrigued to see so many tomatoes growing successfully outside. They were underplanted with English marigolds and basil, which should help to protect the tomatoes from aphid attacks as the season goes on.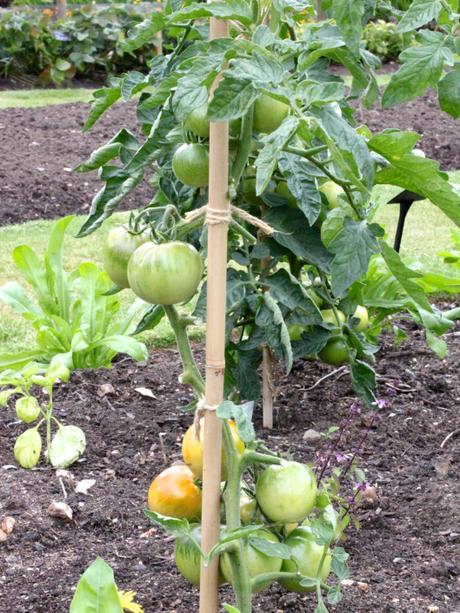 I am determined to try some tomatoes outdoors next year – I always assume they will not ripen if they are not in a greenhouse, but these ones are nearly ready and it was not even August.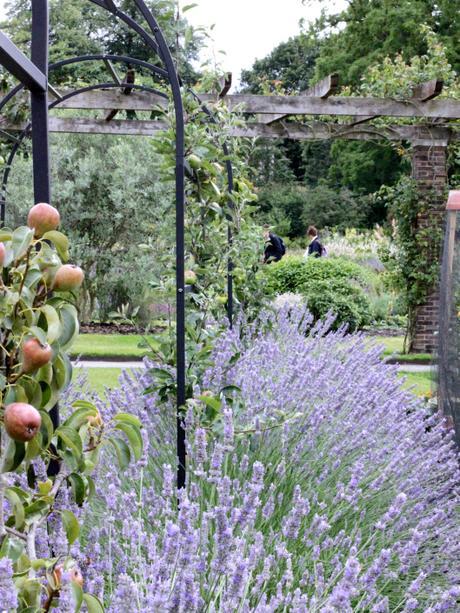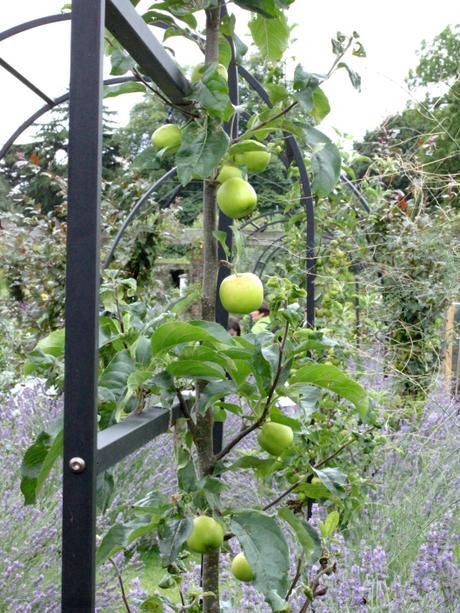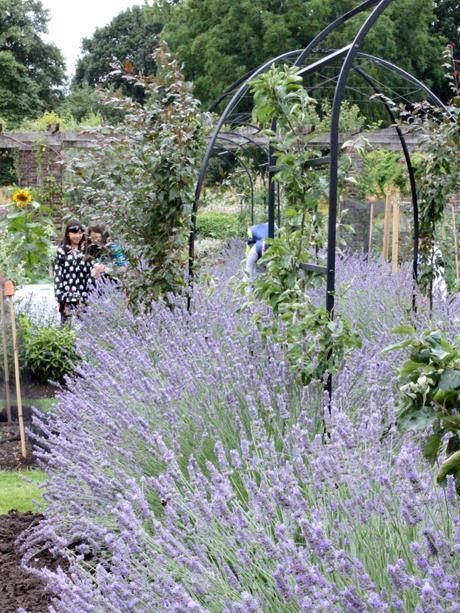 Many of the beds were joined by heavy metal arches, with espaliered fruit growing up them. Lavender plants were sprinkled liberally around the garden, attracting the bees of course.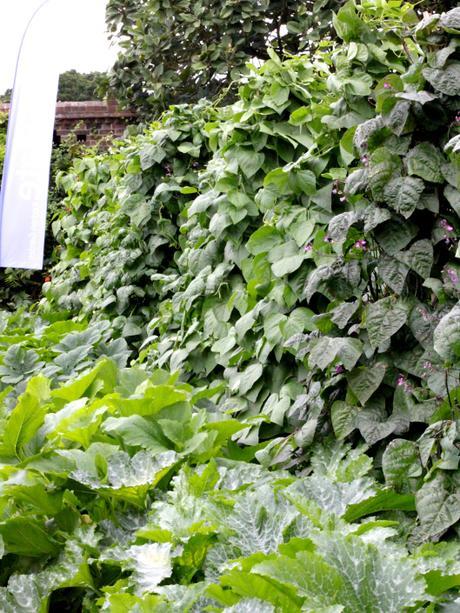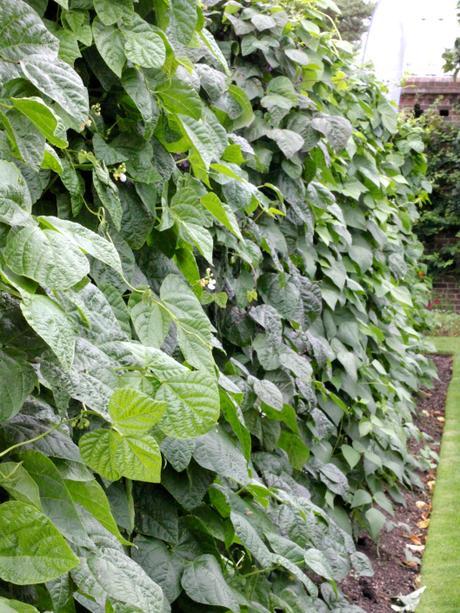 Tall wigwams of beans were just starting to flower – there will be a lot of beans for the Kew restaurants this year!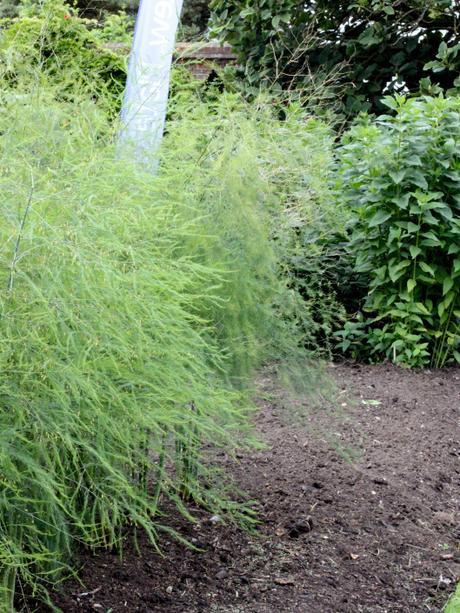 For anyone who does not grow asparagus, this is how the plants look after you stop picking at the end of June. The spears, which for eating are normally cut at 6 inches or so in height, grow very tall and develop these ferny fronds which feed the plant for next years growth. Once these start to turn brown in late October they can be cut back to the ground and the bed mulched ready for next years growth.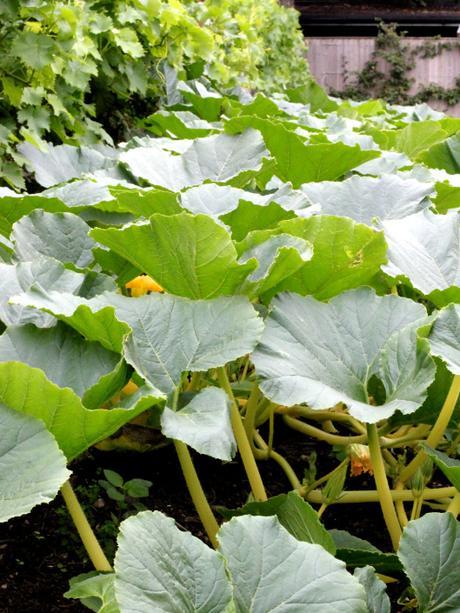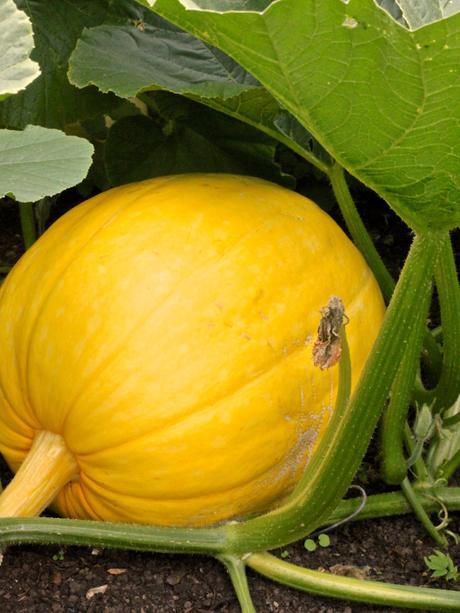 The pumpkin beds were already looking impressive – there is plenty of produce for Halloween here!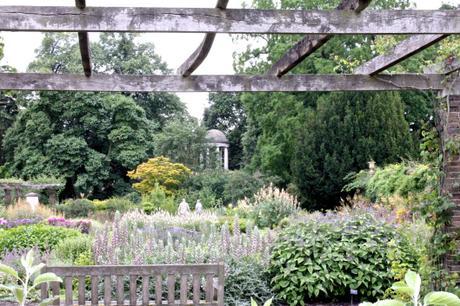 Although we spent quite a long time studying the vegetables, we did find time for a train ride around the whole site and a visit to the Palm House, the Rose Garden and Kew Palace. There was also a visit to the Orangery for a slice of cake and a latte of course!
If you are interested in growing vegetables and would like to learn more about this collaboration I can highly recommend the book 'Kew On A Plate with Raymond Blanc'. Full of history, growing tips and lots of lovely recipes I particularly liked the way that the book and the accompanying TV series shared the failures as well as the successes of growing your own food. Growing your own can be a very frustrating hit and miss affair and books on the subject usually give the impression that as long as you follow a few guided steps your crops will be lovely. It was heartening to see that even here at Kew, with the many gardeners and all that knowledge available, Raymond Blanc had to resort to bringing in vegetables from outside for some of his planned recipes.
So what will I be bringing to my garden next year following this visit? I will be trying tomatoes and aubergines outside to broaden my crop next year. There will be sunflowers growing with the squash and plenty of marigolds and nasturtiums to attract away the pests. I also need a better plan for my tall brassicas – I struggle every year to find a way of protecting them that does not cramp their growing room.
This visit also reinforced the need to maintain control in a vegetable garden – vegetables need space and they do not like to compete with weeds – this well ordered garden was both attractive and appetising – it showed that a well run vegetable garden is a thing of great beauty!