Kevin Alejandro, who played Jesus Velasquez on True Blood is also a hot fashionisto, and he recently was the featured and sat for an interview with DA MAN Magazine.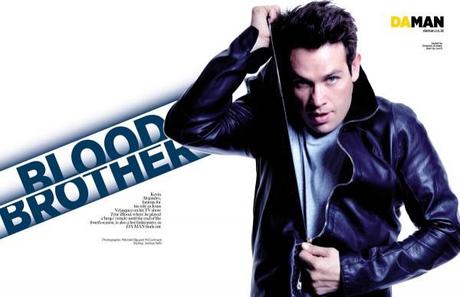 See more photos below.
Kevin has also been seen in many other roles on TV as a police detective in Southland, a gay hustler in Big Love, a principled D.A. in Shark, a federal agent in the film Red State, a low-rider guy in the recent film alongside Ryan Gosling, Drive, and a gangster in Ugly Betty.
Texas-born actor Kevin Alejandro is a versatile guy with nearly a decade of showbiz experience, the fruits of his labors, largely as a guest star, are starting to pay dividends. During Seasons 3 and 4 of  True Blood, he was a series regular, and earlier in 2011 he was featured in two major motion pictures, the aforementioned Drive and Red State. Below is part of the interview with DA MAN:
DA MAN: Can you tell us a bit about the latest on True Blood and how you came to be on the show?
Kevin Alejandro: True Blood has been an amazing journey. I've had an incredible time working with everyone. The process for getting on this show was very involved with audition after audition. Finally, it was narrowed down to about six guys and a chemistry-read with Nelsan [Ellis]. In the end, I scored the role and have been part of it ever since.
DA MAN: You were introduced in Season 3. Did you watch the series before then?
Kevin Alejandro: It was great receiving the word that I had an audition for True Blood. My wife and I were both ecstatic about the possibility of being on the show. It was absolutely one of our favorite shows! You can imagine how happy we were when we found out I actually got the role.
DA MAN: What can you tell us about your role as Jesus Velasquez, the male nurse on the show, and your approach to playing it?
Kevin Alejandro: The fact that Jesus was a witch was fascinating to me. I was able to do quite a bit of research on witchcraft. I wanted to understand the differences between white and black magic. For the longest time, I wasn't sure which direction they were taking with the role of Jesus, so I thought it best to understand the differences between both practices.
DA MAN: Who has the most talent of the whole True Blood cast? And be honest, no diplomacy allowed on this one.
Kevin Alejandro: Ah man! You're putting me on the spot. But, I gotta say, Alan Ball is pretty damned talented for casting all of us! There are so many great actors on this show.
DA MAN: What is it like working with award-winning creator of True Blood, Alan Ball?
Kevin Alejandro: Alan is by far one of the smartest guys I've had the pleasure of being around. This also makes him a little intimidating. After you get to know him though, you'll find that he is a very kind, funny, honest gentleman. I thank him for letting me be a part of his creation.
To read the rests of this interview, go to: daman.co.id
 
Additional Photos of Kevin from the DAMAN: