This post may contain affiliate links. Please read my disclosure.
This low-carb marinara sauce is the perfect pizza or pasta sauce for anyone on a keto diet! Made with fresh plum tomatoes, onion, fresh garlic, and Italian seasoning, this smooth sauce is made with no added sugar or preservatives and is a healthy option for so many different types of meals! It also happens to be a vegan and gluten-free recipe!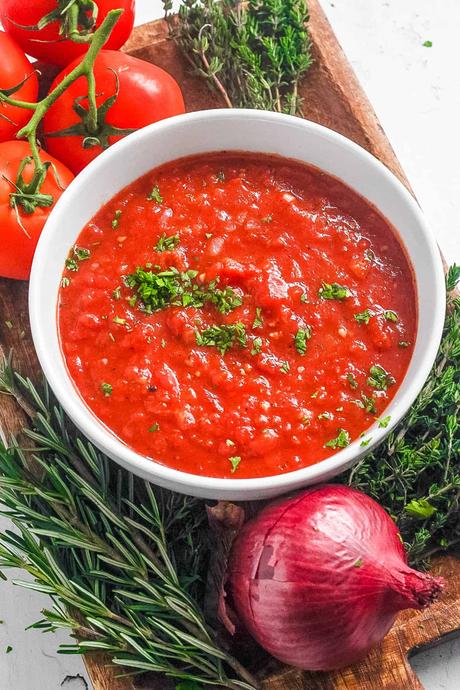 You are really going to love this keto marinara sauce recipe. It's incredibly hearty, robust, and perfect for all of your favorite pasta recipes, homemade pizzas, or even as a base for soup!
This low carb tomato sauce is made with wholesome simple ingredients and doesn't contain all the extra sweet stuff found in most store-bought sauces. We like to make large batches of this easy recipe and freeze the leftovers so we can have pre-made sauce ready at our fingertips.
Latest Recipe Video!
The whole family will say this is the best sauce they've ever had: it's true! It's so rare to find pre-made sugar-free tomato sauce in the store, so we've been making this original recipe for years and use it as the main ingredient in so many other dishes.
We love to enjoy this marinara sauce as a dipping sauce for mozzarella sticks or as a base for casseroles, lasagnas, and so much more. It's super versatile and is ready in under 15 minutes.
This is a favorite recipe of ours, and we really think you'll like it, too! Made with fresh ingredients, what's not to love about this keto pasta sauce?
👩🏽‍🍳 Why This Recipe Works
Healthy: This delicious keto marinara sauce is naturally gluten-free, vegan, and made with fresh ingredients you you can feel good about! Tomatoes are rich in Vitamin C, antioxidants, and fiber too. If you're looking for some sauces for your low-carb diet, then you'll love this one!
Kid-Friendly: Perfectly suitable for those of all ages, this creamy sauce is great for the entire family.
Easy Homemade Marinara Sauce: With only a few simple steps, this recipe is ready in no time. It really couldn't be any easier, and it's so much cheaper and tastier than store-bought sauce!
Perfect for Low Carb Diets: This sauce has only 4 grams of total carbs and 3 grams of net carbs per serving!
🥘 Ingredients
You can easily find the main ingredients for this recipe at your local grocery store. The ingredients for this low carb marinara sauce are minimal, but allow this recipe to have so much flavor!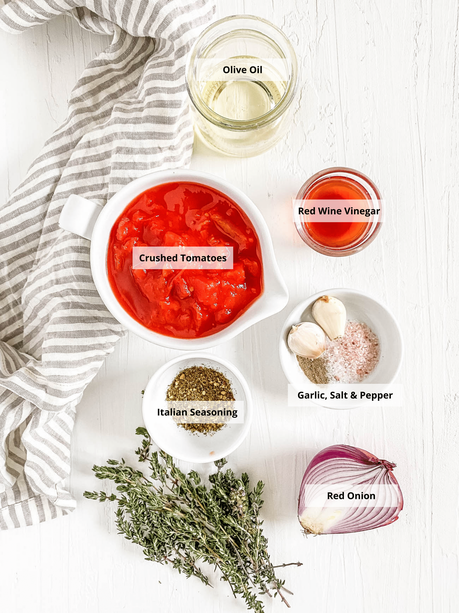 High Quality Tomatoes: Good tomatoes are key to getting robust flavor when you're making your own sauce! We use crushed San Marzano tomatoes, but honestly any kind of diced or crushed tomato will work for this recipe. Keep the prep simple by using canned crushed or diced tomatoes vs. fresh tomatoes (although fresh whole tomatoes would also work). You can use fully pureed tomatoes, but your sauce would be super smooth. I like to keep this a slightly chunky sauce for additional texture.
Garlic: Fresh notes of garlic allow this sauce to be robust and super savory! Fresh garlic is best, but in a pinch, you can use garlic powder or dehydrated garlic.
Onion & Olive Oil: Fresh diced onion is key to this keto marinara sauce. When sauteed in olive oil, the onion allows this sauce to be aromatic and full of flavor.
Red Wine Vinegar: Brings a little sweetness and acidity to this recipe.
Italian Herbs: We used dried mixed herbs, but you can easily use fresh herbs, too.
Seasoning: Salt and black pepper to season this sauce to your liking.
🍽 Equipment
📖 Variations
Spice: If you want to increase the heat, add some red pepper flakes.
Flavor: Enhance the flavor by adding some fresh basil or other fresh herbs such as thyme, basil, and rosemary to this sauce. You can also add some tomato paste to this recipe for a richer tomato flavor.
Vinegar: Feel free to use balsamic vinegar instead of red wine vinegar.
Meaty Vegan Marinara Sauce: Turn this into a meaty sauce by using plant-based crumbles.
Sweetener: If you are are wanting some a little extra sweetness to this delicious sauce, use some erythritol or monk fruit sweetener.
🔪 Instructions
Follow these step-by-step photos to make this low-carb marinara sauce perfectly every single time!
Sauté Onion: First, heat oil in a large pot. Add the diced onion and with a wooden spoon, sautè until translucent. Add the garlic and cook for one to two minutes.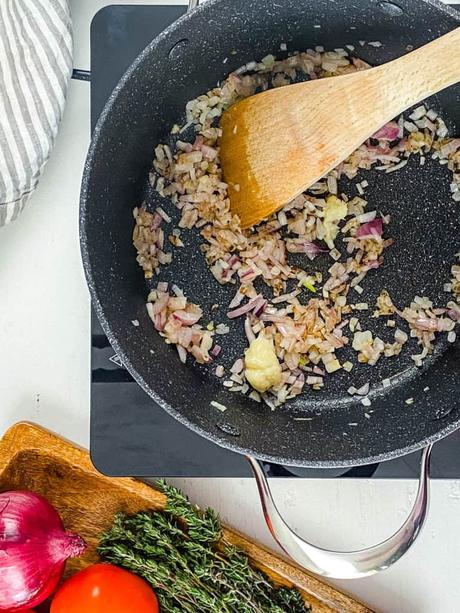 Combine: Next, add the tomatoes, red wine vinegar, mixed herbs, salt, and pepper into the pot.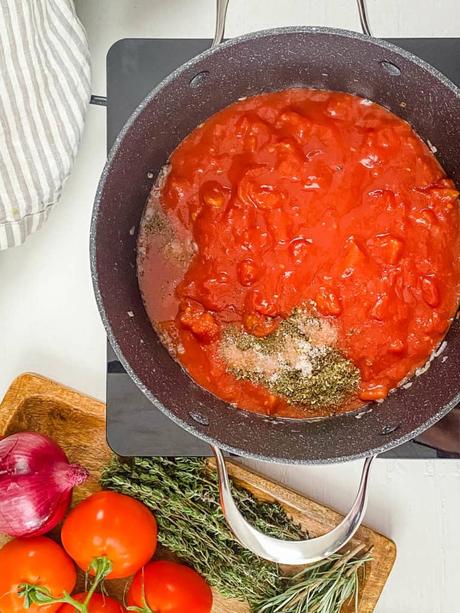 Cook: Bring to a boil. Reduce heat and simmer for five minutes.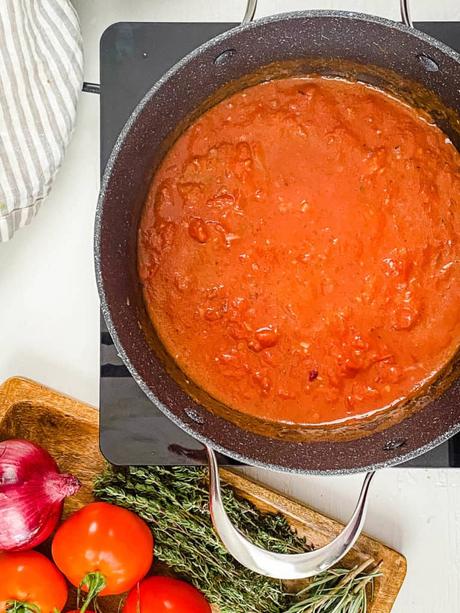 Cool: Finally, remove this keto friendly marinara sauce from the heat and cool before serving.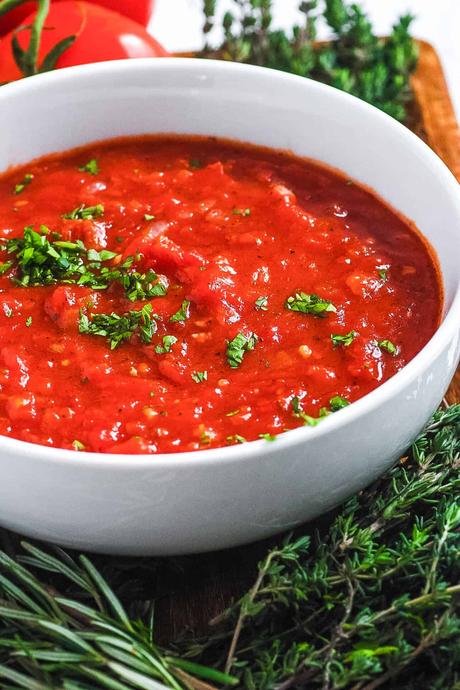 ❓Recipe FAQs
Is marinara sauce keto?
The answer is - it depends! There are keto friendly marinara sauce brands out there, like Rao's homemade marinara sauce (all of Rao's pasta sauce varieties are keto!), Victoria marinara sauce, and Prego no sugar added pasta sauce.
The carbs in marinara sauce depends on whether any sugar is added to the sauce. No sugar brands will typically be low in carbs (4 grams per serving).
However, brands like Ragu Chunky Tomato, Garlic & Onion or Bertolli Tomato & Basil Sauce can have up to 12 grams of sugar per serving, making them not keto.
Additionally, this homemade vegan marinara sauce is definitely okay on a keto diet because it doesn't contain any added sugars and contains only 3 grams of net carbs.
Can I have tomato sauce on a keto diet?
Similar to marinara sauce, as long as the sauce does not have any added sugars, then it is fine to enjoy tomato sauce on a keto diet!
What sauces are allowed on keto?
You can enjoy all types of delicious sauces on a keto diet such as creamy ranch, buffalo sauce, and much more! The key is to find sauces that are low in net carbs and have no added sugar.
How many net carbs are in pizza sauce?
A fourth of a cup of sauce equates to about 4g net carbs.
What can I use instead of tomato sauce on pizza?
You can use pesto, barbecue sauce, chipotle sauce, tapenade, hummus, and much more.
🧊 How To Store
Refrigerator: Store this low carb spaghetti sauce in the refrigerator in an airtight container for up to five days.
Freezer: Place the sauce in a freezer-safe container or bag, label it, and store in the freezer for up to three months.
👨‍👩‍👧 How To Serve
These are some of our favorite ways to enjoy this low-carb, vegan spaghetti sauce recipe!
Serve this low-carb marinara sauce with low carb pasta, shirataki noodles, or zucchini noodles.
Bake spaghetti squash with this marinara sauce for a spin a your favorite gluten-free pasta dish.
Dip your favorite keto breadsticks or mozzerella sticks in this sauce.
Use this keto marinara sauce for low-carb shakshuka or as base for your favorite soups.
💭 Expert Tips
If you'd prefer a thicker sauce, then simmer for an additional ten minutes to let it reduce a little further.
Canned tomatoes may vary in flavor, if you find this sauce isn't naturally sweet enough add 1 tsp erythritol or any other sweetener of choice.
Make sure you season to taste!
Keto tomato sauce can be used as a pizza sauce, pasta sauce, as a base for soup or even for low carb shakshuka.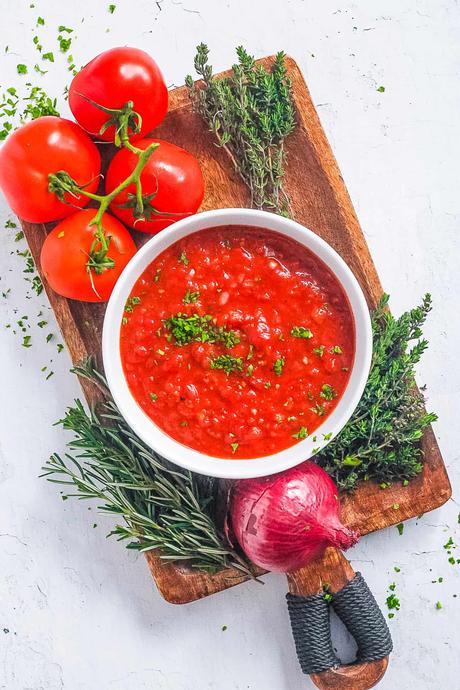 🍲 More Keto Friendly Recipes!
📋 Recipe Card
Low-Carb Keto Marinara Sauce