A very healthy and nourishing summer cooler from North India
Thandai is a very famous drink of North India ,It is widely consumed in Western Uttar Pradesh,Gujarat and Rajasthan.Thandai is made with almonds,pistachio,melon seeds,poppy seeds,fennel and many other cooling spices.Thandai has a very unique flavor that I believe,is not even remotely similar to any other refreshment drink around the world.
This thandai is especially made during festival of Holi and during other family celebration and weddings etc.I have also posted a Kesariya thadai recipe before ,which is made and consumed fresh i.e dry fruits and spices are soaked and ground fresh before making the thandai and then mixed with chilled milk ,water or fruit juices.
During summer thandai is also used as a refreshing drink (sharbat)to cool the body and give freshness and energy as the spices added in this have a cooling effect on our body i.e fennel,poppy seeds ,cardamom ,melon seeds ,gulkand ,nuts have thandi taaseer /cooling effect according to ayurveda and give energy and strength to our body so its a very good refreshing and healthy drink to have during summers.
As making thandai needs some time and pre-planning to soak and grind the ingredients so I have made this thandai concentrate which you can make in large quantity and then store it easily and when ever you want to serve it just dilute it with chilled milk,water or any fruit juice of your choice.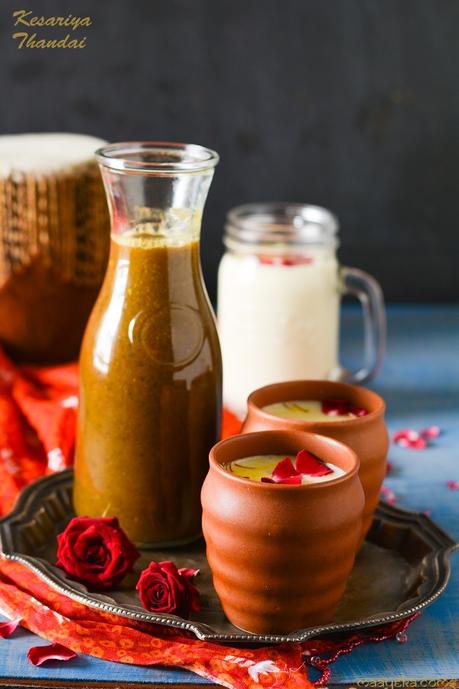 Kesar Badam Sharbat (Thandai Concentrate)
A very healthy and refreshing summer cooler from Northern India
Prep Time
20minutes
Cook Time
10minutes
Prep Time

20minutes

Cook Time

10minutes
Ingredients
750

gms

Sugar / Chini

125

gms

Almonds / Badam

75

gms

Pistachio / Pista

1/4

cup

Melon Seeds / Magaz / Kharbooje Ke Beej

3

tbsp

Poppy seeds /khaskhas

3

tbsp

Gulkand/Rose petal preserve

3

tbsp

Peppercorns / Sabut Kali Mirch

3

tbsp

fennel seeds/saunf

15

Green Cardamom / Hari Elaichi

1/3

tsp

Saffron / Kesar

3

tbsp

Rose Water / Gulab Jal

pinch

of

Citric Acid/nimbu phool/tatri
Instructions
Soak almond and pistachio over night and peel the skin in the morning.

Soak poppy seeds and melon seeds for about 2 hours in little water.

Soak fennel seeds, cardamom and pepper corns in some water for 2 hours.

Grind together almonds ,pistachio,poppy seeds and melon seeds with some water and make a fine paste.now add the gulkand and grind again.

In a pan add sugar and a glass of water and cook on medium heat to make a sugar syrup of 1+ 1/2 thread consistency.

Add 2 tsp of milk in the boiling syrup to remove the scum floating on top.

Now add citric acid and mix then remove it from the gas and let it come to room temperature.

Add the ground almond paste in the sugar syrup and mix well.

Grind the fennel seeds ,cardamom and pepper corn with water and make a fine paste.

Add the fennel paste and the soaked saffron in the sugar syrup and mix .

Now just give a boil to the sugar syrup after mixing all the ingredients in it.

Now strain the hot syrup with a muslin cloth or a strainer and then let it come to room temperature.

Now add rose water and fill it in the glass bottles and keep refrigerated.

How to serve- Take about 3-4 tbsps of thandai concentrate in a serving glass add some chilled milk/water/juice and some ice cubes ,mix and serve.
Recipe Notes
NOTE and Tips-
You can adjust the quantity and ratio of dry fruits according to your preference ,can reduce the quantity of almonds and pista and increase the quantity of melon seeds.
Can use cashew nuts instead of pistachio.
The approx ratio of dry fruit paste and sugar is 1:3 i.e for 1 cup of dry fruit paste use 3 cups of sugar.
You can adjust the quantity of pepper corns according to your tatse ,specially if you are making this for your kids,though traditionaaly thandai have a strong taste of pepper corns.
If you don't have gulkand then can add fresh rose petals or just increase the quantity of rose water.
If you want to make thandai concentrate in large quantity and want to store it at room temperature then do add some food preservative for long shelf life (sodium benzoate)
The post Kesariya Thandai Concentrate, Kesar Badam Sharbat appeared first on Maayeka. Indian home recipes - just like Maayeka!