Kerala is a southern state in India and is lovingly called as the god's own country. The state is also reffered as the "paradise of the south", a visit to this place is must once in your lifetime. There are uncountable reasons to be called as the god's country. Among entire have you ever been to Kerala houseboat? If not than you do. It is a unique way to explore the rich Kerala and experience the breathtaking views of the lush greenery and blissful ambiance of the surroundings. Houseboats are locally called as Kettuvallam and it is worth experiencing during your tour to the green paradise. There are numbers of backwater destination above which the luxurious Kettuvallam cruise.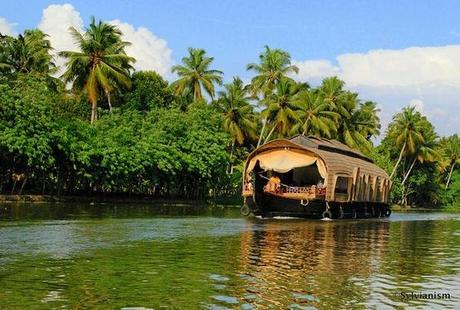 Alleppey, Kollam, Kumarakom and Kasargod are the major backwater destination which offers a unique stay above the enchanting backwaters where you can create a remarkable moment with your loved one that you will cherish in your whole life. It is a dream destination for newlyweds and it is a fact that the houseboats remains to be the most visited place by romance makers. Among all these Alleppey also known as Alappuzha and Kumarakom are the most popular one. The state's houseboat tourism offers specialized and need base tour packages in various categories. You can book any one of those that fit your budget. It is my pleasure to introduce Alappuzha, the Venice of the east in the land of paradise. It is more than your desired destination and a perfect place to be for your honeymoon. The beauty and the fact of the boats cannot be described nether can be written in words.
Houseboat cruise is another intoxicating way to explore the god's own country and it has been feted by one of the world's top ten journeys, BBC. The boat consists of large living rooms with attached bathrooms, dining room, room services, meeting staff, multi cuisines, privacy and many more so, just imagine of being in such a well organized boat enjoying breathtaking boat ride along the brackish canals, lakes and lagoons running parallel to the Arabian Sea coast. A voyage on a boat takes you through the large canals, lagoons, lush greenery, temples, coconut grooves, Chinese fishing nets, coir villages, historical towns, paddy fields and many more exciting places.
This is really amazing and memorable experience. Houseboats are huge, slow moving and a reworked version of the boats of early days now plays a vital in the state's tourism. If you are willing to make your trip towards Kerala and make a houseboat cruise than the best time to visit is between May to August. A cruise on a boat is a unique opportunity for you to have date with blessed nature. It is not only about the exploration but the facilities that your go through in the boat also makes you day more special which overall gives you the real taste of Kerala. Kettuvallam on enchanting backwaters are well known all over the world for only one of its kind of holiday experience. So, hurry.