This post may contain affiliate links. As an Amazon Associate, I earn from qualifying purchases. Please read my disclosure.
Kerala egg roast masala is an Indian breakfast dish with boiled eggs simmered in an aromatic tomato-based curry sauce! Enjoy this saucy dish with a traditional side dish like appam, puttu, or a bowl of steamed rice. Naturally dairy-free & gluten-free too!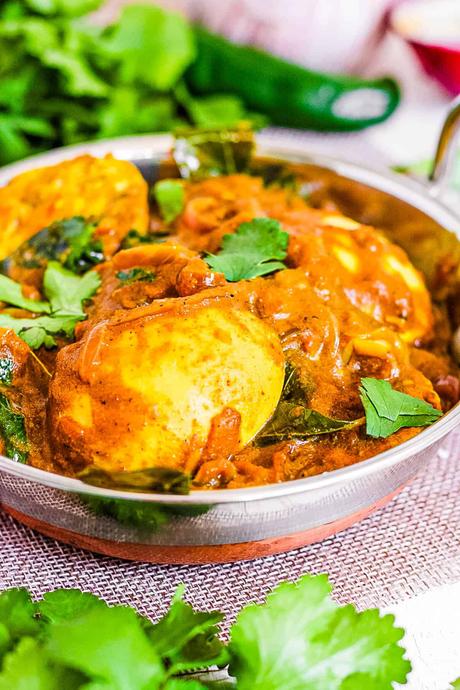 If you're stuck in a breakfast rut, this nadan mutta roast is the perfect fix. Boiled eggs simmer in a curry sauce spiced with ginger, garam masala, turmeric, and ground cilantro. Fresh tomatoes create the base of the sauce and green chili adds a kick of heat. Boiled egg curry was one of my favorite meals growing up!
Latest Recipe Video!
It's a hearty dish that tastes delicious as-is, but I like to serve it with Indian flatbread or lacy rice pancakes called appam. For a quick and easy side dish, zap a bag of microwaveable basmati rice in the microwave. While mutta masala is traditionally a breakfast dish, it makes a filling, vegetarian lunch or dinner.
If you or your kids are sensitive to heat, just leave the green chili out. This roast egg curry is just as flavorful without it.
👩‍🍳 Why This Recipe Works
Super easy Kerala egg roast recipe
Hearty dish with a thick masala gravy
Naturally dairy-free & gluten-free
Made with wholesome ingredients
Adjust the spice level to fit your tastes
Ready in just 25 minutes!
🥘 Ingredients
This mutta roast recipe calls for simple ingredients, plus a variety of spices!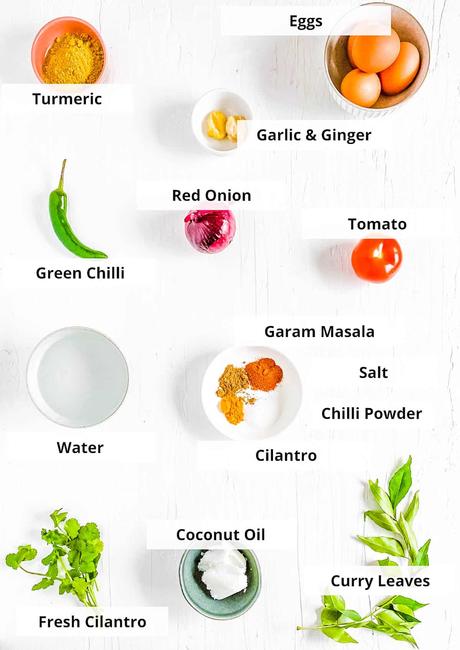 Hard-Boiled Eggs: I like to boil and peel my eggs ahead of time. The egg curry comes together very quickly if your eggs are already boiled! I like to boil eggs in my pressure cooker.
Coconut Oil: To sauté the aromatics. Feel free to use olive oil or ghee if you don't have coconut oil.
Garlic: For a sweet and nutty flavor! I like to use a garlic press when I'm in a hurry.
Ginger: Fresh ginger root has a peppery and pungent sweetness that makes the sauce top notch. If you don't want to peel and mince it yourself, buy ginger paste or crushed ginger instead. You can find it in the refrigerated aisle of the produce section.
Sprig Of Curry Leaves: Or about 4 to 5 leaves. If you can't find them at your local grocery store, try an Indian or Asian grocery store.
Red Onion: Chopped onions cook until it sweetens and caramelizes. The sweet caramelized onions add a ton of flavor!
Green Chili: Green chilies are spicy. If you're sensitive to heat, leave it out, or seed the chili before adding it in.
Ground Spices: Red chili powder, turmeric powder, garam masala powder, and coriander powder add spice to the tomatoes and onions. I highly recommend kashmiri chili powder with it's smoky taste and bright red color.
Tomatoes: Ripe plum tomatoes are ideal. If you don't have any, canned tomatoes work too.
Water: To thin the Kerala style egg dish mixture before you cook it down to intensify the flavors.
📖 Variations
Sides: Try appam (rice pancakes), puttu (steamed coconut rice cakes), guyanese roti, steamed basmati rice, bombay potatoes, or naan bread.
Adjust Spice Levels: Make this egg recipe spicier or omit the heat altogether. It's up to you! For more heat, add more chili powder, black pepper powder, crushed red pepper, or cayenne pepper. For less heat, omit the green chili (or seed your chili before adding it), and reduce the chili powder to one teaspoon.
🔪 How To Make Egg Roast
This kerala masala egg roast is easy to make! Here's what you need to do.
Sauté Aromatics: In a large skillet, heat the oil over medium-high heat. Saute the garlic and ginger for 1 minute or so. Add the curry leaves, sliced onions, and green chili. Reduce to medium-low heat, and cook until the onion caramelizes. This takes 4 to 5 minutes with constant stirring.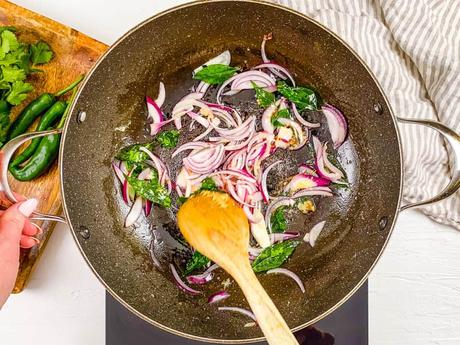 Add Spices: Add the spice powders and salt to the pan. Continue to sauté for a couple of minutes, until the mixture is fragrant.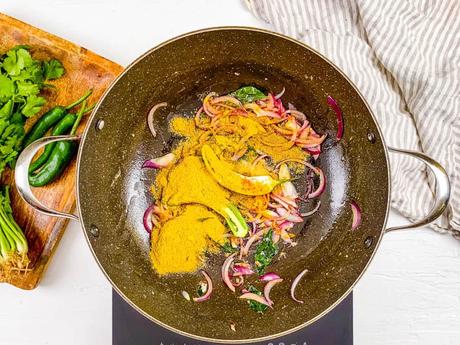 Add Tomatoes: Add the chopped tomatoes and water. Let the mixture simmer for 5 minutes, so it thickens.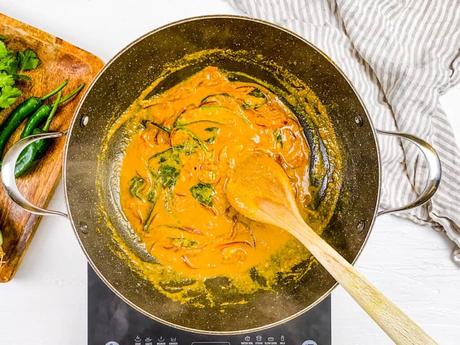 Add Boiled Eggs: Give it a good stir then add the boiled eggs and continue to cook until the gravy is thick, about 5 minutes.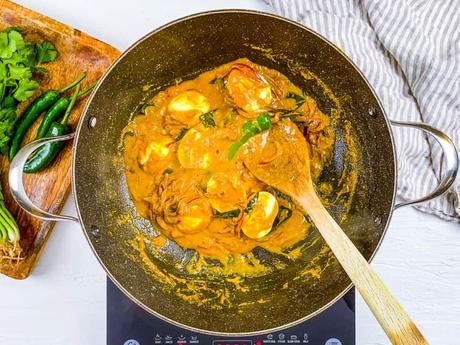 Serve: Season to taste. Serve the dry egg curry with fresh coriander leaves on top!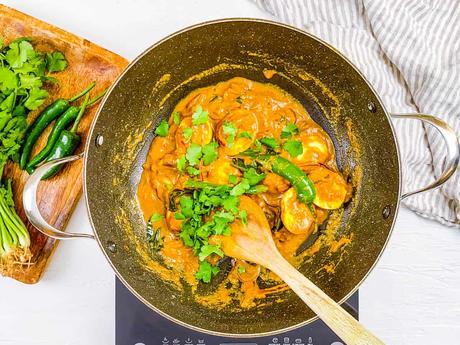 ❓ Recipe FAQs
Where did dry egg masala originate?
This delicious egg roast originated in the Indian state of Kerala, which is a small southwestern state on the western coast of India. This egg curry recipe is a popular dish in Kerala cuisine. It's also known as nadan mutta roast, or mutta curry, and is typically served during breakfast or brunch.
In my house, we usually serve it for dinner, because it's a great vegetarian entree when served with rice, naan or other veggie side dishes, so it's a perfect option any time of the day!
How should I store this nadan egg roast?
Store any leftovers in an airtight container in the refrigerator for up to 3 days. The curry just gets better as it sits in the fridge. Enjoy cold or reheat in the microwave until warmed throughout. Don't overcook or the egg will get rubbery.
How should I serve mutta curry?
It's a hearty dish that doesn't need a side, but tastes great with any type of Indian flatbread or rice dish. String hoppers, ghee rice, or malabar parotta are great additions! Or for a quick and simple side, serve with steamed white rice.
Can I freeze kerala egg curry?
No, while curry freezes well, boiled eggs do not! The whites get rubbery and release excess moisture when thawed.
💭 Expert Tips
For the perfect egg roast, do not over cook the eggs when boiling otherwise the eggs will become grey and tasteless when cooked in the thick gravy.
Stir the eggs through the gravy gently without mashing.
If you want to leave the boiled eggs whole, simply cut small slits into them. This will keep them from bursting.
I don't recommend using ginger-garlic paste for this recipe, as it doesn't have the right proportions of ginger and garlic - and won't achieve that classic Kerala style egg roast flavor.
For a rich and creamy curry sauce, add a splash of coconut milk.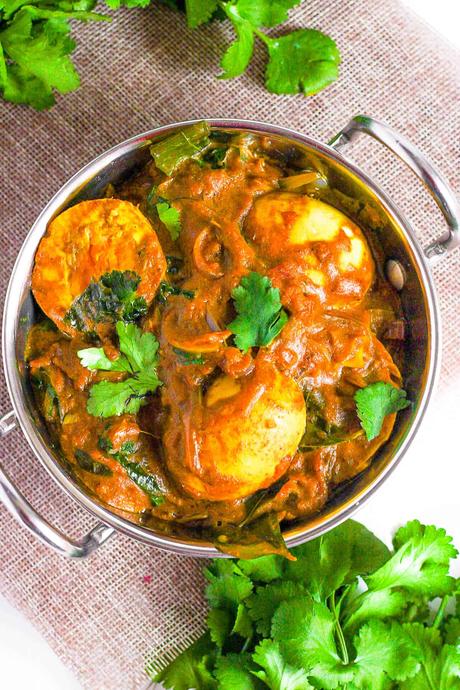 🍛 More Delicious Curry Recipes!
📋 Recipe Card
Kerala Egg Roast