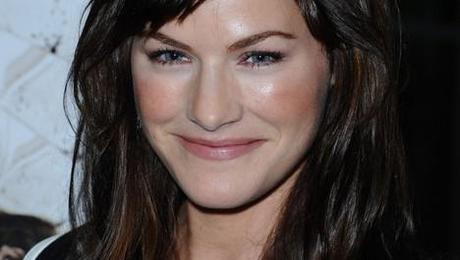 Another supporting player in True Blood season 5 is spilling a few details about her character! In an interview with Today.com, actress Kelly Overton, who will play werewolf Rikki on the HBO series discussed how her character fits into the new season and whether or not her presence will result in a romance with Alcide Herveaux (Joe Manganiello).
Don't expect Alcide to hook up with new werewolf Rikki this season. According to Overton, our favorite werewolf already has a girl in mind:
"All I can say is that everybody knows Alcide is holding a candle for Sookie (Anna Paquin)."
Then again, the actress tells writer Sean Daly that Alcide might not even be her character's type. Rikki likes to live on the edge and is described as tough, resourceful, and the opposite of a damsel in distress. We meet her because her pack master is missing and she's not happy about it:
"When we meet Rikki, she is not in the best of moods. Her pack master has gone missing. That is a pretty big deal in her world. She is pretty determined. She won't let anyone or anything get in the way of finding out what happened to him."
Season 5 of True Blood will also delve deeper into politics, a theme that has been with the show since the beginning but has never been fully explored. Until now:
"We really kind of see the politics and the power struggle between the Authority's agenda — which is to drink Tru Blood and mainstream this society with humans.  You know, coexist.  We see that and the fundamentalist vampires, who are subscribing to beliefs that they are superior to humans. Humans are merely a food source…So this season is really different in that there is a lot of politically charged drama, which is something that always existed within the show, but until now they never really fully explored it and all the impact it will have on the characters…. There is a lot of characters asking what side are they on."
Overton had to do some new scenes this season as well but says that the show made her feel very comfortable about it. Being the mother of a 1 year-old also has helped ground her:
"(I am comfortable) because of the show and the place I am at in my life now," Overton told us. "Being a mom kind of grounded me in a way. Your body takes on a whole new meaning. And when I am older I can look back and say, 'Look at Grandma!'"
To read the interview in its entirety click here.
Source: Today.com- "'True Blood's' new werewolf dishes on romance, vampire politics"
Image Credit: Bauer-Griffin