Kelly Osbourne Pissed Herself And Blamed It On Starbucks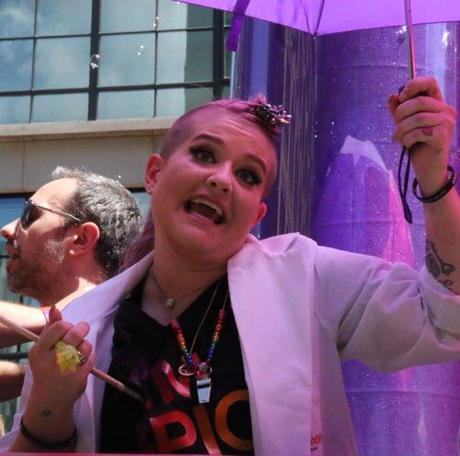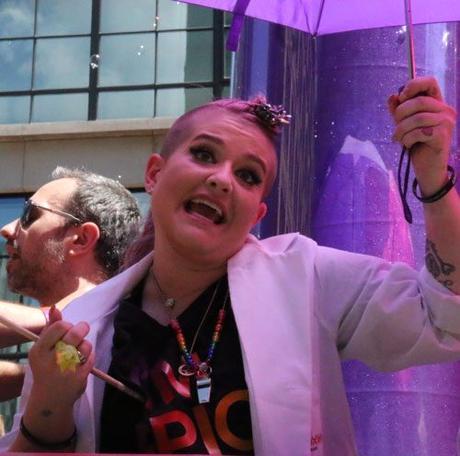 File this under: Information Your Brain Really Needed Today.
Kelly Osbourne marched in NYC's Pride Parade yesterday and sometime during the afternoon, she had a Detrol commercial moment and had to go, had to go, had to go right then. So Kelly went into a Starbucks to piss and she says the rude ass employees wouldn't let her use their toilet, so she had no choice but to make like she was Ray J and her shoes were Kim Kartrashian's ass. She busted a golden showers show and got piss in her shoes.
Sure, you might be thinking that Kelly could've just bought a fucking cookie to use the bathroom, but then she wouldn't have pissed on herself and gotten attention for it by tweeting. And even if she did buy a fucking cookie, she still wouldn't be able to use the bathroom since that Starbucks doesn't have one!
Donald Trump is probably spending his day searching through #PissedMyOwnPants on Twitter for some fap material, and it's all because Kelly Osbourne started that hash tag after Starbucks pissed her off when she pissed herself. Kelly called out Starbucks in a tweet that almost made me piss myself (I took off my house slippers first) from laughing:
SHAME on U @Starbucks #PissedMyOwnPants in this location because UR shameful employees refused to let me use the I have piss in my shoe pic.twitter.com/scVsNAUh10

— Kelly! (@KellyOsbourne) June 26, 2017
Starbucks pissed on Kelly's claims by saying in a statement to Page Six that there's no public bathroom at that Starbucks:
"We are working to follow up with Ms. Osbourne to clarify any confusion. There simply is no restroom in this store, and inquiring customers are typically directed to a store a few blocks away. We sincerely apologize for any misunderstanding and hope to welcome Ms. Osbourne back for a beverage on us very soon!"
So wait, all I have to do to get a free drinks from Starbucks (retail value: $55 and your SOUL) is pee pee on myself and then blame it on Starbucks in a tweet? Although… I don't know if I'd want a free drink from Starbucks after calling their employees "shameful." Because I have a feeling something in the free latte would be scorned Starbucks barista piss.
Kelly really needs to get herself a Go Girl and an empty water bottle. She also needs to get herself some better friends, because how could they not take a video of her pissing herself and then post it on Instagram for all of us to laugh at? SHAME on THEM for that!
And here's Pissy Shoes Osbourne at amfAR's Summer Solstice Party in NYC last week:
$(function(){
$("#gallery_260066").microfiche({ buttons: false,bullets: false });
$("#thumbcontainer_260066 .prevthumb").click(function() {
$("#gallery_260066").microfiche({ slideByPages: -1 });
});
$("#thumbcontainer_260066 .nextthumb").click(function() {
$("#gallery_260066").microfiche({ slideByPages: 1 });
});
});
Pics: Wenn.com
Source: Kelly Osbourne Pissed Herself And Blamed It On Starbucks 
3 total views, 3 views today