Kelly Clarkson Says She Was Asexual Before Her Husband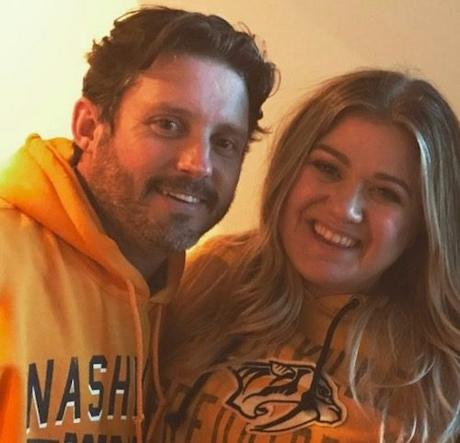 Her husband must be serving A LOT in EVERY area if he was able to rouse her out of what sounds like a casual state of asexuality.
Kelly Clarkson played a private show for SiriusXM listeners at the Highline Ballroom in NYC, and according to People, she revealed that she never felt sexual attraction for anyone until she met her husband Brandon Blackstock. Christ, how lucky is she? She ended up meeting what sounds like the one person in the universe that had the stuff to awaken her dormant sessuality. What are the odds of that? Shouldn't this be a movie?
Kelly told the crowd:
"This isn't a downer to anybody I dated before him, but I'm just going to be real: I never felt like, honesty, sexually attracted to anybody before him. And I'm not downing my exes. You know, everybody's different. But there was something about him."
Everyone from Kelly's high-school prom date to former co-workers she might have dated before she hit it big to Justin Guarini are hanging their heads today because they were lied to and now they're doubting their own hotness! You'll always be a smokeshow to me, Justin.
Kelly's new album, Meaning of Life, contains what People calls "confident and sexy anthems" (which is a way better album title) that are reportedly based on her hubby. She went on to use the word "asexual" which is, of course, a legit sexual orientation, so this is news.
"I honestly thought I was asexual — I'd never been turned on like that in my whole life," she said. "I was like, 'Oh that's that feeling… okay! That's what they were talking about in Waiting to Exhale.' I just got it. I just didn't have a clue."
This story is probably going to annoy the asexual people out there. Probably not as much as Kevin Spacey's "I choose to live as a gay man" bullshit annoyed the gays, but maybe a little.
Kelly met her music executive husband at the Country Music Awards in 2006, and they were married in 2013. She knew that he was something special when he walked by her backstage and all of a sudden her sleeping vagina's alarm clock finally went off and it sprang out of bed. Then it got back in bed and began to take off its clothes out of sheer horniness.
"I was like, ready to take it all off. I just felt something. We didn't really know each other; I had just met him that one time. Just from that one time, even six years later, I had never really dated anyone. I honest to God thought, 'Is this what it's like to be asexual?' I was just not attracted to people."
I'm kind of with her on this one. He's got that "Tim McGraw's little brother who might be heteroflexible" look.
Brandon was hitched at the time and Kelly wasn't going to Sienna Miller his marriage.
Nothing happened then, of course. He was married at the time to Melissa Ashworth, and as Clarkson was quick to point out to the crowd, she "ain't that girl."
But when she found out he was divorced, she sprang into action. And the rest is history! The couple have two kids – River Rose, 3, and Remington Alexander, 1. So she wasn't effing around about her sexual awakening.
This story is a little suspect, though. Anyone who's seen and felt the fiery sexual chemistry between Kelly and Justin in From Justin to Kelly feels me. Right?
Pic: Instagram
Source: Kelly Clarkson Says She Was Asexual Before Her Husband
5 total views, 5 views today