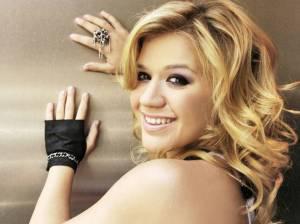 Photo Courtesy: eaglemp3.com
She's back and she's still bitter! Yesterday, Kelly Clarkson revealed her first single off of her next album, "Stronger."
I will tell you that I am a Kelly fan, after all she is America's Idol. The main reason why I am a fan is because she is so damn angry toward this man or men that she keeps singing about.
In all honesty, my favorite album was "My December." I don't understand why people didn't love it as much as I did.
She was all the things we love…pissed off, angry and bitter. My favises song off this album was "Never Again." The video is what really sold me. It's basically Kelly haunting her ex, who has left her for another woman. Huge mistake there buddy.
Why it's so great:
1. Kelly Clarkson has inspired me to wear a bra and a blazer…sans shirt
2. It's the ultimate revenge song…you break up with Kelly, she will haunt you
3. I wouldn't think it would suck to see Kelly's face everywhere…I'd get the chance to ask for her autograph
Favises lyrics: "You wrote me in a letter/You couldn't say it right to my face/Give me that Sunday school answer/Repent yourself away" AND "I hope the ring you gave to her turns her finger green"
o0o0o0o burn!
I feel bad for the guy this song is about…it's like Kelly wrote these lyrics as a letter and instead of snail mailing it to him, she just put it on a record because she could. That what people who are boss do.
Back to the point of this post. Since Clarkson released her new single via her website, I am obligated to share it with you. I like it. I think I liked it before I heard it, I mean it is called "Mr. Know It All." You can tell it's full of man-hating goodness. Click here to listen to "Mr. Know It All."
Favises lyrics: "You don't know a thing about me" – Damn right Kelly, you tell him!
See you on tour girl!