One of the great things about Non League football is the proximity to the action.  In the Ryman League it is not uncommon to see crowds of 30 or 40 people and at that level the players can hear every word uttered by the crowd, whether they want to block it out or not.  Barry Collins, one of the Lewes faithful,  believes it might pay to have a little chat with your friendly opposition goalkeeper.
Hands up who's dreamt of pulling on the the most famous of football kits, the black and red stripes of Lewes FC and scoring an injury-time winner, and performing a Walder salmon-leap into the Philcox Stand and the grateful arms of Cynical Dave?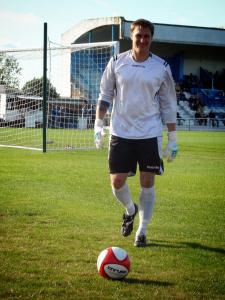 I'd wager a damned sight fewer Rooks fans have fantasised about slipping on the green jersey and standing six foot in front of a gaggle of hostile strangers, who spend the entire 90 minutes impolitely questioning your competence. With all due disrespect to the magnificent Kieron Thorp, the life of a non-league goalkeeper is not an enviable one.
Imagine doing a job where even your own fans want to get as far away from you as possible, because all the good stuff is happening at the other end. Even at home, with hundreds of your own supporters in the ground, you're lucky if you'll find a single sodding one of them willing to stand by you. Sure, top-flight keepers have to put up with an amphitheater of abuse, but at least they get to spend at least 45 minutes in front of their own fans at home games.
And just because the average away contingent at Ryman Premier level could comfortably fit into the back of a Vauxhall Zafira, don't think that's any less intimidating than having your wife's promiscuity challenged by 60,000 inside Old Trafford. Joe Hart's spoken about "blocking out the wall of noise behind him" and focusing on the game, but non-league goalkeepers can hear every single word uttered behind them
The Lewes Lunatic Fringe is an ironic label applied to our hardcore away fans, but even though you'd be happy to take each and every one of them home to meet your mom (even club Director Lee Cobb), they can still get inside the head of opposition shot-stoppers. Players such as Brinky (Steve Brinkhurst) might have earned the plaudits for scoring the goals in our 4-2 spanking of Wingate & Finchley in February, but it was Brinky's dad and the huddle of frost-bitten fans behind the goal wot really won it.
"Don't worry keeper, you'll catch one in a minute," Brinky's dad shouted as the hapless Wingate goalie flapped at one of his boy's crosses. "Do you want to borrow my gloves? Yours don't seem to be working," said the fella next to me, a heartbeat later. Like the model professional he was never going to be, the Wingate keeper did his best to block it out and not respond to the baiting, but you could see even such mild ribbing was crawling under his thin skin.
By the time Ryan Fergany had planted the fourth in the onion bag behind him, the Wingate keeper was reduced to clutching his head, pretending he'd smacked it against the post in a valiant effort to save the free-kick, if not his dignity. When the aforementioned Cynical Dave politely invited the Wingate shot-flapper to get to his feet, his teammates were mortally offended. "The Wingate centre-back, unhappy at the banter we were giving them, offered us a lift home," wrote Stuart Fuller on his blog "Or that's what I assumed his comment about meeting in the car park after the game was about."
Not all Ryman League keepers have had the sense of humor bypass. When we thrashed Concord Rangers shortly before Christmas, the beleaguered home keeper – who actually had a decent game for someone on the wrong end of a mugging – turned to the Lewes fans and asked us what the score was, because he'd lost count. It was 6-1 at the time, for the record.  Last weekend when our visitors Hastings United lost their keeper through injury, forward Sam Adams took over and immediately started to join in the banter with the crowd who suggested that he "wasn't fit to keep"…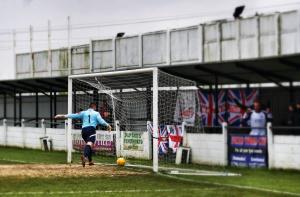 At the other end of the scale, opposition keepers sometimes pop over for a quick chat because our strikers have given them nothing better to do. "Bet this is the easiest 75 minutes you've ever had, isn't it keeper?" asked away stalwart Gary, midway through a miserable Saturday afternoon at Thurrock a few weeks ago. "Don't worry, there's plenty of time yet," the near-redundant shot stopper replied. "We shipped nine last week."
Then there's the breed of keeper who think they're auditioning for an improv slot at the Comedy Store. Enfield Town's Noel Imber, for example, who rattled through more one-liners than a Tim Vine tour on our recent visit to North London. By midway through the second half, he was asking us to guess which way his goal-kicks were heading, and discussing ways of distracting his industrial-sized center back, so that we might finally get to see a shot on target. "Tell him I'll buy him a burger, Noel," one of our wags suggested, pointing at the van about 20 yards away. "No chance," Imber replied. "He'd never make it that far."
The joke was almost on the Enfield number one by the end of the match, however, when Simon Wormull brought himself on and suddenly exposed Imber as a better comedian than goalkeeper. Twice he flapped at easily snatchable crosses, handing Brinky a decent chance to equalise in the dying minutes. Still, it's a good to have a career to fall-back on.
The long and short of it is that I'm 100% convinced a bit of gentle banter with the opposition keepers can not only make a game more enjoyable, but even affect the result. Of course, the players really take the credit for destroying Wingate, but the keeper's confidence was being chipped away by the traveling support long before Brinky chipped the ball to Ben Godfrey to slot the first of four goals past him. Likewise, I'm equally convinced the wisecracking Enfield "Imbercile" was distracted by the banter.
So, the next time you're within earshot of the opposition keeper, stop and have a little chat. It's not only Chris Huhne who can talk his way out of three points.