It's no secret that I am super strict with what Isabelle is allowed to eat, and part of the reason that Simon and I don't want her having anything which is mainly sugar based is for her teeth. She doesn't have many (only 6, she's a slow burner!) but we want to keep the teeth she does have in good condition for as long as we can. Hopefully, she will inherit Simon's super teeth – at 27 he has never had ANYTHING done to them. It's extremely impressive, and irritating!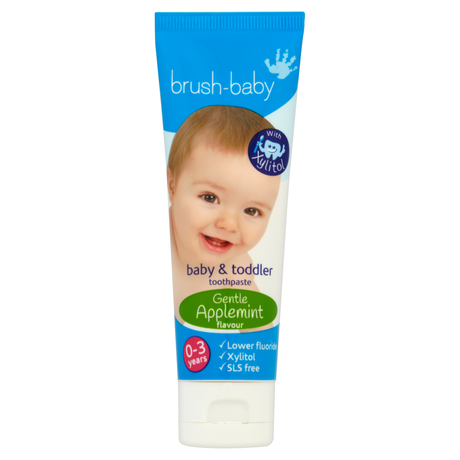 However, a friend who is a dental nurse recently told me that they see more children in their practice whose teeth are damaged by eating fruit, than damaged by eating sugary treats. It's horrible to think that parents trying to do their best inadvertently cause harm to their little one. Isabelle eats a lot of fruit, and so the news was a bit of a blow. Another friend who is a dietician then informed us that if you give your little one a piece of cheese after eating fruit, it regulates the pH in their mouth, and leaves their teeth less susceptible to erosion from the sugar and acids in the fruit – phew! So now, if Isabelle has a fruit snack, she gets a little lump of cheddar afterwards, which is no hardship as she loves cheese.
Of course, since her teeth arrived we have been fastidious about making sure they are brushed twice daily. We started off giving her the toothbrush before she had any teeth, and so she got used to having it in her mouth and seeing it. For a while, we just used water to brush, and she wasn't overly keen on the whole affair. Once we introduced toothpaste, she loved it. She clearly likes the minty taste, and really loves having her pearly whites brushed now!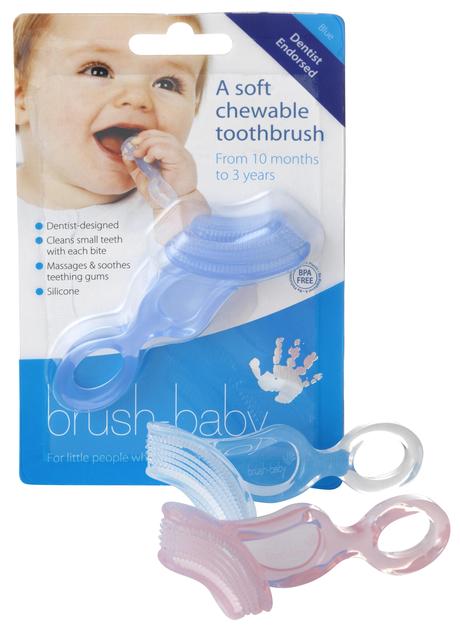 So when the lovely people at Brush baby sent us out some toothpaste and a 'chewable' toothbrush for Isabelle, we were really pleased to have some more toothy products to add to our arsenal.
The chewable toothbrush is a great little invention. Isabelle chews her current toothbrush, but it's design means she doesn't always actually manage to brush anything. The chewable toothbrush is specially designed to allow little people to chomp on it and get their teeth cleaned at the same time. It can be used with or without toothpaste, and is a great ay to get toddler who hate brushing to have their teeth cleaned. It's also nice for teething time – it can be popped into the fridge to cool it down and then your little munchkin can chomp away, soothing those pesky sore gums as they do. The toothpaste is a non-foaming toothpaste, which has 500ppm of fluoride to help keep little teeth in tip top condition, and along with cleaning the teeth it is designed to help bring the pH of a baby's mouth back to where it should be, giving you peace of mind that their pearly whites will be well protected. 
With 40% of the UK's under 5s having some form of dental decay, it really is important that as parents we encourage and model great tooth cleaning habits. It's never too early to start cleaning, so no matter what age your little one is, make an extra special effort this evening to get those toothy pegs sparkling white. Don't forget you can register your baby at the dentist at any age, and taking them along will help them get used to the process, and hopefully mean that any tooth decay ssues are kept at bay for many years to come.