Italian ices, known as granite (plural), are a popular cold Italian specialty among tourists and Italians alike. A granita (singular) is similar to a slushee, consisting of a partially frozen mix of fruity syrup and water. You can also find coffee granita, which is often served with fresh whipped cream on top.
Granite, like Italian ice cream (gelato), can be found almost anywhere throughout Italy, but there is another drink that should not be overlooked when visiting Rome: grattachecca.
Grattachecca was created by the Romans before refrigeration, when ice blocks were used to keep food cold. During the heat of summer, the Romans would grate ice into a glass, add fruit syrup, and top it off with fresh fruit.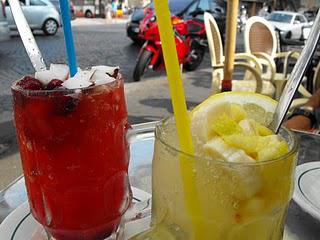 With the increasing popularity of granita and gelato, there has been a decline in the number of grattachecca stands in Rome, however, you can still enjoy this refreshing summer treat at several kiosks around the city. My favourite grattachecca kiosk can be found in front of the Ara Pacis Museum, at Lungotevere in Agusta and Via Porto di Ripetta. The owners have been at this location for decades and, what sets them apart, is that they make their own syrup from fresh fruit rather than buying pre-made, more sugary syrups in bottles. Another popular kiosk, particularly at night, is in Trastevere, beside Tiber Island.
Grattachecca typically costs between 2 and 4 euros, depending on the size and how many fruit flavours you want.