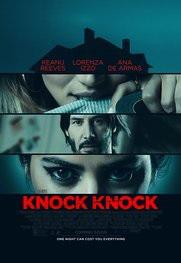 Director: Eli Roth
Writer: Eli Roth, Nicola Lopez, Guillermo Amoedo (Screenplay) Anthony Overman, Michael Ronald Ross (Story)
Starring: Keanu Reeves, Lorenza Izzo, Ana de Armas, Ignacia Allamand, Aaron Burns
Plot: When a devoted husband and father is left home alone for the weekend, two stranded young women unexpectedly knock on his door for help. What starts out as a kind gesture results in a dangerous seduction and a deadly game of cat and mouse.
There may be spoilers the rest of the review
Verdict: Tense Building Thriller
Story: Knock Knock starts as we meet Evan (Reeves) a devoted husband and father, his wife Karen (Allamand) and kids Jake & Lisa are going away for the weekend. With his family away Evan tries to get his work done before two beautiful young woman Genesis (Izzo) & Bell (de Armas) turn up on his doorstep during a storm soaked through looking for friend's house.
Evan ever the gentleman offers the girls shelter and a way to their new location, but as the time together the girls try their best to seduce Evan as he does the best to resist all temptation. Evan eventually gives into the temptation leading to a wild threesome. When the morning comes Evan learns a shocking truth about the girls as he tries desperately to cover the night before.
Knock Knock is a film that I can say had me on edge from start to it finished which is always a good thing. We are drawn in to what will happen next, why these girls have targeted Evan, what their motives with their action. All of these really pull us in but the problem with this is that we don't learn about what is going on, we don't get any of these answers which I accept we do sometimes like a few loose ends but one answer would have been important. Finally, the bigger issues fall with that Evan is a good guy we don't see anything bad about him through the film. I feel this story has so much potential if only it answered the questions.
Actor Review
Keanu Reeves: Evan Webber is the devoted husband and father who is spending his weekend alone to focus on his work. His time is interrupted by two girls seeking shelter from the rain. Evan tries his hardest to not give into temptation but the girls are too much for him to resist. The morning after he tries to get rid of them but the girls have plans for him. The best thing about Evan is how willing to turn the girls down over and over as we see how much of a good person he actually is. Keanu is good as we see him as a good guy lead astray by the girls.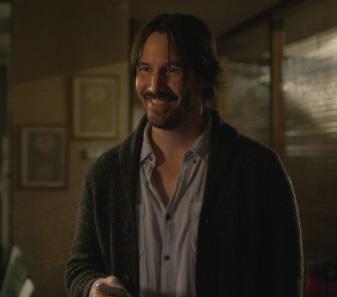 Lorenza Izzo: Genesis is one of the girls who turns up on the door of Evan's she is the leader of the two as she has more tricks up her sleeves to make Evan stay under their spell. Lorenza is good as one of the seductive woman.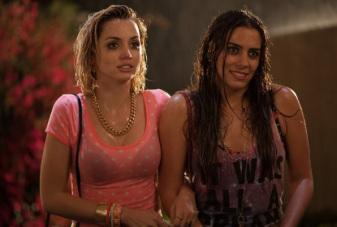 Ana de Armas: Bell is the emotional weaker of the two girls who is happy to go along with the plan, she is more sex driven than Genesis as she likes to play the daddy card. Ana is also good in the seductive woman role.
Ignacia Allamand: Karen is the wife of Evan, she is architect and takes their kids away for the weekend. She is your typical wife and mother but we don't get to see too much from her character. Ignacia doesn't get enough time to really give us enough time on screen.
Support Cast: Knock Knock doesn't have the biggest supporting cast with the only ones involved do a good enough job.
Director Review: Eli Roth – Eli gives us most of a good thriller I just wish he would have given us an ending and answer some of the questions the film offers us.
Horror: Knock Knock gives us a twist on the home invasion horror.
Mystery: Knock Knock gives us plenty of questions but fails to answer all of them or any really.
Thriller: Knock Knock does keep us on edge from start to finish.
Settings: Knock Knock keeps the setting inside the home of Evan which shows the home invasion angle working.
Suggestion: Knock Knock is one for the thriller fans to try because it is disappointing ending. (Try It)
Best Part: Tension building.
Worst Part: Unanswered questions.
Believability: It tries to make it feel real but sadly doesn't come off enough.
Chances of Tears: No
Chances of Sequel: No
Post Credits Scene: No
Oscar Chances: No
Runtime: 1 Hour 39 Minutes
Tagline: One night can cost you everything
Overall: A great thriller that just seems to forget to answer the questions it asks.
Rating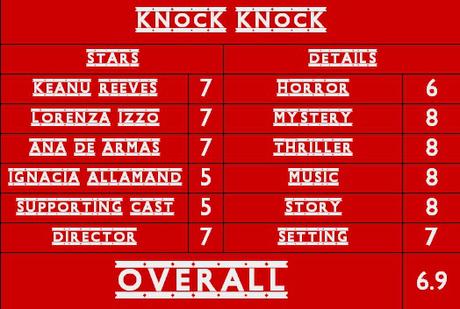 Advertisements