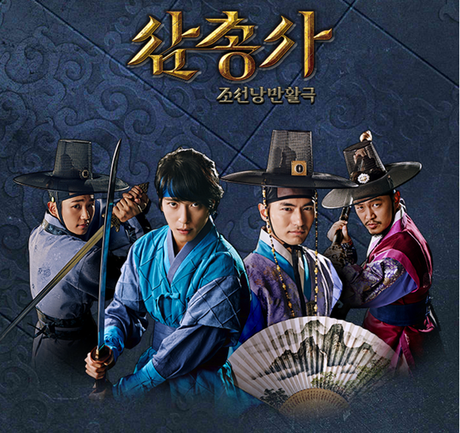 THE THREE MUSKETEERS

Korean Drama | 2014 | 12 EpisodesAction | Comedy | Fusion Saguek | Historical | Romance


The Three Musketeers is based on the famous novel of the same title written by Alexander Dumas. The events and characters of the novel, which was set in 17th century France, will be adopted and merged with the story and adventures of a young man named Park Dal Hyan (Jung Yong Hwa) and a group of three men that called themselves The Three Musketeers. The name was coined by the group's leader, who is actually Crown Prince So Hyeon (Lee Jin Wook), heir to the throne of the Joseon Dynasty during the reign of King Injo, while the other two of the trio were his guards, Heo Seung Po (Yang Dong Geun) and An Min Seo (Jung Ha In). Park Dal Hyang met them on his first night in Hanyang, the capital of the Joseon, where he will be taking the military service examination.


Not familiar with the novel? Want to read a quick summary?Summary: The Three Musketeers by Alexander Dumas(Not boring, promise!)
tvN The Three Musketeers | Posters | GalleryOfficial Facebook Page | YouTube Playlist
Where can you watch The Three Musketeers?Dramacool | List of Other Websites


THE THREE MUSKETEERS TEASER- MAIN CAST -Jung Yong Hwa as Park Dal Hyang (based on d'Artagnan)Lee Jin Wook as Crown Prince Sohyeon (based on Athos)Yang Dong Geun as Heo Seung Po (based on Porthos)Jung Ha In as Ahn Min Seo (based on Aramis)Seo Hyun Jin as Kang Yoon Seo (based on Anne of Austria)Yoo In Young as Jo Mi Ryeong (based on Milady de Winter)
- EXTENDED CAST -Kim Myung Soo as King Injo (based on Louis XIII)Park Yeong Gyu as Kim Ja Jeom (based on Cardinal Richelieu)Jeon NovMin as Choi Myung Kil (based on de Tréville)Lee Kyun as Pansoe (based on Planchet)Kim Sung Min as Ingguldai / Yonggoldae (based on Duke of Buckingham)Park Sung Min as Noh Soo (based on Comte de Rochefort)Kim Seo Kyung as Ma Bu DaeJung Yoo Seok as Park Ji WonWoo Hyeon as Dal Hyang's father

TEREBOL | i ♥ dramas