Filming weddings in the Wirral will always have a special place in my heart as it's where Lee and I got married nearly 9 years ago.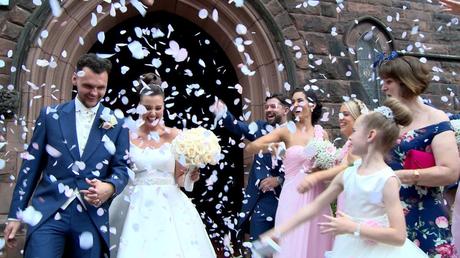 But this is all about Katie and Iain!
This wedding saw me head over to see Katie at her parents stunning family home in Prenton to hang out with her family and girls.
My assistant Paul head over to see Iain and his groomsman nearby in Birkenhead.
It was a brilliant contrast of glamourous girls relaxing, giggling and enjoying the prosecco in coordinating wedding robes whilst the boys hung out in their football kits drinking beer and listening to dance music before getting ready!
You can watch their wedding video below. Then , if you'd like to find out more, scroll down to have a read about their wedding day as well as links to their favorite wedding suppliers who helped make it extra special…
Jane Hockey was working alongside me to capture their wedding photos.
Kelly from Boudoir Hair and Emma Lampkin (someone who had been a mere Facebook friend from many years ago pre wedding world so it was crazy to meet at an actual wedding) were also there getting the girls make-up and hair perfected before it was time to get everyone around to open the gifts.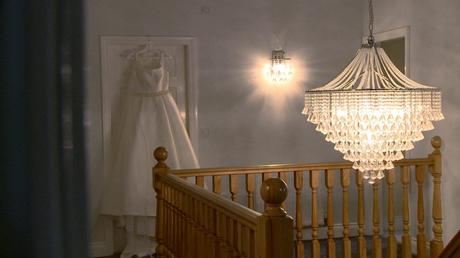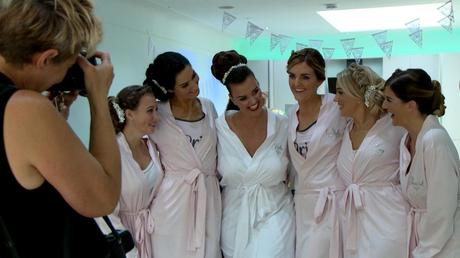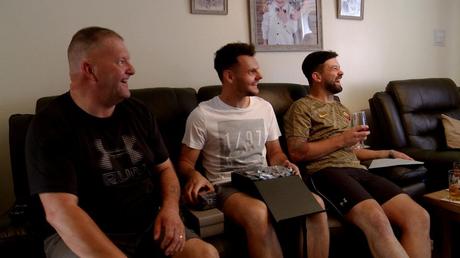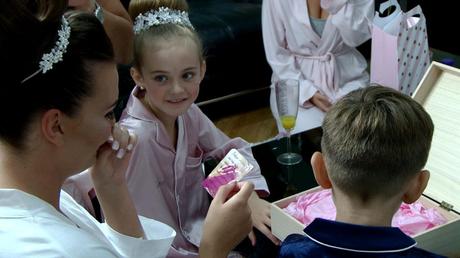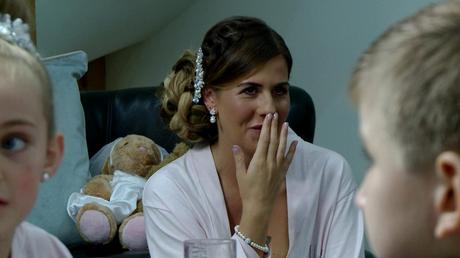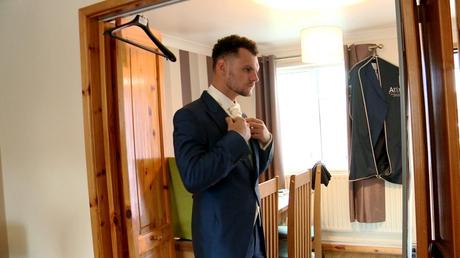 Iain had Katie crying with his super thoughtful wedding gifts, which then set a few of the Bridesmaid's off too! Lots of 'dab don't wipe' comments to ensure the make-up didn't run before they all dashed upstairs to get ready in to their full length pink bridesmaid dresses.
Katie had her Mum on hand to get her ready. She looks breath-taking in her classic off the shoulder Ellis Bridal wedding dress. She had that real old Hollywood glamour look going on with her high bun and dripping in sparkly jewelry.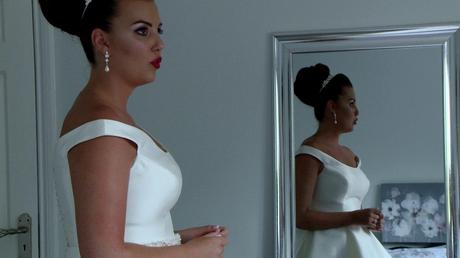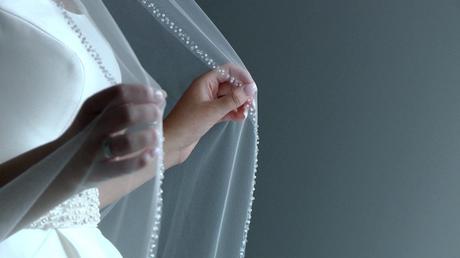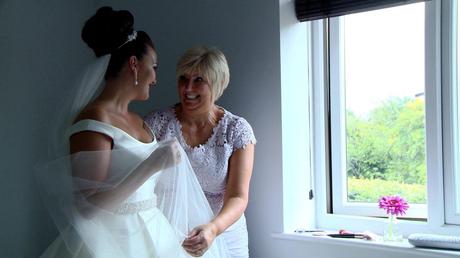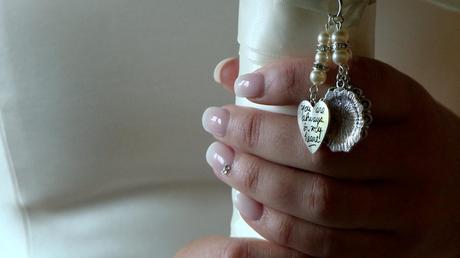 It was enough to have Dad speechless and unable to fight back the tears as she glided down the stairs to meet him.
The boys took a while to figure out the button holes but were soon making their way to St Saviours Church near Oxton to wait nervously for the Bride.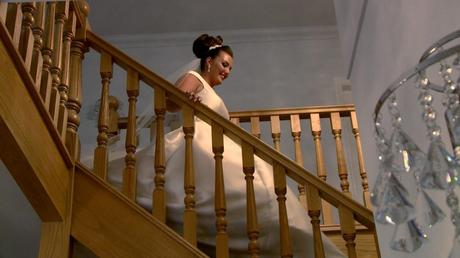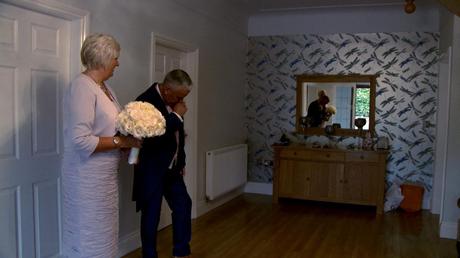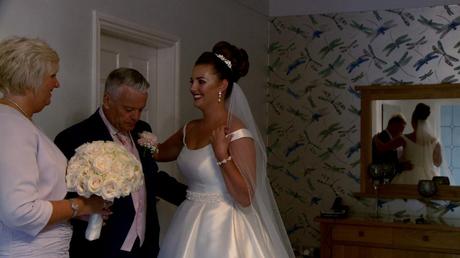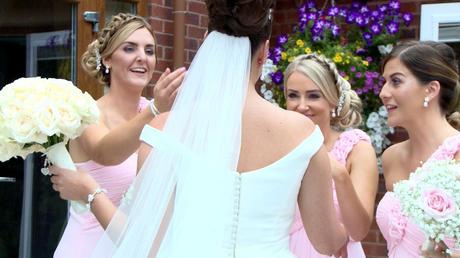 Locals and family friends gathered to enjoy a glimpse of the stunning bride before she was linking arms with her Dad and making her way down the aisle.
The best moment of any wedding is this.
That eagerly anticipated walk down the aisle to get married and when you see each other for the first time.
It's the moment I feel the most pressure as I want to be able to capture both reactions but also that whole moment, of everyone there and all those excited butterflies in your belly.
Iain didn't disappoint with his reaction as he turned away from Katie to wipe away his tears.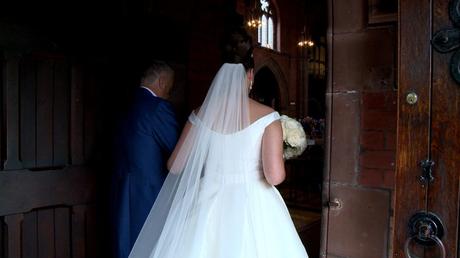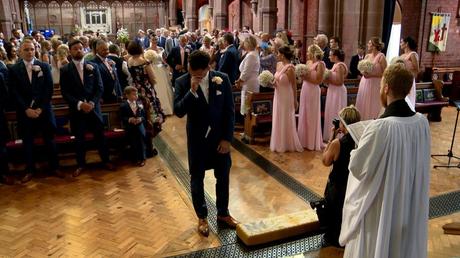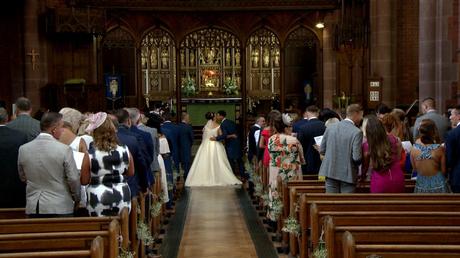 Their Priest did an amazing sermon which somehow managed to include 'What Is Love' by Hadaway. Think that makes him top the 'Cool Priest' list for me!
Not only that but during the signing of the register he managed a memorable photobomb that somehow turned his mic on so the whole church could hear them belly laughing at him!
They soon skipped down the aisle as Husband and Wife before being showered in colourful confetti by the church doors.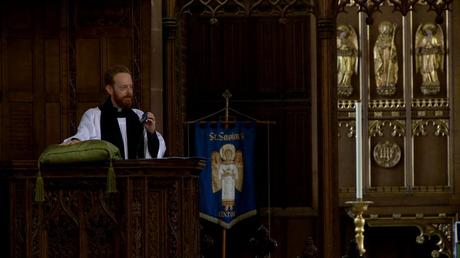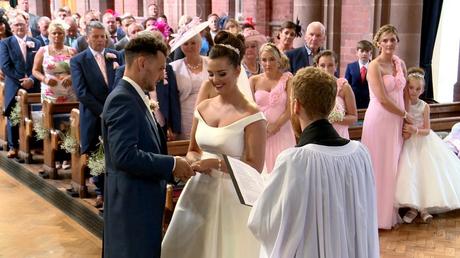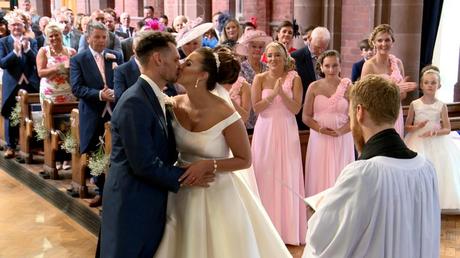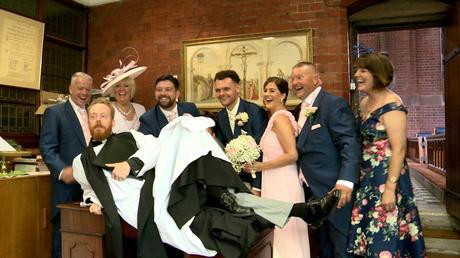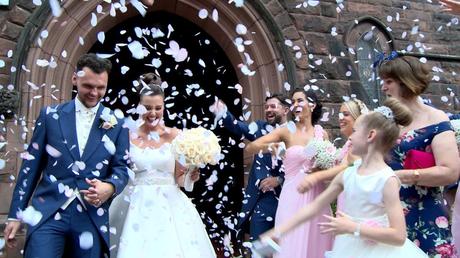 All perfectly timed as the rain decided to fall just as we left and made our way to the wedding reception at Thornton Hall Hotel and Spa.
Guests cheered as they made their way in to the bar area and they enjoyed a little bit of mingling before the rain stopped and Jane whisked them outside for their family group shots.
I loved seeing guests reactions to the wedding breakfast room which was so beautifully decorated with hundreds of pale pink and ivory roses, including a flower wall behind the top table. All thanks to Maddison J Creations.
They were soon on their feet cheering the bride and groom in before enjoying their wedding breakfast.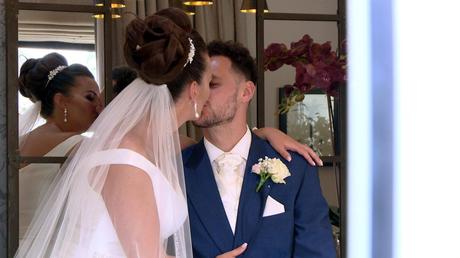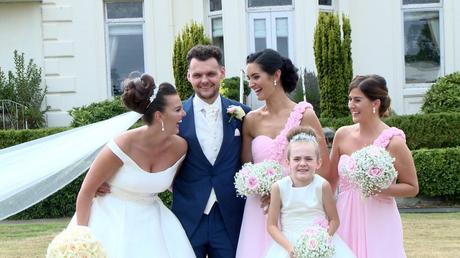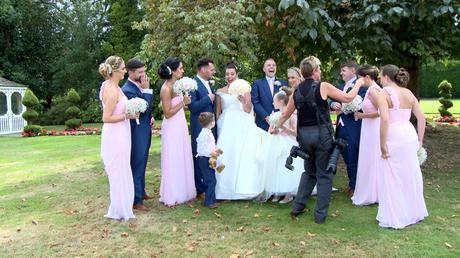 Then Giles Miller took over entertaining the guests during their meal and in-between courses. A few guests even joined in with the singing!
It was then on to the much anticipated wedding speeches from Katie's Dad, Iain and his 3 Best Men.
A wonderful request for 'Sweet Caroline' (for Katie and 'box heads' Grandparent's, Best Man's words not mine I should add) got everyone up and singing along. Which then seemed to set the tone for the rest of the evening…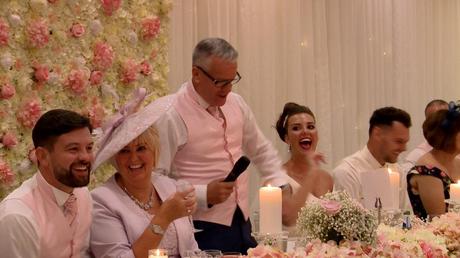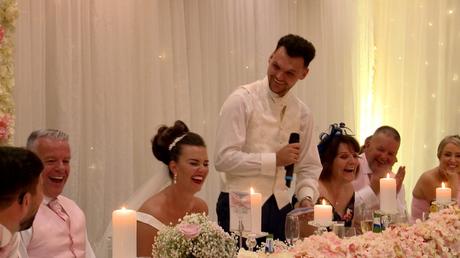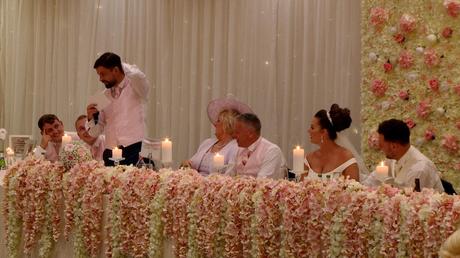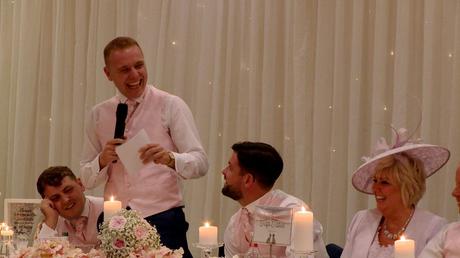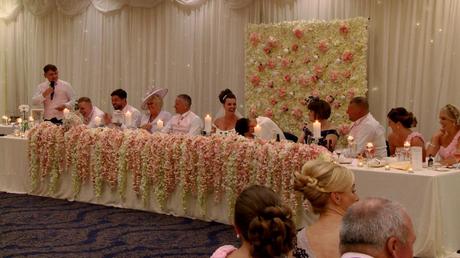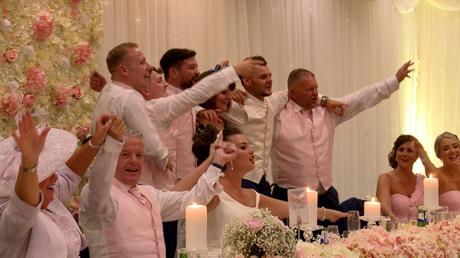 An hilarious bouquet toss (don't you love all the girls who hitch their dresses up and are ready to take anyone out who gets in their way?), a magician, photobooth and lots of catching up with evening guests kept everyone busy until the first dance to Ed Sheeran and Beyoncé.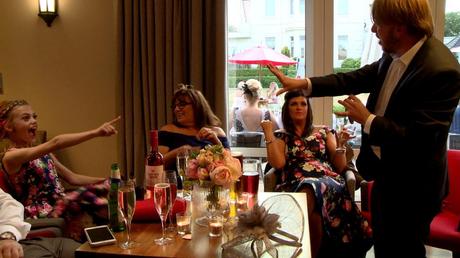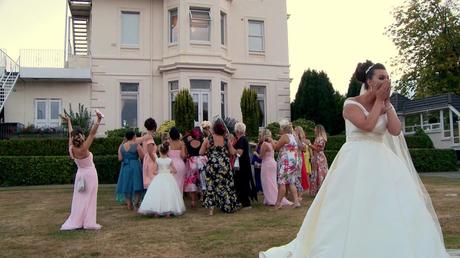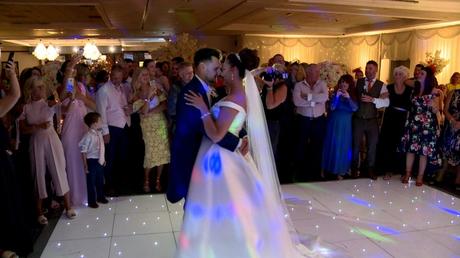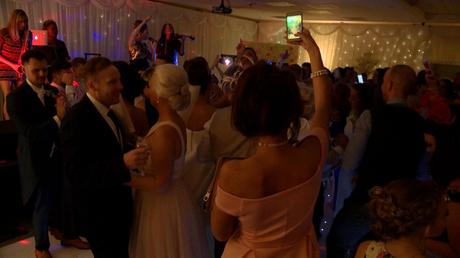 The awesome and talented girls at Northern Lights then took to the stage with Hayley blasting out dance tunes that kept the floor literally bouncing.
Pretty hard to leave a wedding when the band is THAT good…
Wedding Church Ceremony – St Saviour's, Oxton
Wedding Reception Venue – Thornton Hall Hotel & Spa, Thornton Hough
Wedding Photographer – Jane Hockey Photography, Wirral
Wedding Venue Dresser – Madison J creations
Wedding Make-Up Artist – Emma Lampkin, Hoylake
Wedding and Bridal Hair – Boudoir Hair by Kelly, Birkenhead
Wedding Singer – Giles Miller, Bury
Wedding Band – Northern Lights, Manchester
Wedding Dress – Ellis Bridal from Cherish The Brides, West Kirkby