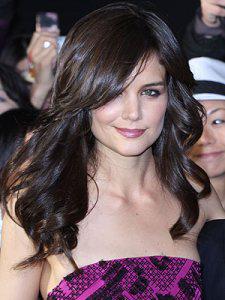 Photo Courtesy: stylenews.peoplestylewatch.com
If you forgot to check your Katie Holmes Google Alert yesterday, let me fill you in on what's going on in the world of Joey Potter. This classy young lady has nabbed the role of a lifetime! No, I'm not talking about Jackie O…I'm talking about a slutty pumpkin.
If you are a fan of "How I Met Your Mother," you will know that this character has been six years in the making. If you're like me and catch a rerun every so often, I'll let Perez Hilton fill you in. "Way back in the first season, Ted met up with a lady dressed as the girl with conveniently carved holes at a Halloween party. Every year since, he's waited at the same party, dressed as the same silly thing, hoping the Slutty Pumpkin will resurface into his life."
Craig Thomas, the creator of the show, made the right decision. Katie is beautiful, talented and has a great sense of humor (Katie – answer my fan mail). Recently, she has been playing serious/scary roles…Remember, she played Jackie O and she was in "Don't Be Afraid of the Dark." Welp, after I saw that movie…I sleep with a can of pepper spray and a baseball bat to keep the monsters away.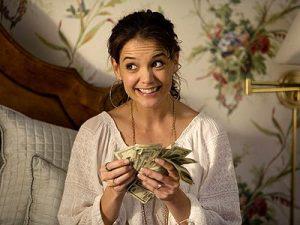 Photo Courtesy: people.com
I think playing the role of a slutty pumpkin is just what Katie needs. This role will benefit her in the following ways:
It will get her out of the house (away from Tom)
Mingle with people her age…get it in
Show her range as an actress
Because of this great casting choice, I will make it a point to start watching "How I Met Your Mother." This show really knows how to pick guest stars…first Britney, now Katie. This is my holy bible of TV shows!
Katie – I want to thank you in advance for inspiring my Halloween costume this year!