Kate Upton Married Her Baseball Player Boyfriend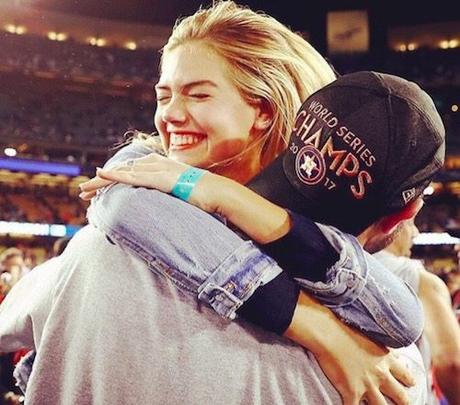 What happens to those hats if they DON'T win? Do they become collector's items? Isn't that a little "Dewey Defeats Truman" of them?
Model and Twitter activist Kate Upton married her longtime boyfriend, World Series-winning Houston Astros pitcher Justin Verlander, in what E! describes as a "lavish Italian wedding" yesterday. Justin's kind of having the best week ever, huh? He won a World Series ring and he married the woman that man straight guys in the world fap over. The afterglow will probably dim the next time he gets pulled from the mound and his new wife gets indignant and jiggles her way over to Twitter to tweet for the coach's arrest because it's a national disgrace
You gals planning that picture perfect Pinterest dream board wedding should just drop your overstuffed wedding planners into the trash. Cuz' it sounds like Kate already had it.
The wedding took place at the Rosewood Castiglion Del Bosco resort. The ceremony was conducted at an old medieval church at the top of a hill amidst ancient ruins and overlooking the Montalcino valley and vineyards, the eyewitness said. Hurricane candles lined the staircase up to the top and each guest took a name card with their name written in black calligraphy. Arrangements of deep red and blush flowers and olive branches mixed in adorned the area
That resort, by the way, is located in Tuscany because of course it is. The actual balcony that Juliet hung out on yelling for Romeo in Verona must have been booked. People had the lowdown on the outfits and more on the flowers.
Upton wore a long-sleeved lace white gown with a long white veil. Meanwhile, Verlander wore a classic black tux. The model carried a bouquet of peach, light pink and ivory flowers and the outdoor ceremony was decorated with similar floral arrangements.
Hopefully, no one took a knee during the ceremony to protest injustice cuz' Kate's not about that. Kate told People back in May that she wanted your classic wedding dress but with some sex thrown in. Here's what Kate meant by "classic wedding dress with some sex thrown in."
Kate Upton Marries MLB Star Justin Verlander in Italian Wedding https://t.co/1ux7b9CJWb

— TMZ (@TMZ) November 4, 2017
Kate and Justin have been dating for three years, and revealed their enagement (which came complete with a Justin-designed ring by jeweler Anita Ko), at last year's MET gala.
You know when the perfect people have perfect lives and you're just sitting on your couch in your underwear failing to say nice, appreciative things about them in your blog post and the dog just walks by and farts and then keeps walking? That's my relationship with this story.
Pic: Instagram
Source: Kate Upton Married Her Baseball Player Boyfriend
3 total views, 3 views today