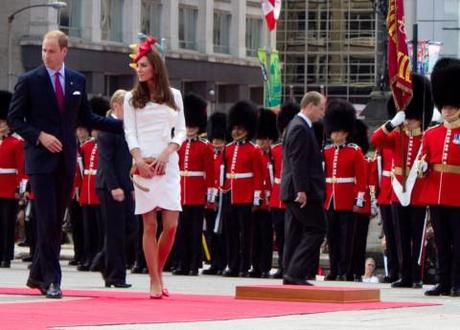 The Royal couple arrive in Parliament Square, Ottowa, Canada. Photo credit: Brian.gratwicke
British novelist Jane Austen (1775-1817) was not a woman to suffer fools gladly. Nor, I suspect, is Prince William's wife, Catherine, the Duchess of Cambridge, whom genealogy website Ancestry.com recently revealed is a distant cousin to Jane Austen. Austen was a modern woman for her time and a woman who had her own mind, as can be evidenced by the keen wit and social satire present in her novels, particularly Pride and Prejudice. From what we've seen so far, the former Kate Middleton will prove likewise. No cookie-cutter royal wife here.
Check out the buzz on Mitzi Szereto's new book
As someone intimately acquainted with the characters in Pride and Prejudice from having written my own version of the classic, Pride and Prejudice: Hidden Lusts, I believe that Jane Austen put a lot of herself into P&P heroine Elizabeth Bennet. Though Austen herself never married (which is not to say she didn't have romantic relationships), Miss Bennet's desire to marry was not going to be at the expense of her personal happiness. In a nutshell, she would not marry just anyone. She had to marry someone she loved and respected. Very modern thinking for a woman of that time, not to mention a woman of her social and financial position.
Kate, like Jane Austen and her character, Elizabeth Bennet, is already a complete woman, not just line drawings from a children's coloring book waiting to be colored in.
As for Kate Middleton, her thinking appears to be identical. Her love and respect for Prince William is evident on her face every time she looks at him. The longevity of their relationship is proof that this is no performance for the cameras. Yet it's also evident that she's not with him merely to "complete" herself. We have here a mature and educated young woman with her own thoughts, opinions and personality. She does not need a man to make her whole or give her a voice. The same can be said for Jane Austen and her character Elizabeth Bennet. They were already complete women, not just line drawings from a children's coloring book waiting to be colored in.
The parallel between Kate Middleton and Austen heroine Elizabeth Bennet is obvious: middle-class girl marries up, in this case Prince William rather than Mr. Darcy. Yet we see a marriage of equals, despite the differences in social and financial status. Elizabeth and Darcy engage with each other not with one individual deferring to the other, but as equal sparring partners. The interaction we have seen thus far between Kate Middleton and Prince William appears to demonstrate likewise. We can easily imagine Kate standing her ground, yet managing to do so while still being respectful of others. There is none of the early docility we observed in her late mother-in-law Princess Diana, who unfortunately became her own person only toward the latter part of her short life. Her marriage to Prince Charles was not a marriage of equals.
Kate Middleton is a very different creature, indeed. She will need to walk the tightrope between asserting her own identity and maintaining the peace – and do so with grace, wit and charm, just as Jane Austen's protagonist Elizabeth Bennet managed to do in Pride and Prejudice. That is not to say Kate Middleton will succeed in keeping everyone happy, but at least she'll succeed in maintaining her own identity. And that is the mark of a true Jane Austen heroine.
More on the Royal Family

What recession? Prince Charles's spending rises
The Queen's astonishing Ireland visit
The Queen wants an iPad
Wills and Kate got it right
Should Britain keep the monarchy?