Blogging Marathon# 45: Week 2/ Day 3
Theme: North Indian Side dishes
Dish: Kashmiri Tikka Masala
After making Lucknowi dal and
Punjabi Kadhi Pakora
for the first 2 days of North Indian side dishes, for the final day this week's BM, I made a spicy Kashmiri Paneer Tikka masala. I actually made all of the dishes on the same day and they can all be served together as part of a North Indian meal/ thali along with simple jeera rice or roti.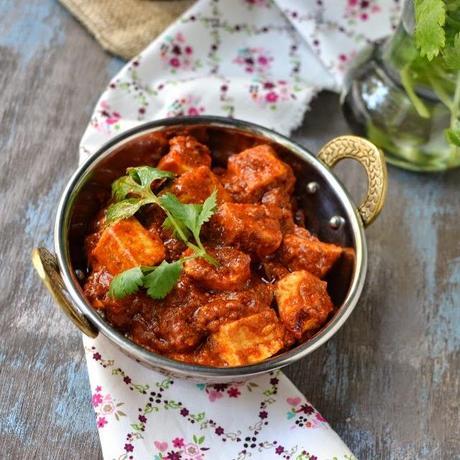 My mom bought a jar of Kashmiri Tikka masala from her Kashmir trip and I used it in this curry. But the tikka masala can also be made at home. I'm including the recipe for tikka masala from 660 curries here.
Any protein like paneer, tofu or meat or even vegetables like peppers, cauliflower can be used in the curry. Protein, paneer in this case, is marinated in curd and then cooked with the tikka masala to make a spicy, creamy and absolutely delicious side dish that goes well with rice or roti/ paratha.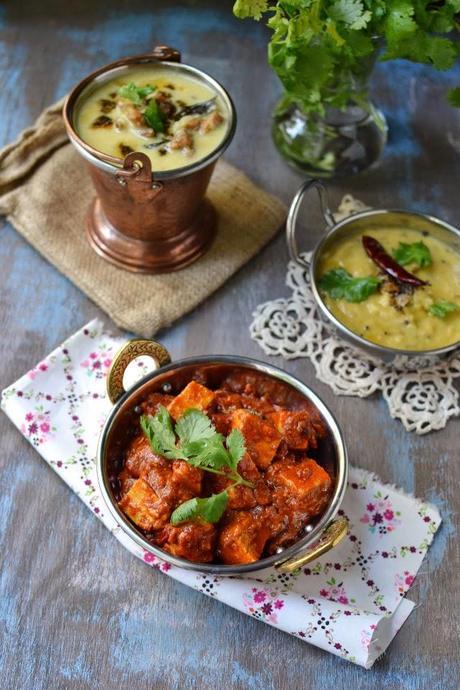 Ingredients
:
Serves 3~4
Paneer - 1 cup, cubed
Cilantro - 2tbsp, finely chopped
For the Marinade:
Yogurt - ½cup
Red Chili powder - ½tsp
Lemon juice - 1tbsp
Pepper - ½tsp
Garam Masala - ½tsp
Ground Cumin - ¼tsp
Salt - to taste
For the Tikka Masala
;
Red Onion - 1 small, chopped
Red bell Pepper - 1 small, chopped
Blanched slivered Almonds - ¼cup
Golden Raisins - ¼cup
Diced tomatoes - 1cup (fresh or canned)
Heavy whipping cream (or half-and-half) - ¼cup
Salt - ½tsp
Red Chili powder - ¼tsp
Garam masala - ¼tsp
Method
:
Marinate Paneer: In a mixing bowl, combine all the ingredients for the marinade and mix well. Add the paneer pieces and mix to coat. Set aside for at least 30 minutes or longer.
Make the Tikka Masala/ Sauce: Heat 2tbsp ghee in a saucepan. Add the onion, bell pepper, almonds and raisins; cook until the veggies soften and are lightly browned around the edges, about 10~12 minutes.
Add the tomatoes and cook for 3~4 minutes.
Pour the onion-tomato mixture into a blender and grind into a thick sauce along with cream, salt and garam masala. 
Pour the sauce back into the saucepan and simmer over lower heat, stirring it occasionally while cooking the paneer.
Grill Paneer: Paneer can either be threaded onto pre-soaked wooden skewers and then grilled on a grill pan. Or they can be cooked directly on a tawa/ griddle until golden on all sides.
To Finish the curry: Slide the grilled paneer pieces right into the sauce and mix well to coat them evenly. Garnish with chopped cilantro and serve.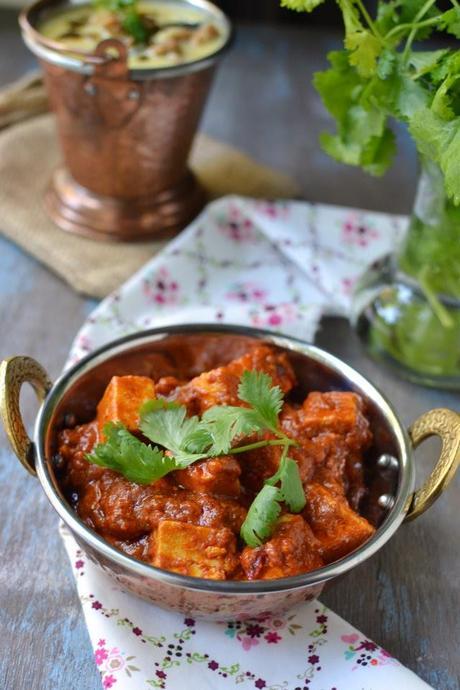 Lets check what my fellow marathoners have cooked today for 
BM# 45
.