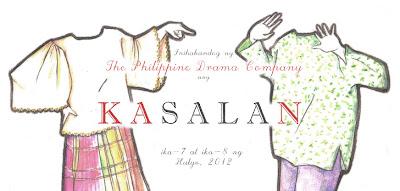 The Philippine Drama Company Sala Theater opens its 27th season with "kaSALAn", a production that showcases two one-act plays, "Panhik Ligaw" and "Dahil Sa Anak".
"Panhik Ligaw" is D. Habito's adaptation of Anton Chekhov's "The Marriage Proposal". It shows a day in the life of Entang, the maid of the wealthy Don Sebio, whose tough spinster daughter Talia is being wooed by Kadio, a sickly bachelor who has asthma.
It is directed by Gaby Castillo, and stars Kenn Cayunda, Jake Alejandrino, Cef Valderrama and Sam Lim.
"Dahil Sa Anak", written by Julian Cruz Balmaceda, is about the wealthy Don Arkimedes who is against his son Manuel's marriage to Rita, a laundrywoman's daughter, despite the couple already having a child. Manuel seeks help from his wise uncle Don Cristobal, and Rita's strong-willed aunt, Aling Sidora, to sway his father's decision.
The play is directed by Kenn Cayunda and start Danny Escasa, Claude Despabiladeras, Gaby Castillo, LA Caguioa, Chrissie Legaspi, Krix Untalan and Paula David.
"kaSALAn" is staged in preparation for bigger productions in October, and "Naty @ Ninety" in December 2012, to celebrate the PDC founder's 90th birthday.
"kaSALAn" will be staged July 7-8, 10 a.m. and 3 p.m., at the Amingtahanan Sala Theater, located at 40 Stella Maris St., Bo. Kapitolyo, Pasig City.
For inquiries, call 0917-5691439 and look for Sam.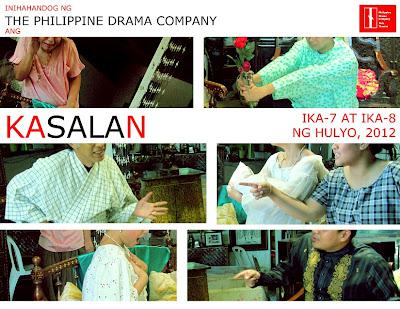 The concept of Sala Theater
The Sala Theater concept was developed to demonstrate the principle that drama and the theater arts can grow in a community with little cost by bringing it into our homes, for wholesome entertainment and especially to provide continuing education for the strengthening of Filipino values.
Sala theater was born in the home of its artistic director, Naty Crame Rogers, in May 1983 when she launched a summer workshop for the youth and integrated this activity with fieldwork theater skills training for the graduate students of the Philippine Normal College specializing in Drama Education and Community theater. The workshop's outcome was the organization of the Philippine Drama Company and the Amingtahanan Sala Theater.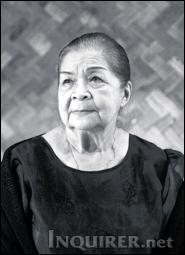 About Naty Crame Rogers
Natividad Crame Rogers, one of, if not the oldest living theater actress in the country, stages plays because she believes theater will help in the growth of the people involved in it. Theater, she says, gives one confidence, a sense of community, professionalism and responsibility.
A proud Scholastican, Prof. Rogers worked as an international flight attendant for Philippine Airlines where she met her husband, pilot Jose "Joe" Rogers. After getting married, she resigned from her post and lived a homemaker's life for a while.
But her thirst for new knowledge and innovation made her want to go back to school. She was among the pioneering batch of graduates of the University of the Philippines after the war. She went on to study abroad, earning her diploma in Teaching English as a Second Language at the University of California in Los Angeles and eventually a masteral degree in Speech and Drama Education at Stanford University in California.
Prof. Rogers then returned to the Philippines, taught at the Philippine Normal College (now Philippine Normal University) where she was director of the Arena Theater, and established herself in Philippine theater.
She was the second actress (after Dolly Benavides) to play Paula, opposite National Artist for Theater Daisy Hontiveros-Avellana's Candida, in the original and historic run of Nick Joaquin's seminal play "A Portrait of the Artist as Filipino". She reprised the role when the play was turned into a film in 1966, again directed by Daisy's husband, now National Artist for Film and Theater Lamberto Avellana.
Now 89 years old, Maty (for Mommy Naty, or sometimes Tita Naty), as she is fondly called by those around her, shows little sign of slowing down. She makes it a point to stage at least one production a year. Maty still personally cooks lunch or dinner for her actors during rehearsals.