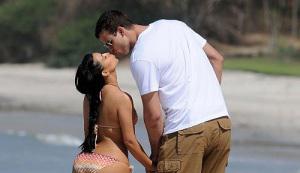 Photo Courtesy: kimkardashianfan.net
Well I can't say I'm surprised, but I am a little sad for Kim. If you have been slumbering under a rock all day, I'll remind you what has been going on.
Kim Kardashian and Kris Humphries are donezo. After 72 days of being husband and wife…Kim has filed for divorce.
Rumors turned to fact when Kim released a statement regarding her soon-to-be ex-husband:
"After careful consideration, I have decided to end my marriage," she said. "I hope everyone understands this was not an easy decision. I had hoped this marriage was forever, but sometimes things don't work out as planned. We remain friends and wish each other the best."
What is interesting about this scenario is the fact Kris doesn't want to remove his claws from Kim K. Mr. Humphries released a statement exclaiming, "I love my wife and am devastated to learn she filed for divorce." "I'm committed to this marriage and everything this covenant represents," he added. "I'm willing to do whatever it takes to make it work."
I can see why Kris is "willing to do whatever it takes." Humphries' estimated worth is $8 million, while his wifey is worth an estimated $35 million. Dum, dum, dummmm.
I wonder what the final straw was for Kim. Was it the fact the Kris still wanted his dogs to sleep in bed with him and Kim?
Side note: I wonder what Scott thinks of all this? Hopefully he is laughing his pants off.